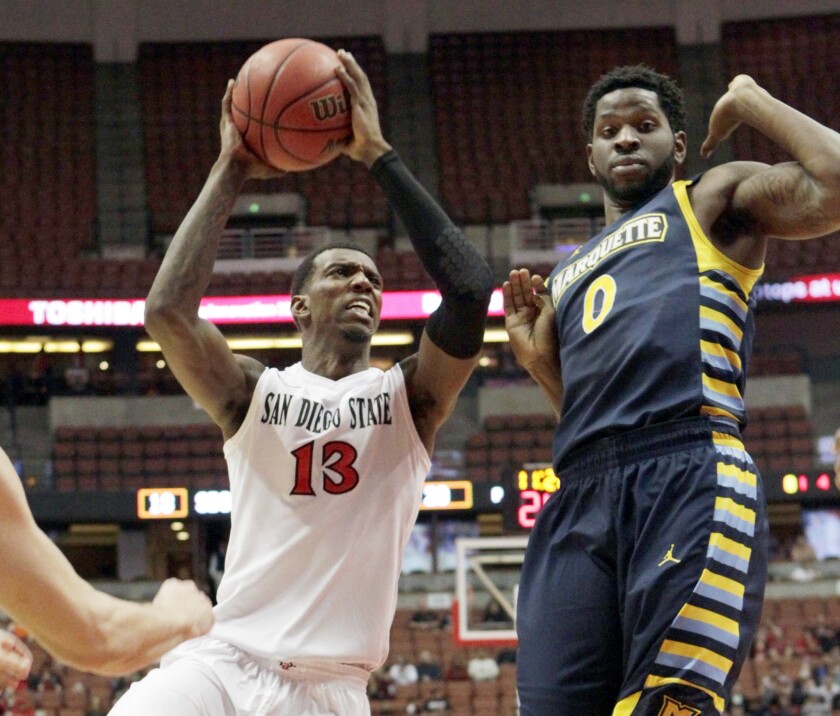 Senior point guard Xavier Thames scored a career-high 29 points as San Diego State held off a late rally to beat No. 25 Marquette, 67-59, in the championship game of the Wooden Legacy on Sunday night at Anaheim.
The score was tied at 53-53 with 3 minutes 25 seconds left at Honda Center, but then the Aztecs (5-1) went on a 14-4 run to knock off their second top-25 opponent in two games.
Thames, who was selected the tournament's most valuable player, made seven of 16 shots, including five of six three-point attempts. He also made six of his 10 free throws in the final 40 seconds to secure the victory, which came two days after he had scored 26 points in San Diego State's 86-80 win over No. 20 Creighton.
Josh Davis had a game-high 11 rebounds for the Aztecs and joined Thames on the all-tournament team.
Deonte Burton scored 15 points to lead Marquette (5-3), which lost to its second unranked opponent in a week.
George Washington 60, No. 20 Creighton 53: Isaiah Armwood limited the Bluejays' Doug McDermott to seven points, nearly 21 points below his season average, to lead the Colonials (6-1) to victory in the third-place game. "We just tried to make everything tough for him," Armwood said of McDermott. "We switched to man from 1-3-1 a little bit. We knew he wasn't that good off the dribble, so we tried to limit his touches." The last time McDermott was held to single digits was in a win over Indiana State on Jan. 5. Creighton (5-2) pulled ahead 53-50 with 2:14 left, but George Washington regained the lead on consecutive layups by Kevin Larsen and Joe McDonald and closed out the win at the free-throw line, catching a break when the Bluejays' Devin Brooks was called for an offensive foul with 14 seconds left.
Miami 60, Arizona State 57: Rion Brown slammed in a dunk with 33 seconds left in the second half to break a 57-57 tie and help lift the Hurricanes (5-3) to a victory in the fifth-place game. The Sun Devils had chances after that but missed two layups in the closing seconds. Arizona State led for much of the game because of the inside effectiveness of 7-foot-1 center Jordan Bachynski (7-2), who had a game-high 20 points. The Hurricanes, who shot 31% overall and missed seven of their 21 free throws, didn't take their first lead until 6:28 remained in the game.
College of Charleston 61, Cal State Fullerton 48: The Cougars (3-5) took control with a 12-point halftime lead en route to the seventh-place victory. The Titans (2-6) struggled with their shooting, making 31% overall (18 for 58) and 25% (five for 20) of their three-point attempts. Four players — Canyon Barry, Anthony Stitt, Adjehi Baru and Joe Chealey — accounted for 53 of Charleston's 61 points. Fullerton guard Michael Williams had a team-high 14 points.
---