Dwight Howard trade reaffirms Lakers' will to win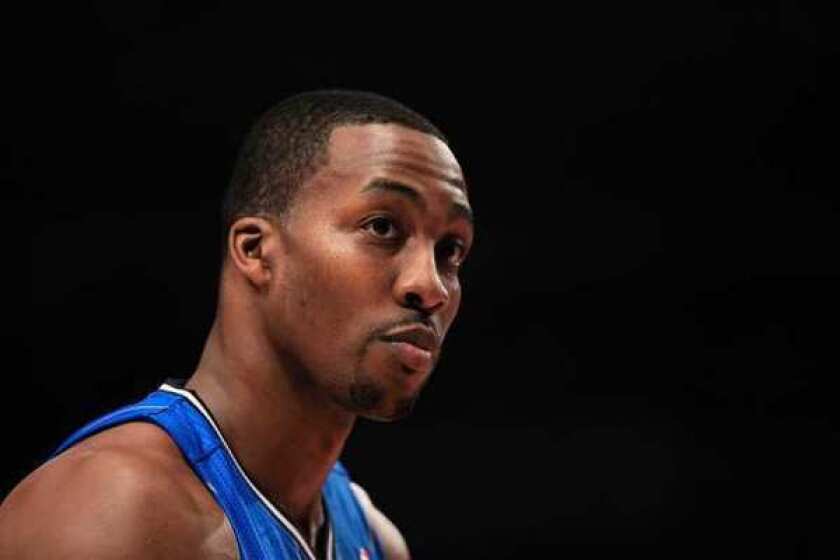 For all the begging and whining and scolding I've done about this over the last year, at the end of the most splendid of days, this trade is not about Dwight Howard.
This trade is about the Lakers. It is about why they are the best professional franchise in the modern sports era. It is about how they've become the most reliable sports citizens in this city's history.
This trade is about the Lakers, even while enduring awkward transitions of power and leadership, refusing to be anything other than the Lakers.
From Jerry Buss to Jimmy Buss. From Jerry West to Mitch Kupchak. From the Forum to Staples Center. Names change, the locker room moves, but as they shouted to the world on a lazy day in the middle of summer, the Lakers are still the Lakers.
They trade for Wilt. They trade for Kareem. They win a coin toss and draft Magic. They make a deal with Cleveland and draft Big Game James. They do their homework and convince Charlotte to draft Kobe for them.
They sign Shaq. They trade for Pau. They pick up the phone and quietly steal Steve Nash from everybody. And now this, Thursday's era-shaker, a move that other teams might not have done, a move the Lakers have always done.
After being ushered out of the last two postseasons uncomfortably early, the Lakers needed one more piece to seriously compete for their record-tying 17th NBA championship. This piece was obvious, but risky. This piece had recently undergone back surgery, has no contractual guarantees that would keep him around more than one season and would cost them ownership's favorite player.
The Lakers traded for Howard anyway. They traded away their peculiar prodigy Andrew Bynum anyway. They did it because they realized they had no chance at a ring if they didn't, and rings are the only thing that matter to the Buss family, and if you don't believe that now, you never will.
And, oh, Howard gives them that chance. Howard makes them the NBA favorites even against the defending champion Miami Heat and the Big Three. Do the math. The Lakers did not have to give up Pau Gasol in the trade for Howard. The Lakers now have the Big Four.
What, the Lakers have to first survive a Western Conference that suffocated them the last two seasons? That's also changing. Defense wins championships, and Howard is a one-man defense who, when placed alongside Gasol and Metta World Peace, can slow the rolling Oklahoma City Thunder into a halfhearted clap. Rebounding wins championships, and Howard will turn the Lakers back into the tough guys necessary to beat on whoever San Antonio's Gregg Popovich throws at them.
Oh, yeah, and Kobe Bryant wins championships, yet his time is running out, and Howard's presence will give Bryant the freedom and inspiration for one last run. Even in recent months when folks like me were pressing Bryant to challenge the Lakers to acquire Howard or let him walk, he insisted he trusted his bosses because they had always done the right thing. For the first time in Bryant's life, he was restrained, and that restraint surely made it easier for the Lakers to pull this off, so give him the rare assist.
Last season there even surfaced reports that this deal hit a snag when, in an apparently uncomfortable phone conversation, Bryant allegedly scared away Howard by telling him he would be no more than a third option. Can they play together now? Do you think Bryant has led teams to five championships by being that dumb? To him, this trade is also not about Dwight Howard, it's about Michael Jordan, and winning that sixth championship to equal the man considered the greatest player ever, and here's guessing Bryant will concede whatever he needs to concede to make that happen.
After 16 years here, Bryant thinks like the Lakers, who bared their souls in making this trade, showing the sports world exactly who they are and have always been.
So Howard is coming off back surgery and might not even be ready to start the season? So what? The Lakers don't do Novembers. The Lakers do Junes. This is who they are.
So there is a chance Howard will not re-sign and will head off to somewhere like Dallas next season? So what? The Lakers never worry about next year, they worry about right now, because that fan is paying $300 to watch them right now. This is who they are.
Earlier this summer, when someone from this newspaper asked Jimmy Buss whether the Lakers were going to make any blockbuster trades, he said, "No." In the same interview, when asked to rate the chances of having Bryant, Gasol and Bynum in the same uniform next season, he said, "very good."
In an ensuing column I cited Buss as being clueless for making those comments, my stance being unchanged since I first began calling for Howard's acquisition on June 14, 2011. Maybe in the last couple of months, Buss got smarter. Or maybe the trade — a four-way deal that sent Bynum to the Philadelphia 76ers — became easier. Or, heaven forbid, Buss was just joshing us all along.
It doesn't matter. Buss, who pushed for the drafting of Bynum and resisted attempts to move him, finally allowed winning to overcome sentiment. Buss finally allowed Kupchak to do a job he does as well as any general manager in the NBA.
In the end, Jimmy Buss did what his father would have done, and can there be any greater compliment than that? Dwight Howard is in town. The NBA season cannot get started soon enough. The rest of the league is moaning and Los Angeles is glowing. The Lakers are still the Lakers.
twitter.com/billplaschke
---
Get our high school sports newsletter
Prep Rally is devoted to the SoCal high school sports experience, bringing you scores, stories and a behind-the-scenes look at what makes prep sports so popular.
You may occasionally receive promotional content from the Los Angeles Times.