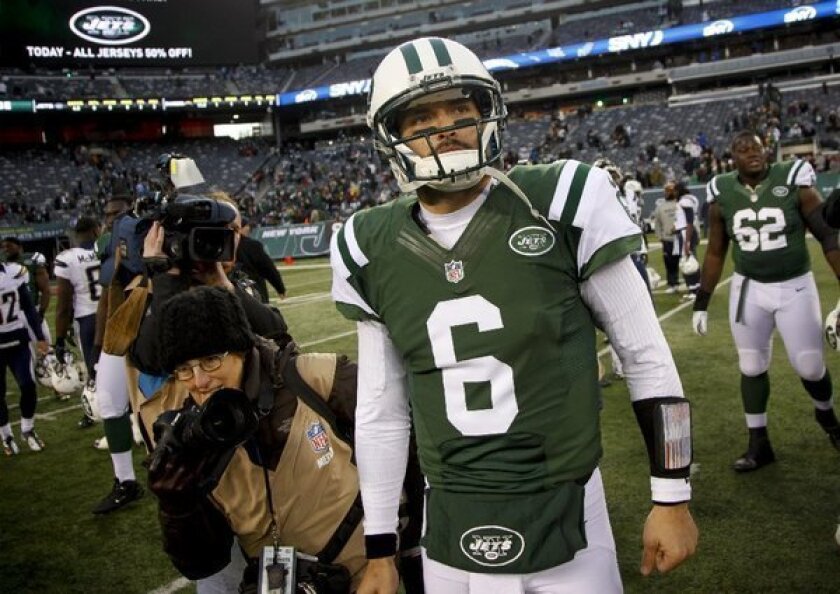 The wheel o' Jets quarterbacks has been given a spin this week, and the pointer has landed on: Mark Sanchez. That makes it 16 weeks in a row that Tim Tebow will start the game on the bench.
Last week's starter, Greg McElroy, has a concussion and won't be able to play, so Coach Rex Ryan announced Thursday that Sanchez will get the nod for the Jets final game of the season, Sunday against Buffalo.
Ryan said Thursday that McElroy was lifting weights and had headaches Wednesday. He went to the team's training staff, which diagnosed him with concussion symptoms.
McElroy was sacked 11 times in last Sunday's 27-17 loss to the San Diego Chargers.
Ryan also said he chose Sanchez over Tebow because he "feels more comfortable" with Sanchez.
"Obviously Tim's not happy with that," Ryan said. "That doesn't mean that Tim won't play in this game, I just feel more comfortable with Mark."
ALSO:
Tim Tebow says he didn't ask Jets not to use him in wildcat Sunday
Mayors of Stanford, Wisconsin hometowns announce Rose Bowl wager
Cowboys' Josh Brent indicted on charge of intoxication manslaughter
---