Angels' Mike Scioscia calls team meeting after loss to Oakland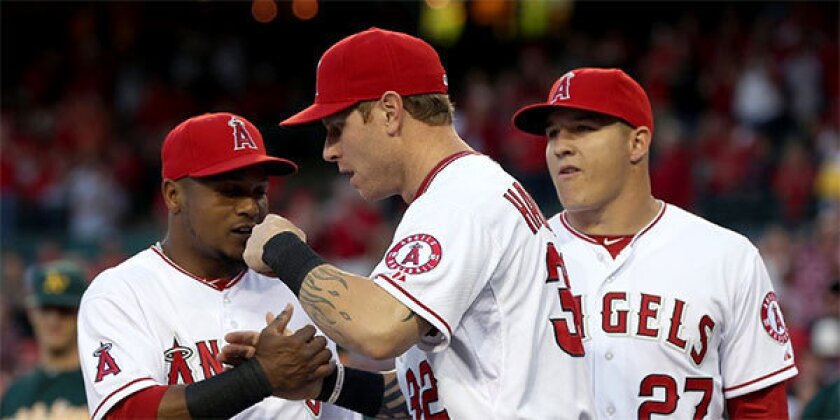 Eight games into the 2013 season, and the Angels have already had their first team meeting.
That's not good.
It was brief, but Manager Mike Scioscia deemed it necessary after the Angels lost to the Oakland Athletics, 11-5, on Wednesday night, enduring another batch of unproductive at-bats in the clutch while falling to 2-6 and into last place in the American League West, 4 1/2 games behind the A's.
"The talent is in that room, and once we start to get productive, get rolling and see that confidence level where it needs to be, we're going to get into our game more often," Scioscia said. "We have nobody to think about but our own club. These guys know we're going to play at a higher level."
The starting pitching has been sketchy, and ace Jered Weaver will be out for four to six weeks because of a broken bone in his left elbow. After compiling an 0.72 earned-run average in the first three games, the bullpen has combined for an 8.22 ERA in the last five games.
The Angels went two for 16 with runners in scoring position Wednesday night and are batting .120 (nine for 75) in those situations on the season.
Albert Pujols had four hits Wednesday, including two doubles that pushed his career extra-base hit total to 1,000, and is batting .346 with a .514 on-base percentage. Howie Kendrick is hitting .344 and Erick Aybar was batting .321 before injuring his left heel Tuesday.
But Josh Hamilton, who signed a five-year, $125-million deal in December, is hitting .156 (five for 32) with 13 strikeouts; Mike Trout, the 2012 America League rookie of the year and most valuable player runner-up, is hitting a rather ordinary .278 with 10 strikeouts, and very few Angels have been coming through in pressure situations.
It is very reminiscent of the beginning of 2012, when Pujols hit .194 with no homers over the first month, the Angels lost 14 of their first 20 games, and were 18-25 and eight games behind first-place Texas on May 21.
"You're talking about eight games -- we have 154 left, so it's not like it's the last week of the season," Pujols said. "We have plenty of time, but we need to start getting it going. We don't want to wait until we're 25 or 30 games into the season and 12 or 13 games back and have to make up a lot of ground."
Is Pujols starting to sense the same feel, the same kind of mood, this April as he did last April?
"We don't look back -- we don't want to dig into old dirt," Pujols said. "Last year was last year. We need to focus on 2013. It's a new year, and we need to get going. You don't take anything for granted. Even though it's eight games, our goal is to win every series, and that hasn't happened the first three series."
The Angels did get a bit of good news during the game when they learned X-rays on Aybar's left heel, which he bruised beating out an infield grounder Tuesday night, were negative.
The shortstop was feeling better than he was before the game. Aybar will probably sit out a few more games, but it appears he will be able to avoid going on the disabled list.
ALSO:
Angels' weaknesses might be exposed
Jered Weaver out at least four weeks with broken left elbow
Angels' high-wire pitching act ends badly in 9-5 loss to Oakland
---
Get our high school sports newsletter
Prep Rally is devoted to the SoCal high school sports experience, bringing you scores, stories and a behind-the-scenes look at what makes prep sports so popular.
You may occasionally receive promotional content from the Los Angeles Times.