Dodgers lose Zack Greinke for 8 weeks; Padres' Quentin suspended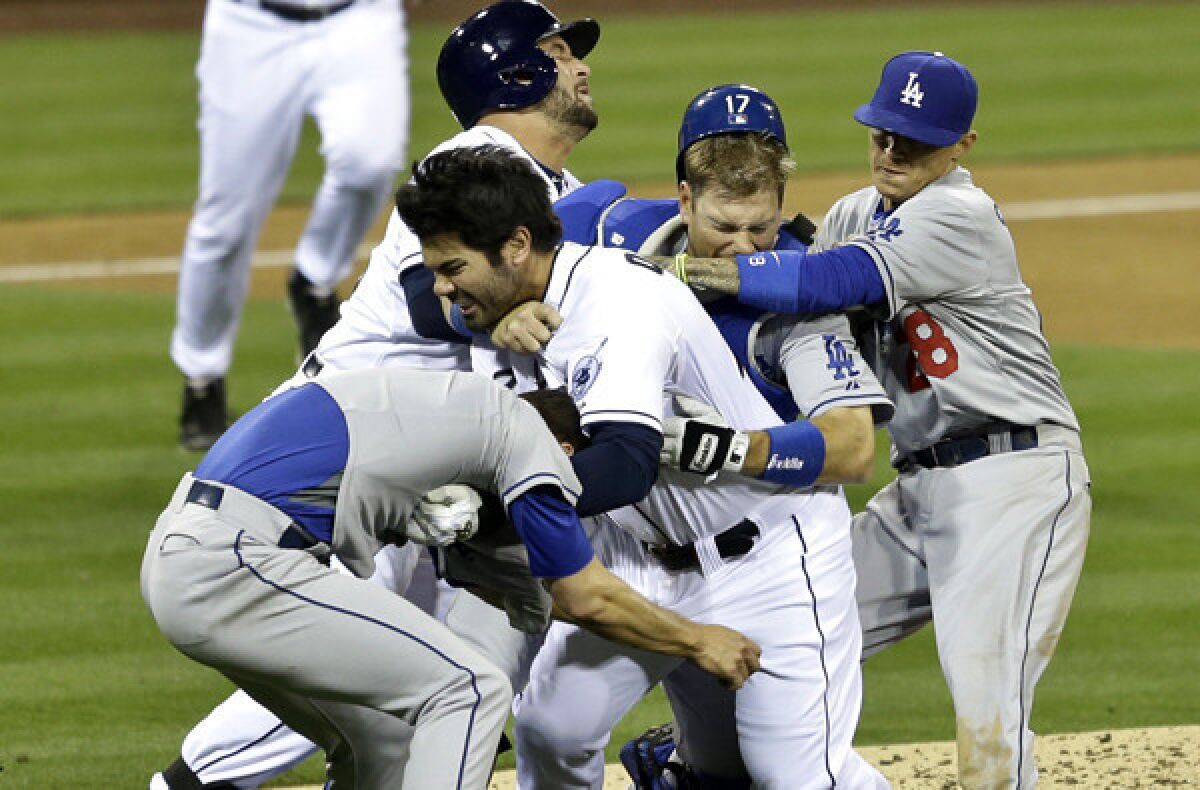 PHOENIX — Matt Kemp and several other Dodgers sat on sofas in the visiting clubhouse Friday at Chase Field, trading jokes and watching the Masters. Clayton Kershaw studied film of the Arizona Diamondbacks' hitters, whom he would face later that night.
Zack Greinke was on the 15-day disabled list, scheduled to undergo an operation on his left, non-throwing shoulder the next day that was expected to sideline him for eight weeks. The Dodgers were trying to move on.
A collective calm had replaced the explosive rage they felt Thursday night in San Diego, where Padres outfielder Carlos Quentin took offense to an innocent-looking pitch that struck him on the arm, prompting him to charge the mound, where he fractured Greinke's left collarbone.
Hostilities between the Dodgers and Padres extended beyond the bench-clearing brawl and into the late-night hours. Before departing San Diego for Phoenix, Kemp came face-to-face with Quentin in a hallway near the Padres' parking lot at Petco Park. Dodgers shortstop Hanley Ramirez and Padres pitcher Clayton Richard separated the two outfielders.
As Quentin walked to his car, Kemp warned him, "We'll see," adding an expletive for effect.
The Dodgers face the Padres again Monday at Dodger Stadium for the start of a three-game series on Jackie Robinson Day.
Asked if there was bad blood between the clubs, Greinke replied, "Now there probably is."
Quentin was suspended for eight games by the commissioner's office for his actions Thursday, but appealed his punishment. Unless a hearing is held over the next two days, Quentin will be playing at Dodger Stadium next week.
"If he's smart, he'll just take the suspension," Kershaw said.
The only Dodger to draw a suspension was utilityman Jerry Hairston Jr., who was hit with a one-game ban. Hairston also is appealing.
Manager Don Mattingly said the Dodgers would not retaliate.
"We're going to play baseball," Mattingly said. "We're trying to win games. We're not MMA fighters."
The two other players ejected from the game, Kemp and Greinke, avoided suspensions.
Mattingly was asked to give his version of events by Joe Torre, the former Dodgers manager who oversees on-field discipline for the league office. Mattingly said Torre inquired about Kemp's hallway stare-down with Quentin.
Kemp said he hadn't from the commissioner's office, but otherwise declined to comment about his postgame confrontation.
Kemp was nowhere near as guarded the previous night in San Diego, when he was upset that Quentin charged the Dodgers' $147-million co-ace over what the Dodgers believed was an unintentional act. The pitch that hit Quentin came on a full count with no outs and the Dodgers leading, 2-1.
"People with good baseball IQs know if you have a one-run lead and it's a 3-2 count, Greinke is not going to hit you on purpose," Kemp said.
Kemp mentioned that Quentin attended Stanford.
"I heard there are some smart people at Stanford," Kemp said. "That wasn't too smart."
Mattingly went a step further, calling Quentin "an idiot" and saying, "Not one person on their team over there thinks he's throwing at him."
Catcher A.J. Ellis said Padres players were apologizing for what Quentin did. Ellis said the last time he witnessed a player charge the mound under similar circumstances was in Class A, where players don't know better.
Quentin defended himself by pointing to his troubled past with Greinke, which included two other pitches that hit him.
"I don't want to hear about personal history or anything," Mattingly said. "We're trying to win a game. You don't hit a guy there. Just stupid. It's ridiculous."
Quentin said that Greinke instigated the fight by saying something to him.
"That was the final straw," Quentin said.
Quentin wouldn't reveal what Greinke said to him. Greinke wouldn't, either.
Hairston said the reason so many Dodgers became so enraged so quickly was that Greinke immediately informed them of the severity of his injury.
Kemp was already fuming when he rushed to the mound from center field. But when Greinke told him of the extent of the damage, Kemp "kind of lost it," according to Mattingly.
Hairston said he was upset because one of the Padres was making fun of Greinke's injury.
"When a guy's making fun of a guy with a broken collarbone . . . I took exception to that," Hairston said.
Hairston refused to identify the player, but Mattingly singled out catcher John Baker. The taunts inspired Hairston to run toward the Padres dugout as peace was starting to be restored.
Greinke was examined Friday in Los Angeles by team physician Neal ElAttrache, who determined he should undergo a procedure to place a rod in his collarbone to stabilize and align the fracture. Surgery will be performed at White Memorial Hospital by ElAttrache and Dr. John Itamura.
Get our high school sports newsletter
Prep Rally is devoted to the SoCal high school sports experience, bringing you scores, stories and a behind-the-scenes look at what makes prep sports so popular.
You may occasionally receive promotional content from the Los Angeles Times.