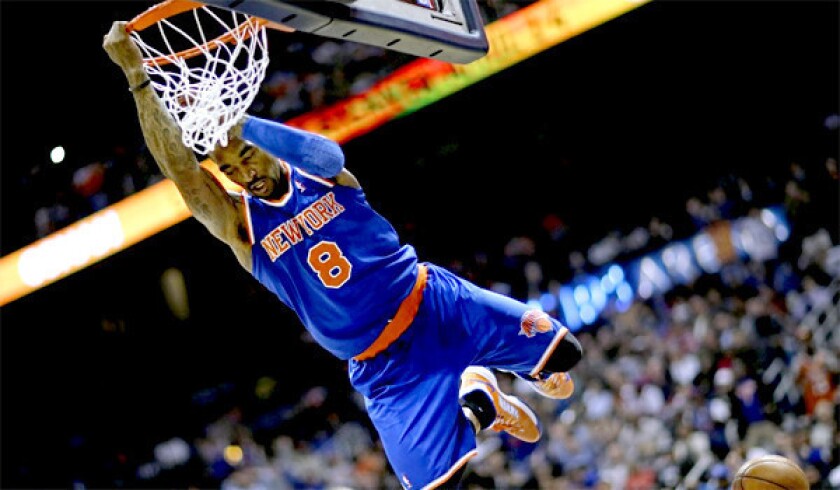 J.R. Smith won the NBA's Sixth Man of the Year Award on Monday after turning a role he didn't want into one of the strengths of the New York Knicks' first division championship team in nearly two decades.
Smith received 484 points, including 72 first-place votes, from a panel of 121 writers and broadcasters. The Clippers' Jamal Crawford finished second with 352 points, getting 31 first-place votes.
Smith averaged 18.1 points in 80 games, all off the bench. He had 29 games in which he scored 20 points as a reserve, tying Crawford for the NBA lead.
The 6-foot-6 swingman wanted to start but said he accepted it fairly quickly once Coach Mike Woodson told him he would be a reserve.
Smith helped the Knicks to their most victories since they were 57-25 in 1996-97. New York is the No. 2-seeded team in the Eastern Conference and leads the Boston Celtics, 1-0, in their first-round playoff series.
The Phoenix Suns announced that they parted ways with General Manager Lance Blanks after a season in which the team posted the second-worst record in franchise history.
Blanks had been the GM since August 2010.
ETC.
Manchester United wins its 20th title
Manchester United won its record 20th English league soccer title, beating Aston Villa, 3-0, on Robin van Persie's first-half hat trick to clinch the championship with four games to spare.
Van Persie, signed from Arsenal last summer, put United ahead 83 seconds in when he scored from close range. He doubled the lead with a volley in the 12th minute and completed his hat trick in the 33rd minute with his league-high 24th goal of the season.
Manchester United (27-4-3) has a 16-point lead over Manchester City (20-5-8), which has five games left.
::
Scott Fujita, a Super Bowl-winning linebacker who became enmeshed in the Saints bounty scandal, signed a one-day contract with New Orleans and retired.
The 33-year-old player did so not from an office building but from Machu Picchu, Peru, where he signed the contract Monday.
Fujita finished his career with the Cleveland Browns but was implicated and suspended for one game by NFL Commissioner Roger Goodell for his role in what the league called a Saints performance pool designed to knock targeted opponents out of games from 2009 to 2011. Fujita later was essentially absolved by former commissioner Paul Tagliabue.
::
The NCAA granted Central Florida's appeal of a one-year postseason ban in football.
The decision will make Central Florida bowl-eligible as it moves into the American Athletic Conference this season.
In a release the NCAA wrote that its Committee on Infractions "determined the football postseason ban is excessive such that it constitutes an abuse of discretion."
Central Florida was originally issued the ban as part of sanctions levied in July for major recruiting violations in football and basketball. It also received a one-year postseason ban in basketball, $50,000 fine, five years' probation, reduction of basketball scholarships and limits on football recruiting.
The postseason ban was the lone penalty the school appealed and allowed the Knights to participate in the Beef O'Brady's Bowl in 2012.
::
Virginia Tech tailback Michael Holmes is facing a felony malicious wounding charge after a weekend fight in Blacksburg, Va.
Holmes, 19, was arrested after police were called to a fight about 1:50 a.m. Sunday. He also faces two misdemeanor assault and battery charges as a result of the incident, which began as an altercation between two women, Lt. Nathan O'Dell of the Blacksburg Police Department said.
Malicious wounding charges typically result from an assault with a weapon but can also result from broken bones or severe lacerations, O'Dell said.
---