UFC 157: Ronda Rousey submits Liz Carmouche in first UFC women's bout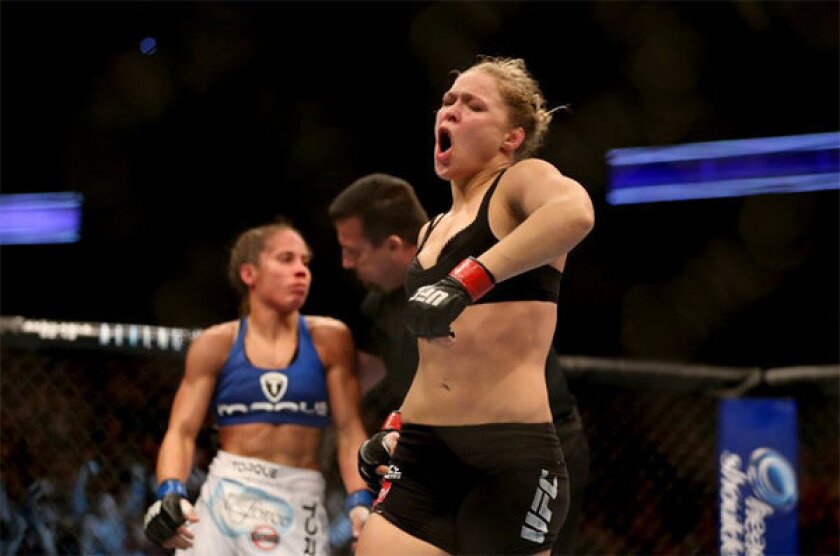 UFC women's bantamweight title: Ronda Rousey vs. Liz Carmouche
Rousey was an Olympic judo bronze medalist before entering into MMA. She has used her armbar to submit every professional opponent in the first round. Carmouche is a strong competitor with an 8-2 record. She is a former Marine and a proud lesbian.
Round 1. Rousey throws a few jabs to close distance. She eats a hook and grabs the clinch. She tugs Carmouche down with a headlock but Carmouche takes Rousey's back and looks to sink in a rear naked choke. Carmouche cranks Rousey's face hard but Rousey is able to get out. Rousey ends up in the standing position with Carmouche on the ground. Rousey throws some punches down and grabs Carmouche's head again. Rousey just controls Carmouche with a headlock and punches with her other hand. Rousey then transitions into mount and goes for the armbar. Carmouche rolls onto her back and clasps her hands together. Rousey finally extends the armbar and Carmouche is forced to submit with 10 seconds left in the round.
Winner: Ronda Rousey, submission, round 1.
Dan Henderson vs. Lyoto Machida
Henderson has had one of the most storied careers in MMA history. Debuting in 1997 after an excellent amateur wrestling career, he has fought a who's who of the sport: Antonio Rodrigo Nogueira, Renato Sobral, Wanderlei Silva, Ricardo Arona, Murilo Bustamante, Vitor Belfort, Rich Franklin, Fedor Emelianenko, Mauricio "Shogun" Rua and the list goes on. Now 42, he is as successful as ever with 7 wins in his last 8. Machida, who utilizes a unique karate style, sports an 18-3 record with wins over the likes of Rashad Evans, Randy Couture and Tito Ortiz. The winner here is in prime position for a shot at UFC light heavyweight champion Jon Jones.
Round 1. Henderson is very tentative early, not moving much at all and just throwing a few leg kicks. Machida throws some punches and kicks from the outside while circling around Henderson. Machida lands a nice body kick three minutes in. Every time Henderson moves forward looking to set up a power punch, Machida backs out of the way. Henderson finally connects with a nice right punch on Machida's chin but Machida is fine. Henderson clinches and lands a couple knees. Henderson clinches again and looks or a trip takedown. Machida takes Henderson down and lands a few big punches at the close of the round. Very close round. 10-10.
Round 2. They clinch briefly and Henderson lands a nice right hand. Machida connects with a stiff front kick and follows with a straight punch behind that. Henderson charges after Machida but can't land anything. Machida moves in with a couple straight punches but Henderson takes them and fires back with his big overhand right that just barely misses. As Henderson comes in, he eats a knee to the body from Machida. Machida lands a nice kick to the body. Henderson continues throwing leg kicks and mixes in a body kick. Henderson clinches again and lands a nice left hook. Henderson is having his best success when he clinches and uses the close range to get in shots before breaking. Henderson throws three straight power rights but none comes close to landing. 10-9 Machida.
Round 3. Machida hits Henderson with a hard kick to the body early. As Machida looks for a punch, Henderson takes him down. Henderson lands some punches to the body from the top but is surprisingly not very active. Henderson lands a nice elbow but Machida rolls out and returns to his feet with two minutes remaining in the fight. Neither man does much in the next minute and the crowd boos. Machida lands a leaping front kick to Henderson's face, like the shot that knocked out Randy Couture. Machida follows with a head kick moments later. 10-9 Henderson, 29-29 draw.
Winner: Lyoto Machida, split decision (29-28, 28-29, 29-28).
Urijah Faber vs. Ivan Menjivar
Faber is one of the most popular fighters in the lighter weight classes, a longtime WEC featherweight champion with an exciting style and infectious personality. However, following five title fight losses, Faber finds himself at a career crossroads. Menjivar, a well-respected veteran of the sport, fought Faber once before in 2006. Faber won via a controversial disqualification. With wins in four of his last five fights, Menjivar could catapult his standing in the sport with a win here. The crowd reacts big to Faber's familiar "California Love" entrance.
Round 1. Menjivar lands a nice overhand punch and then uses a beautiful judo throw to slam Faber to the ground. Faber very quickly reverses and takes top position. Menjivar gets full guard while Faber throws hard elbows from the top. Menjivar swings up his hips to look for a triangle or armbar but isn't able to secure anything on Faber. Faber lands some very strong close distance elbows on Menjivar. As Faber postures up to gain more power, Menjivar connects with a nice upkick to the head of Faber. He lands a couple more until Faber drops down back into Menjivar's guard. Menjivar finally looks to stand up but in the process, Faber takes his back. Faber locks up a standing rear naked choke and Menjivar is forced to submit.
Winner: Urijah Faber, submission, round 1.
Court McGee vs. Josh Neer
Court McGee has led a unique life. The Utah native was pronounced clinically dead after a heroin overdose but recovered to win the 11th season of the Ultimate Fighter. Coming off two straight losses, he desperately needs a win here. Neer is only 29 years old but is a decade long veteran of the sport with over 45 professional fights. He is also coming off two straight losses and badly needs a win.
Round 1. Neer tries to close the distance but McGee brushes him off. McGee lands a nice jab that snaps Neer's head back. Neer answers with a pair of hooks. He lands another moments later that connects solidly. They trade punches from inside. McGee knocks Neer back with a straight left. McGee begins opening up with kicks to go with the punches he was already landing. McGee is throwing and landing more, principally because he is able to keep a comfortable range and move out of the way when Neer tries to attack. McGee hurts Neer with punches to the body and keeps attacking the body until Neer goes down. On the ground, McGee lands a series of punches to the head and applies a rear naked choke right as the round comes to an end. 10-8 McGee.
Round 2. McGee aggressively opens up from the start of the round, throwing a lot more than his opponent. Neer does land a nice hook in an exchange. McGee catches Neer off balance and knocks him down with a punch moments later. Neer is fine and gets back up but begins eating even more shots. Neer finally is able to turn things around somewhat by pressing forward with jabs. He knocks McGee's head back and lands a quality uppercut. Neer's improvement is coming as he puts pressure on McGee and prevents McGee from fighting at comfortable range. McGee responds by landing a series of punches to the head and body. McGee looks for a takedown but it is blocked. Neer lands a nice knee to the body and the round comes to a close. 10-9 Neer.
Round 3. McGee lands a couple jabs to start the round. He lands a nice straight right punch up the middle on Neer. McGee presses Neer against the cage and looks for a takedown. Neer defends it nicely. They separate and McGee finally gets a takedown. However, Neer stands back up next to the cage halfway through the final stanza. McGee looks to take Neer back down. He grabs a deep double leg and gets Neer down. McGee lands punches from top position while trying to avoid Neer's attempts to set up a submission. As Neer attempts to stand up, McGee takes his back but can't get both hooks in. Neer rolls out but McGee gets top position and lands punches to conclude the fight. 10-9 McGee, 29-27 McGee.
Winner: Court McGee, unanimous decision (30-27, 30-27, 30-27).
Josh Koscheck vs. Robbie Lawler
Josh Koscheck has been one of the UFC's most controversial and well-known figures since his tenure on the first season of the Ultimate Fighter. He is coming off a loss to Johny Hendricks and needs impressive wins to keep his career going strong at the age of 35. Robbie Lawler was a phenom early in his career, one of the top prospects in the UFC at the age of 20. He left the UFC and spent many years fighting outside the organization before making his return in this fight. However, he has lost five of his last eight fights and is widely considered on the downside of his career.
Round 1. Koscheck takes Lawler down. Lawler stands back up but Koscheck grabs a leg and takes Lawler back down. Koscheck isn't able to accomplish anything on the ground and immediately Lawler works his way back up. Koscheck tries for another takedown but eats a big punch. Lawler follows with a series of additional punches and the fight is stopped.
Winner: Robbie Lawler, TKO, round 1.
Brendan Schaub vs. Lavar Johnson
Schaub is an excellent athlete who was on an NFL practice squad before getting into fighting. His Achilles' heel in his MMA career has been his chin, as all his losses have come via clean knockout. That plays into Johnson's hands, as he is a knockout puncher with 15 of his 17 wins coming via KO. He also is an inspirational story, surviving a random shooting at a family reunion to continue fighting.
Round 1. Schaub immediately looks for a takedown. He gets Johnson down and looks for a choke but Johnson is able to get out of danger. Johnson gets back up and he gets Schaub to the ground. Johnson lands a few punches from top position but Schaub is able to gain top control and work from Johnson's half guard. Johnson gets back up again but Schaub takes him to the mat in quick order. 10-9 Schaub.
Round 2. They clinch and exchange punches from close distance. Johnson lands some heavy punches to the body. Schaub takes Johnson down. He isn't particularly active on the ground, either in terms of looking for a submission or landing punches. The referee responds by standing the fight back up. Schaub lands a hard overhand and looks to take Johnson back down. Schaub lands a nice uppercut and gets the takedown. Schaub tries to pass guard but doesn't come close. The crowd boos Schaub's stall oriented attack. 10-9 Schaub.
Round 3. They each swing wildly early. Johnson lands a nice uppercut but Schaub takes him back down. Schaub lands light punches and tries to pass to no avail. Finally halfway through the round Schaub passes into mount. He then loses that position in quick order. Schaub keeps landing unnotable punches from top position for the remainder of the round. Bad fight. 10-9 Schaub, 30-27 Schaub.
Winner: Brendan Schaub, unanimous decision (30-27, 30-27, 30-27).
Michael Chiesa vs. Anton Kuivanen
Michael Chiesa was one of the most memorable figures in recent years of the Ultimate Fighter, dealing with the death of his father during the taping of the show and going on to win the season. He sports an 8-0 MMA record. Kuivanen is a Finnish fighter who fought most of his career in Europe before making his UFC debut in February 2012. He is 1-1 in the UFC.
Round 1. Chiesa lands a nice pair of straight punches early. Neither fighter is particularly aggressive as they feel each other out. Kuivanen throws more but neither man is able to land much. Kuivanen lands a nice punch from close distance and pushes Chiesa against the cage. They eventually separate. Kuivanen lands a nice hook and Chiesa responds by making funny faces. Kuivanen pushes forward with punches but Chiesa mostly defends. Kuivanen throws a knee that lands to a degree but Chiesa takes him down in the process. Kuivanen quickly gets back up. 10-9 Kuivanen.
Round 2. Chiesa grabs a single leg and looks to take the fight to the ground. He can't get Kuivanen down but he turns and takes Kuivanen's back on the feet. Chiesa pulls Kuivanen to the ground and locks in a body triangle. That puts him in good position to apply a rear naked choke and he locks it in. Kuivanen is forced to submit. This was a nice comeback win for Chiesa.
Winner: Michael Chiesa, submission, round 2.
Dennis Bermudez vs. Matt Grice
Bermudez was the featherweight runner-up on the fourteenth season of the Ultimate Fighter. He has won his last two bouts. Grice is coming off a win over Leonard Garcia but sports a 2-4 UFC record. Both men rely heavily on their wrestling backgrounds.
Round 1. Bermudez goes for a takedown early but Grice defends. In a scramble, Bermudez ends up in mount and begins throwing down big punches. Grice finally gets out of mount and stands up but Bermudez begins looking for a guillotine choke. They separate and Grice lands a nice elbow and some punches from close distance. Bermudez pushes forward with punches of his own that send Grice back across much of the Octagon. Grice catches Bermudez with a heavy hook and then drops Bermudez with another moments later. Bermudez is in big trouble. Grice lands a hard knee to the head. Grice lands some additional heavy punches as the round comes to a close. 10-9 Grice.
Round 2. The fighters exchange low kicks early. Grice lands a few nice jabs and Bermudez dives in with a wild takedown attempt. Grice blocks that and looks for a takedown of his own against the cage. He takes Bermudez down halfway through the round. As Bermudez stands up, Grice looks to take Bermudez's back. He is unsuccessful in the effort. Grice is cut high on his forehead. Grice looks for a takedown but can't get it. Bermudez defends a takedown very nicely and lands a knee in the break. Bermudez looks for a choke as the round closes but Grice rolls out of trouble. Close round. Two very difficult rounds to judge. 10-9 Grice.
Round 3. Bermudez drops Grice with a big punch early in the round and Grice is in huge trouble. The fight is very close to being stopped as Bermudez opens up with punches on the ground. Bermudez follows with elbows. Grice begins to regain his senses and stands up. Bermudez throws wild, heavy uppercuts and has Grice in big trouble. Grice throws back wildly. This is a crazy spectacle. Grice is almost too proud for his own good as he wildly answers back rather than covering up and looking to protect himself. Grice clinches against the cage but Bermudez keeps landing shots. Bermudez is so much more accurate with his punches and keeps connecting from an array of angles. Grice can barely stand and needs the cage to hold himself up. Grice fires back with a huge overhand right that sends Bermudez back. Grice begins to land the better shots as the fight comes to a close. That was a borderline 10-7 round. 10-8 Bermudez, 28-28 draw.
Winner: Dennis Bermudez, split decision (29-28, 28-29, 29-28).
That was a surefire fight of the year contender, one of the most memorable bouts in recent years.
Caros Fodor vs. Sam Stout
Fodor is a well-rounded Strikeforce veteran who trains with Matt Hume. This is his UFC debut. Stout, an exciting standup fighter, is fighting in the UFC for the 15th time.
Round 1. Stout initiates a clinch early and the fighters grapple against the cage. They separate and Fodor momentarily stuns Stout with a punch. Stout responds with a nice 2 punch combination of his own but Fodor responds by taking Stout down. Stout quickly gets up. They clinch again and Stout takes Fodor down with a minute and a half left in the round. Stout passes into half guard and drops down some punches and elbows. Stout works into mount and aggressively throws elbows. Fodor turns his back and Stout goes for an armbar. It looks like he briefly transitions into a kimura attempt as the round comes to a close. 10-9 Stout.
Round 2. They work from the standing position from the start of the round, with Stout landing better combinations and a nice head kick. Fodor tries to push forward but he isn't able to land with the same consistency as Stout. Fodor goes for a takedown late but Stout defends without much difficulty and lands a hard knee to the body in the clinch. 10-9 Stout.
Round 3. Fodor immediately closes the distance and looks for a takedown. Stout blocks Fodor and presses Fodor against the cage. Fodor briefly gets a trip takedown but Stout stands back up immediately. Fodor continues pushing for takedowns but Stout is consistently able to prevent the takedowns. In the process, however, Fodor is able to land some solid blows. 10-9 Fodor, 29-28 Stout.
Winner: Sam Stout, split decision (29-28, 28-29, 29-28).
In preliminary action, Nah-Shon Burrell scored his first UFC win by utilizing superior boxing to gain an entertaining judges' decision over Yuri Villefort. Neil Magny defeated Jon Manley via unanimous decision in a relatively dull bout. And Kenny Robertson submitted Brock Jardine with a unique kneebar in the first round.
Follow on Twitter at @ToddMartinMMA.
---
Get our high school sports newsletter
Prep Rally is devoted to the SoCal high school sports experience, bringing you scores, stories and a behind-the-scenes look at what makes prep sports so popular.
You may occasionally receive promotional content from the Los Angeles Times.