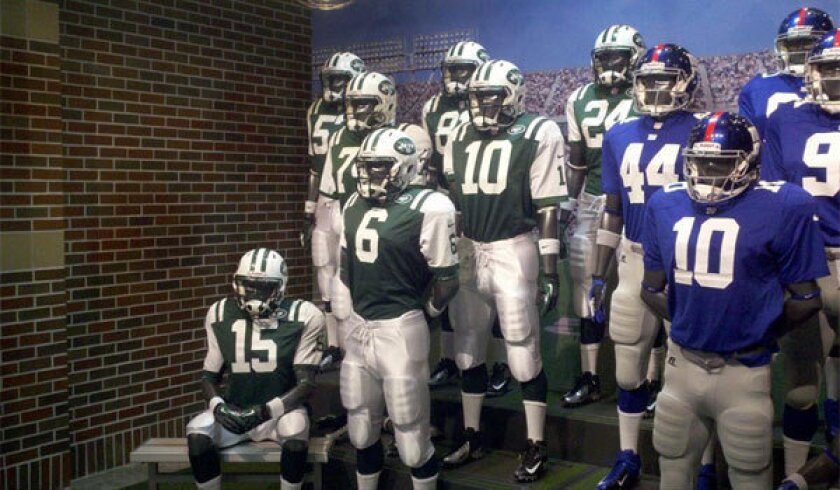 Tim Tebow didn't do anything. Why should he be mocked?
Actually, that's exactly why the New York Jets quarterback is being mocked in a display at a West Nyack, N.Y., Dick's Sporting Goods -- he did nothing, or close to it, all year.
In photos tweeted this week by ESPN's Scott Hochenberg, the store has mannequins wearing the jerseys of various Jets and New York Giants players standing tall and proud -- all except the one wearing Tebow's No. 15.
That poor guy is sitting by himself on a bench.
Tebow was brought in with much hype during last off-season, supposedly to be the backup to starting quarterback Mark Sanchez and to provide a spark in other ways, such as running the team's wildcat package.
But he ended up being rarely used by the Jets coaching staff and was passed over by No. 3 quarterback Greg McElroy when Sanchez was benched, a situation that allegedly caused Tebow to refuse to take part in the wildcat offense late in the season.
All of which leads us to where we are today, with the once-worshiped Tebow being mocked by sporting goods store employees. And a mannequin -- that one wearing Sanchez's No. 6 is looking pretty smug, don't you think?
ALSO:
Ravens' Ray Lewis to retire after playoffs
Watch ESPN's Heather Cox get mad after interview is cut short
Andrew Luck, Russell Wilson, Robert Griffin III showing freshman class
---