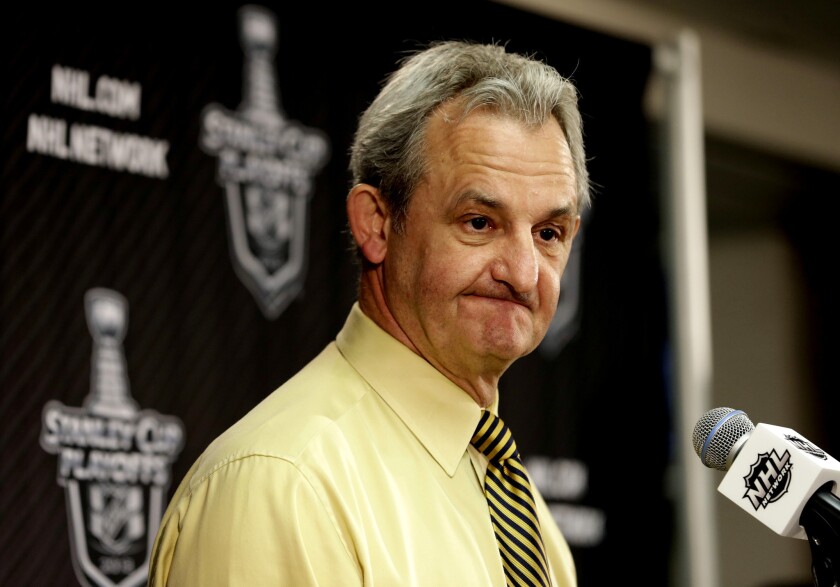 Soon after the Kings' chartered plane pointed its nose westward from Chicago, scene of their season-ending loss to the Blackhawks on Saturday in Game 5 of the Western Conference finals, Coach Darryl Sutter began getting ready to open training camp on Sept. 11.
Leaving others to analyze why the team's Stanley Cup reign has ended, Sutter has turned to preparing for what the Kings might accomplish next season if their promising kids get stronger and fitter and everyone is healthy.
"I started doing it on the plane ride home the other night," he said Monday. "There was no, what do you call it, decompress? No. That's not the way it was."
Decompress? Sutter?
Not likely.
He's often crusty and cantankerous, and those who try to extract injury information from him during the playoffs do so at their peril.
But judge him by deeds, not by words, and it's clear he did as good a job this year to get the injury-ravaged, suddenly low-scoring Kings to the West finals as he did in guiding them to the Cup a year ago, when everything clicked and the lineup was consistently healthy and deep.
General Manager Dean Lombardi, who had the same role in San Jose when Sutter coached there, had thought Sutter's finest coaching feat was getting the Sharks to the playoffs for a second straight season while facing new and heightened expectations. Lombardi has revised his opinion.
"Take that premise — expectations and everything — and multiply it times whatever after winning a Cup. The stakes are a lot higher," Lombardi said. "This was a new experience for all of us. Now having been through it and what we went through this year and seeing what they did as a coaching staff and as a team, that's way tougher than getting in the playoffs a second year. . . .
"I think it's the finest coaching job he's done."
No question, the Blackhawks were faster and fresher and deserved to win. But Sutter believes the Kings weren't that far behind. Although the team's scoring dried up in the playoffs, Sutter said he's focusing on cutting the goals-against total and fixing the disparity of having given up 74 goals on the road and only 44 at home this season. Overall, he said, the Kings weren't missing anything.
"I have no problem with anything other than we're a really young team and we can get better and from an individual standpoint," he said.
Only now is it becoming clear how limited a deck he worked with during the playoffs.
He said Monday that defenseman Robyn Regehr was scheduled for surgery after playing the entire postseason with an elbow injury. Team captain Dustin Brown tore a knee ligament in Game 6 of the second round and couldn't push off or put power into his skating; he said the knee is expected to heal after four to six weeks' rest. Forward Justin Williams had a separated shoulder, defenseman Drew Doughty a bad ankle. That list might expand after players undergo detailed medical exams this week — and it doesn't include defensemen Willie Mitchell, who missed the whole season, and Matt Greene, who missed most of it.
"Losing those two guys was not exactly the way you want to go about defending your title," Lombardi said. "They're arguably the best penalty killers in the league and really fit in with our puck movers, and he didn't have them all year."
Sutter had to live with young players' mistakes on defense but banked on their character as much as they banked on his smarts.
"I think Darryl did a tremendous job," said defenseman Rob Scuderi, who's approaching unrestricted free agency but said he hadn't yet discussed his future with his agent.
"I've loved playing for him, as a player. He has a great feel for what the team has going on and almost kind of a sense of what the team is thinking, and he knows maybe how to counteract that or work with it."
Scuderi also praised Sutter for making sure players avoided the traditional Stanley Cup hangover and, later, for getting them rolling in March and April. "It's unfortunate that we lost home ice," Scuderi said, "but you can't really say enough about what those guys have done as a staff to get us not only back into the postseason, but also to win a couple of rounds."
Sutter has already begun preparing to get them past more than a couple of rounds next season. There are no guarantees in a close league except that Sutter won't be decompressing, ever.
twitter.com/helenenothelen
---