Merion is a different type of U.S. Open course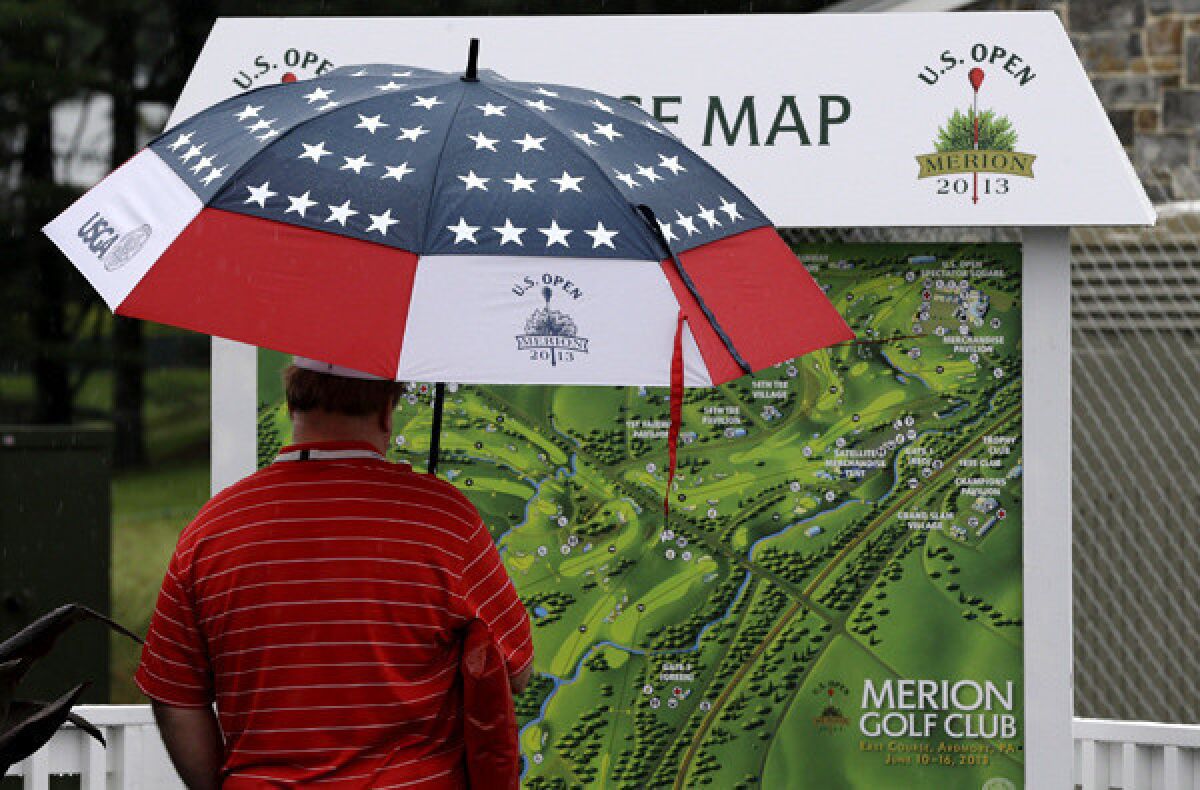 ARDMORE, Pa. — Wednesday was a beautiful day at the Merion Golf Club. Soft clouds, perfect temperature, gently cooling breezes.
It was also the day before the U.S. Golf Assn., the diabolical mastermind of the U.S. Open, hands 150 players blindfolds and offers each a final puff on a cigarette.
The 113th edition of this annual golf agony is meant, as always, to make the greatest golfers in the world feel as if they are wearing starched underwear.
Mike Davis, executive director of the USGA, summed up nicely Wednesday morning. "Difficult is in our DNA," he said.
He then chattered on about how his USGA "never talks about scores," and about, whether the winning total is "14 under par or five over," the follow-up discussion will be only "how the course played."
No mention was made of sitting around, sticking pins in a Rory McIlroy doll. McIlroy won at Congressional two years ago with 16 under. After that, they probably flew the flag at half staff at USGA headquarters.
To the USGA's credit, it tried something different this time. It abandoned — presumably just this once — its practice of picking a massive golf course with room for massive sponsor tents and massive galleries, all leading to massive profits. Those courses also tend to be amenable to setup changes that make playing them like teeing it up in a jungle.
If Augusta National is a convention center, Merion is a closet. Claustrophobia might top heatstroke as a gallery concern. Stretched out, Merion will play to 6,996 yards. That's 400 or so yards shorter than many PGA Tour events. A total of 25,000 spectators a day will be allowed here, some 10,000 shy of normal for an Open.
"It's the perfect blend of short and long," Davis said. "Merion is all about precision."
It is also all about history, which is why they brought it back here for a fifth go-round after 32 years.
In 1934, Olin Dutra, 33, the head pro at the Brentwood Country Club, overcame an eight-shot deficit after 36 holes to win. That was four years after Merion had played host to the U.S. Amateur, where Bobby Jones completed the final leg of golf's Grand Slam, then the U.S. and British Opens and amateurs.
In 1950, only 16 months after his near-fatal auto accident, Ben Hogan won here, hitting a fabled one-iron on No. 18 from 215 yards to get himself into a playoff. The one-iron is about as easy to hit as a fly with a pencil.
In 1971, Lee Trevino beat Jack Nicklaus in a playoff, famously loosening up the proceedings by tossing a rubber snake to Nicklaus on the first tee of the playoff. A chuckling Nicklaus tossed it back.
In 1981, playing at the same 6,544 yards that they had in 1971, Australian David Graham hit every green in regulation in a final-round 67 and won by three strokes.
Matching history might be easier than getting a break in the weather. In the last few days here, they have had 6 1/2 inches of rain. Thursday's forecast is for as much as three inches more. This could become the Okefenokee Swamp U.S. Open.
The players, on a course seen as a nightmare of hard bounces and balls running into the deep rough, might get a respite here with soft greens and fairways, similar to the USGA's nightmare at Congressional. They also might be finishing up Tuesday.
Left to its own devices and not remade for a carnival, Merion is a delightful layout, squeezed carefully into this suburban Philadelphia neighborhood. Perhaps best described as a links course with trees, it was designed by a young golfer named Hugh Wilson. As the story goes, he researched his project by viewing British courses and became so enthralled with what he was seeing that he extended his stay and postponed his trip home. On the Titanic.
The course is fairly playable, although the average duffer, given a choice between playing it or hitting his thumb with a hammer, would rush to the tool box.
The first 13 holes give varying scoring opportunities. The last five give migraines.
The 17th and 18th are especially precious, and will be television's darling on the final day.
No. 17 is a 246-yard par three, needing a carry over a quarry that has long grass, bushes, old sand traps and, probably, Trevino's rubber snake. The green features a false front.
No. 18 is a 521-yard par four. That's not a typo. A narrow tee shot needs about a 250-yard carry back over the quarry to a 30-yard-wide fairway. That gets you in position to hit a Hogan one-iron (or a Bubba Watson six-iron). If you stray, you might end up in a fairway trap that has grass growing in it in little clumps that resemble a smiley face. Thirty yards left of the tee, commuter trains clack along every 15 minutes or so, often in your backswing.
A good time will be had by all. Except the players.
---
Get our high school sports newsletter
Prep Rally is devoted to the SoCal high school sports experience, bringing you scores, stories and a behind-the-scenes look at what makes prep sports so popular.
You may occasionally receive promotional content from the Los Angeles Times.