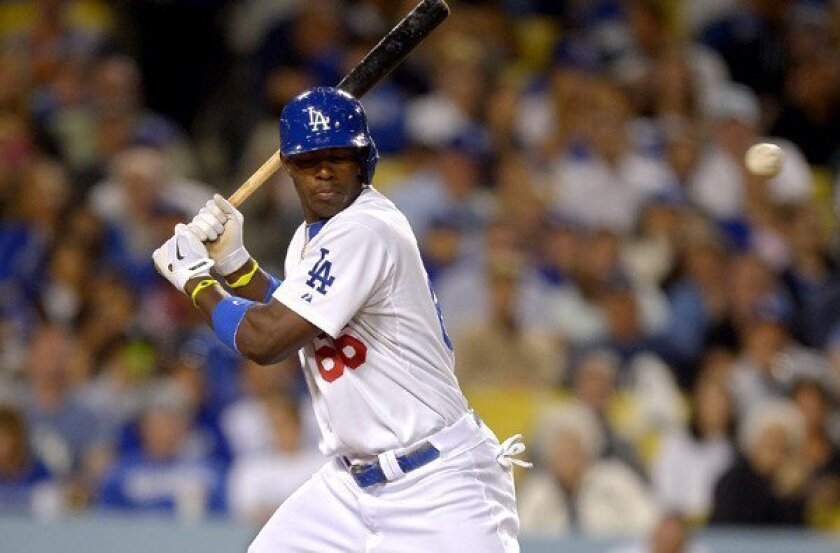 Rocket fuel
Roger Clemens would have smiled at the highlights from last week's fight night at Dodger Stadium. Not at the punching and shoving, mind you, but at the first bean ball — the one that hit Yasiel Puig in the face.
Puig had hit .500 in his first eight games in the major leagues, with four home runs and 10 runs batted in. The Dodgers' phenom might have been a little too comfortable for Clemens, who probably would have welcomed him to the majors by buzzing him with a fastball, high and tight.
In 1993, Clemens did just that to Angels rookie J.T. Snow, who had hit .407 in 14 games, with six homers and 17 RBIs. For the rest of April and all of May, the rattled Snow hit .121.
Worry about a pitch too far inside, and you might get spooked, or you might lean back just far enough to be unable to reach a pitch on the outside corner. That might not shake up Puig, who appears to be a bad-ball hitter in the mold of Vladimir Guerrero. In his first five at-bats after Ian Kennedy of the Arizona Diamondbacks hit him in the face, Puig had three hits.
He also had an ejection and a fine, and he stopped speaking to reporters. He arrived in the majors labeled as temperamental. If teams decide the best way to get him out is to get him angry, Kennedy will not be the last pitcher to throw inside to Puig, high and tight.
Fireman Tim?
John Smoltz was 34 when he moved to the bullpen. Dennis Eckersley was 32.
Smoltz was reluctant, but he was dominant. Eckersley had to be dragged out of the starting rotation kicking and screaming, but he ended up in the Hall of Fame.
Tim Lincecum could be next. The two-time Cy Young winner turned 29 on Saturday, and his best days as a starter appear behind him. His earned-run average: 5.18 last season, 4.70 this season.
"He's still got swing-and-miss stuff," Smoltz said. "You just have to look at what he did in the postseason."
The San Francisco Giants put Lincecum in the bullpen last October. He gave up one run in 13 innings, with 17 strikeouts, as the Giants won the World Series.
Lincecum's best offer in free agency this fall could come from a team that wants him at the back of its bullpen.
"If my career takes that turn, I'm definitely open to changes," he told CSN Bay Area, "especially if it's beneficial to the team I'm playing for."
Frank talk
The Dodgers' new $8.5-billion contract with Time Warner Cable makes Angels owner Arte Moreno an unintended victim of Frank McCourt's stunningly successful sale of the Dodgers.
Moreno did not just slap a Los Angeles name on the Angels. He used the Dodgers' television contracts as models for his own, since the Angels played in the same L.A. television market.
In 2006, Moreno got a $500-million deal, based on the one Fox Sports had just given McCourt. In 2011, after Fox agreed to a new $3-billion deal with McCourt, Moreno got a similar deal.
But Commissioner Bud Selig rejected the McCourt deal, and the Dodgers' new owners got one for almost three times as much. No chance McCourt would have any sympathy for Moreno; McCourt bitterly resented the Angels' name change and mockingly produced gear with this tag: "Los Angeles Dodgers of Los Angeles."
— Bill Shaikin
---