Anaheim Ducks win fifth straight with victory over Calgary Flames, 3-2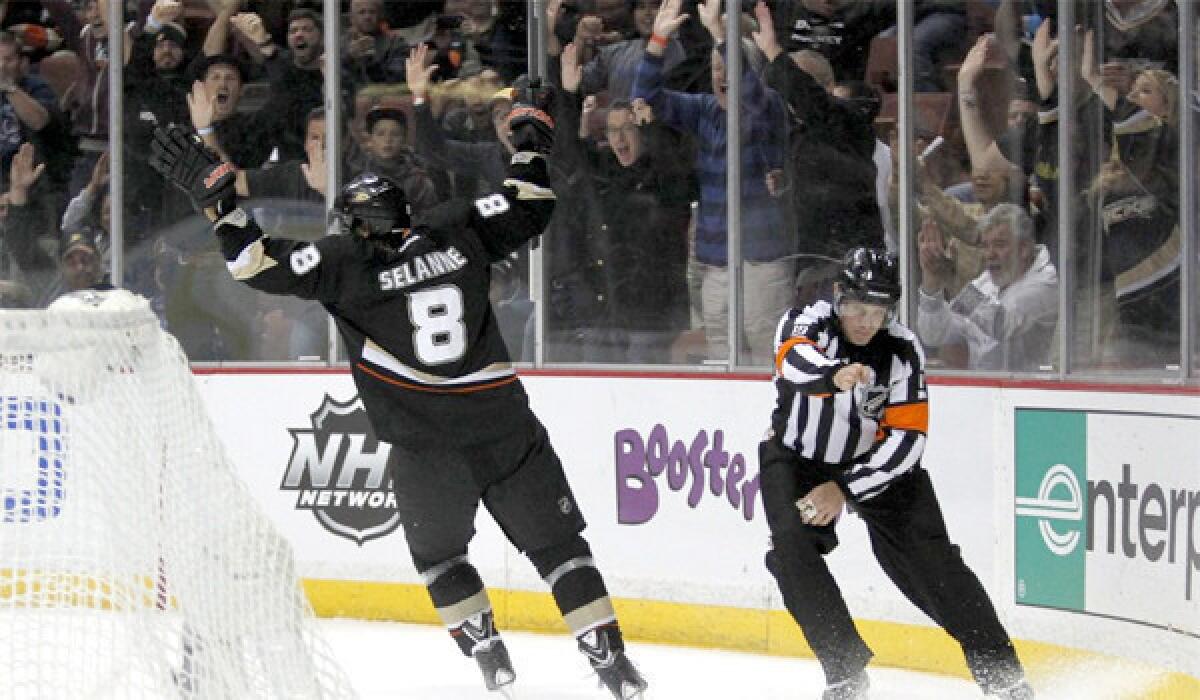 Old is all in the mind.
For the Calgary Flames, their 17th consecutive loss in Anaheim to the Ducks on Wednesday night was ancient.
For 43-year-old Teemu Selanne, that game-deciding goal he shot under the legs of Flames goaltender Joey MacDonald — the first of Selanne's final season and No. 676 of his career — made him feel like a kid again.
"I broke my stick," right before the shot, "got it back and made the play," Selanne said after raising his arms in a trademark celebration to mark the occasion. "Sometimes, you've got to be lucky."
Selanne's goal, with 3 minutes 25 seconds remaining in the second period, was the difference in a 3-2 victory that was the fifth straight for the Ducks (5-1), who kept Calgary (3-1-2) winless in Anaheim since Jan. 19, 2004.
"The first one is always important, you don't have to start squeezing your stick," Selanne said. "I've been feeling pretty good. It gives you confidence."
Selanne scored after breaking his stick when it made contact with Calgary's Mark Giordano's.
He rushed for a replacement as Jakob Silfverberg sprinted for a steal and breakaway, sweeping a pass crisply to Selanne.
"Just a great experience. He's such a skilled player to be playing with him in his last year in the league has been amazing," Silfverberg said.
Preserving the lead fell to Ducks goaltender Viktor Fasth, who was brilliant in stopping 16 of 17 shots in the third period (and 33 overall) as the Ducks killed off four Calgary power plays.
"I feel good what we did tonight, the way we played," Fasth said. "We fought hard in the last 20. We knew they were coming out at a high pace. We were ready to meet their push. They played good, and we came out with the win."
The Ducks kept Calgary scoreless in the second period despite their three penalties and the Flames' 11 shots.
Curtis Glencross hit the post to Fasth's left early. Fasth then made three superb stops, including a left-handed glove save on a shot by Flames defenseman Dennis Wideman.
The Ducks scored the game's first two goals, starting when left wing Dustin Penner took a pass from first-line teammate Ryan Getzlaf and flicked it into the net.
Kyle Palmieri made it 2-0, beating MacDonald to the right again with a shot that left his stick just as he was struck from behind by Flames defenseman Chris Butler and fell forward.
The advantage seemed secure to the period's end when Calgary's Tim Jackman struck Ducks defenseman Sami Vatanen with the butt end of his stick, picking up a five-minute game misconduct penalty.
But the Ducks' power play is the worst in the league thus far, and Palmieri turned the puck over to Calgary's Lee Stempniak, who took the breakaway past Fasth for a short-handed goal with 3:29 left in the period.
The Ducks are now one for 24 on the power play this season.
"Power killers," Selanne said. "It's not pretty to watch. There's a lot of work to do."
Get our high school sports newsletter
Prep Rally is devoted to the SoCal high school sports experience, bringing you scores, stories and a behind-the-scenes look at what makes prep sports so popular.
You may occasionally receive promotional content from the Los Angeles Times.