Dodgers reliever Brandon League is glad to start over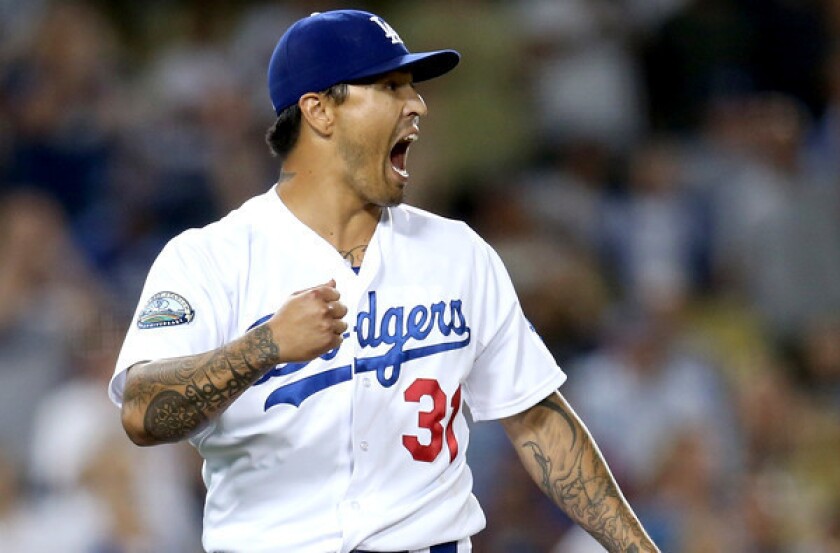 PHOENIX — Brandon League views this spring as a chance to start over.
"It's a new season, whether you're World Series champs, made the playoffs or not," League said. "It's always a fresh start for everyone."
Never was League paid as much as he was last season, the first year of a three-year, $22.5-million contact. And never did League pitch worse.
"It wasn't easy for me to swallow," he said.
He started the season as the Dodgers' closer and ended it as an observer in the National League Championship Series. He didn't make the team's roster after finishing the season with a 5.30 earned-run average in 58 appearances.
"It was not just one thing," he said. "It was not just mechanical. It wasn't just preparation. It was one thing one time, something else another time."
Velocity wasn't a problem. His fastball was routinely clocked in the mid-90s.
With League still owed $17 million over the next two years, he is virtually guaranteed to make the Dodgers' roster. He probably will pitch in the middle innings, with Brian Wilson setting up closer Kenley Jansen.
League said his memories of last season will serve as motivation this spring. He threw off the mound Wednesday after missing his previous bullpen session because of a sore pectoral muscle.
League said he is optimistic about recovering his old form. But, he added, "You always feel good coming into camp, regardless of the previous year."
Voice of experience
Manager Don Mattingly said he has spoken to Hanley Ramirez on multiple occasions about not allowing his contract status to become a distraction. Ramirez, 30, will be a free agent at the end of the upcoming season.
"If you take care of business on the field, everything will be taken care of," Mattingly said.
Even if the Dodgers don't extend Ramirez's contract, Ramirez could be in a great position on the open market next winter.
"There's going to be 30 teams that have a chance at Hanley Ramirez," Mattingly said.
Mattingly's status as Dodgers manager became an issue after last season until he and the club agreed on a contract extension last month.
Milestone moment
Josh Beckett faced hitters for the first time since he underwent surgery to address a nerve problem. Beckett described it as a major milestone.
"I was a little nervous going in," he said. "Mentally, I think that was a big hurdle for me today, bigger than probably most people think."
Beckett, who had a rib removed, was pleased with how he threw the ball.
"I feel my arm angle might be a touch higher, which is a good thing," he said. "I feel I'm top of the ball and powering the ball down."
High praise
The ease with which outfield prospect Joc Pederson swings the bat reminds Mattingly of two All-Stars: Robinson Cano and Carlos Gonzalez.
"There's no tension in his swing," Mattingly said. "It's a matter of Joc developing and understanding his keys for certain pitchers and his approach to those guys."
Short hops
Matt Kemp probably won't start running for at least a couple of more weeks, according to Mattingly. … Chad Billingsley appears to be recovering well from reconstructive elbow surgery. The Dodgers still have him on a conservative throwing program. Whereas most pitchers are throwing off the mound every other day, Billingsley is doing so once every three days. … Mattingly is open to the idea of a platoon at second base. He thinks such an arrangement could benefit Cuban defector Alex Guerrero. "You give him a chance to play, hopefully get favorable matchups, but also keep him strong and rested."
Twitter: @dylanohernandez
---
Get our high school sports newsletter
Prep Rally is devoted to the SoCal high school sports experience, bringing you scores, stories and a behind-the-scenes look at what makes prep sports so popular.
You may occasionally receive promotional content from the Los Angeles Times.