Ducks will be confident against Chicago Blackhawks, but not smug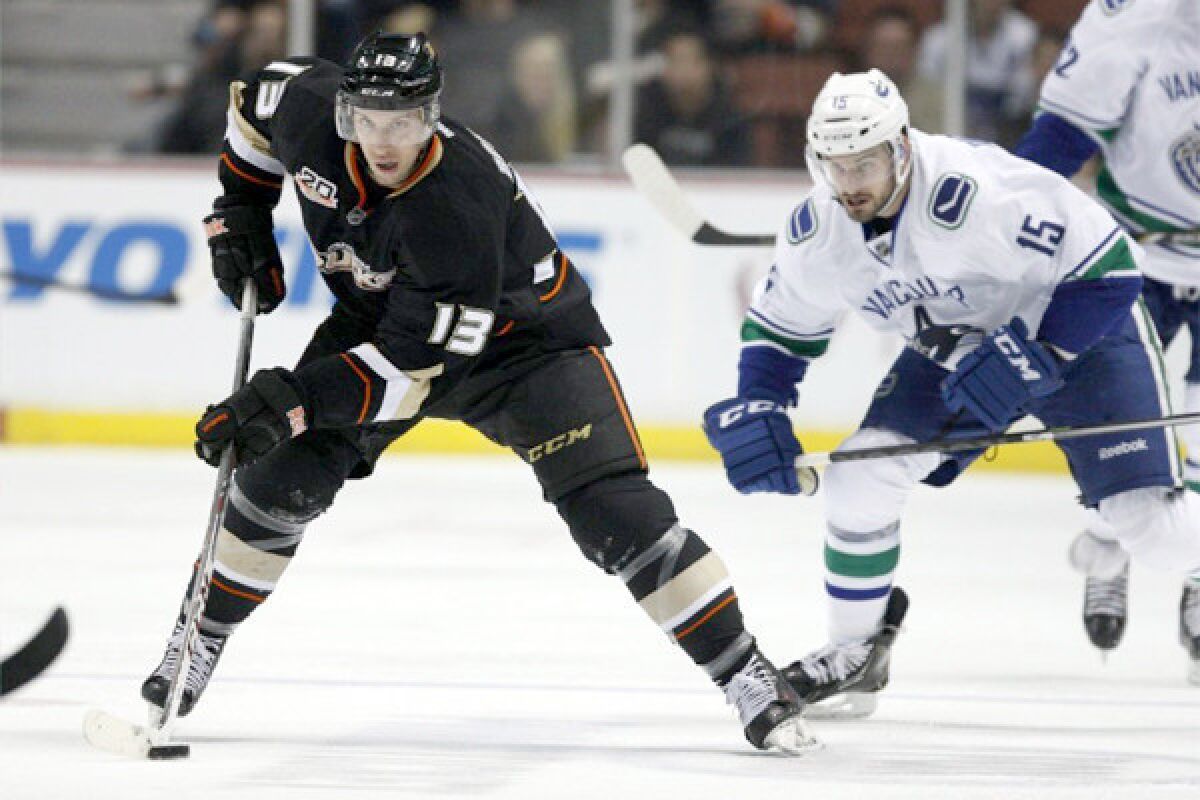 CHICAGO — The Ducks won't dare say they've solved the Chicago Blackhawks, but their 5-0 run after a December 2011 road loss is nonetheless head-turning.
The teams renew acquaintances Friday night at United Center.
"We've won enough games against them that we have a level of confidence to know we can beat them," Ducks center Nick Bonino said of the defending Stanley Cup champions. "You can't go in thinking you have their number, but you can go in knowing you can win."
The Ducks — leading the NHL with a 36-8-5 mark that includes a record-tying 18 wins in 19 games — swept the Blackhawks (30-8-11) in three meetings last season, but deprived themselves of a playoff showdown by losing to first-round opponent Detroit.
On Dec. 6, the Ducks won at Chicago, 3-2, in a shootout when Kyle Palmieri scored after an unusual shootout goal by Bonino, who had lost control of the puck that still slid past Blackhawks goalie Antti Raanta.
"I meant to do that," Bonino joked. "Both teams have great depth. Up to this point we've got the better of them, but not by much when [three of the] wins are by a shootout or one goal. It's come down to will and so far we've had that."
Defenseman Ben Lovejoy said the Ducks' ability to skate with Chicago — the defensemen love to push the puck to stars Patrick Kane (56 points), Patrick Sharp (25 goals) and Jonathan Toews (30 assists) — has proved critical, as has their depth across four lines.
"Chicago is so talented, so quick, so fast," Lovejoy said. "They want to go around you, make nice, fancy plays.… We can play the speed game and a heavy physical game."
The Dec. 6 win was the start of the Ducks' 18-1 run, a feat duplicated by only the 1967-68 Stanley Cup-champion Montreal Canadiens.
"The better the other team is, the more you're up for it," Ducks forward Matt Beleskey said. "Everyone's gunning for the defending champion."
Ducks Coach Bruce Boudreau said he expects Chicago to be gunning for them too.
"The minute you feel you have Chicago's number, they're going to score seven," Boudreau said. "We come in knowing we have to play our absolute best."
More bullying?
Vancouver seemed determined to get hits on star forward Corey Perry in the first period Wednesday, a strategy the Ducks are braced to confront more often.
Perry was hit hard on the right shoulder by Canucks defenseman Alexander Edler, knocked to the ice by defenseman Kevin Bieksa, hit in the back of the head, and struck again by Edler.
Perry weathered the pressure, recording two goals and two assists to improve his season totals to 27 and 26, respectively.
"Everybody looks at our lineup and asks themselves, 'Who do we have to stop?' It's Perry," Boudreau said. "He got four points and held his temper. He's fine."
Souray is out
Defenseman Sheldon Souray is scheduled to undergo season-ending surgery on the wrist he injured in summer conditioning.
The wrist was slow to heal and a person close to the situation but not authorized to speak publicly on the matter said Souray will be out for the season.
Power play clicking
The Ducks rose from the league's 26th-ranked power-play team earlier this month to 15th after their franchise record six power-play goals during Wednesday's 9-1 blowout of Vancouver. Anaheim has 12 power-play goals in the past six games.
DUCKS VS. CHICAGO
When: 5 PST.
On the air: TV: Fox Sports West. Radio: AM 830.
Etc.: Should Ducks goalie Jonas Hiller return as expected from flu, with his 14-game winning streak on the line, he has not only the Blackhawks to face but also torrid St. Louis on Saturday.
---
Get our high school sports newsletter
Prep Rally is devoted to the SoCal high school sports experience, bringing you scores, stories and a behind-the-scenes look at what makes prep sports so popular.
You may occasionally receive promotional content from the Los Angeles Times.