Lonzo Ball's former Big Baller Brand associate is the subject of an FBI investigation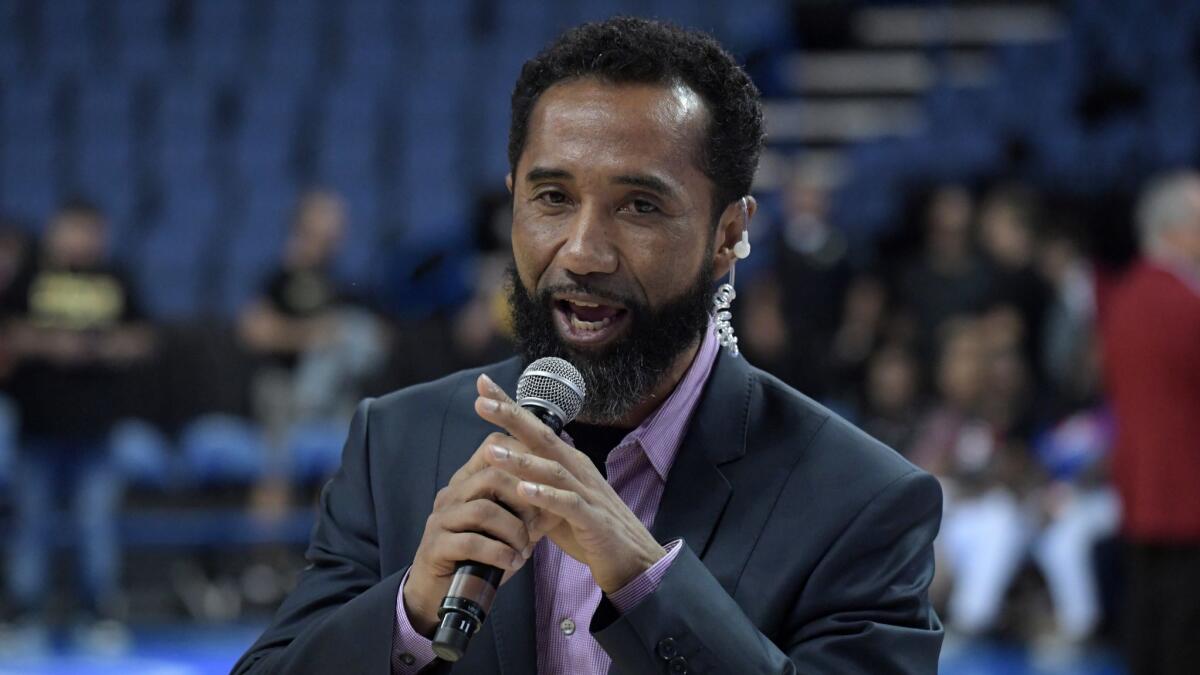 When Lakers star Lonzo Ball was a teenager, Gregory Alan Foster was like a second father.
The businessman was deeply embedded in the Ball family as Lonzo and his two younger brothers captured national attention for their exploits on the Chino Hills High School basketball team. Lonzo Ball's own father called Foster his "brother" and entrusted him with managing finances for the family and the apparel company that capitalized on the children's fame.
But Foster had a secret past that Lonzo Ball and other members of his family knew nothing about.
It was laid bare in court transcripts in which Foster admitted that he had run a fraudulent stock scheme that bilked nearly $4 million from 75 investors.
At a sentencing hearing in 2002, a prosecutor noted that during a phone call from prison that Foster did not know was being recorded, he told an associate he had learned "how not to get myself in this predicament ever again in life."
Reading from a transcript of the call, the prosecutor quoted Foster as saying, "I'm going to have too many attorneys and too many accountants blocking the way to even get to me."
The FBI is now investigating whether Foster defrauded the Ball family out of millions of dollars, according to two law enforcement sources. While it's unclear when exactly the official investigation began, one of those sources said it is at least two months old.
Lonzo Ball and the family's shoe and clothing business recently accused Foster in a lawsuit of taking more than $1.5 million out of the company's bank accounts and accepting "substantial undisclosed referral fees" from at least eight loans he arranged on behalf of the company.
Ball, whose contract with the Lakers is worth up to $33.4 million over four years, said he felt betrayed.
"Obviously, it hurt me just because of a lot of stuff I've been through with him," Lonzo Ball said on April 10, one day after the Lakers' season ended. "A lot of decisions he made on my behalf and stuff. So it hurt. It hurt a lot. Known him since I was like 12, so kind of hit me.
"But you know I'm over it now. Just trying to stay positive and move on to bigger and better."
Foster was a co-founder and business manager of Big Baller Brand, a company that spun Ball's fame and that of his two basketball-playing brothers. Foster, who owns 16.3% of Big Baller Brand, was removed as a manager of the company in March, according to the lawsuit.
Foster, 52, could not be reached for comment. His whereabouts are unknown.
The Ball family and its financial team are cooperating with federal investigators. Lonzo Ball, the majority owner of Big Baller Brand, declined to comment about the FBI investigation. LaVar Ball did not respond to phone calls and text messages.
Complicating the situation is the trust that existed between LaVar Ball and Foster, according to one of the law enforcement authorities. The men met nearly a decade ago when their sons were attending middle school together and they remained close until last month, just weeks before Lonzo and Big Baller Brand filed suit on April 2. LaVar has said he allowed Foster to control his son's business affairs. What's unclear is how much he knew about his friend's background.
Foster and a business partner, Steven Woods, pleaded guilty to mail fraud and money laundering in the fraudulent stock case, according to court records.
In the scheme, Foster and Woods promised returns up to 25% every 90 days and bragged to potential clients that professional basketball players such as as Robert Horry, David Robinson and Avery Johnson were investors. Actually, none were.
In their plea agreements, Foster and Woods admitted most of the money was never invested but rather applied toward personal use for mortgage payments, rent and leases on luxury automobiles. Foster was sentenced to 87 months in prison.
"I just want to let everybody know that I'm remorseful, humiliated, ashamed of my actions," Foster said during sentencing. "I apologize from my heart to the victims, and apologize to my family for letting them down."
After five years in prison, Foster was released on probation. In 2009, he violated the terms of his release and went back to prison for five months.
Shortly after his release, he met the Ball family. LaVar and wife Tina were raising their three sons to be dominant basketball players. Lonzo, the oldest, was 12. In the years that followed, he and brothers LaMelo and LiAngelo became national sensations, their on-the-court exploits exploding over social media, leading to tens of thousands of followers.
Big Baller Brand launched in 2016 just before Lonzo's one and only season playing for UCLA, and the company became exponentially more popular as he prepared for the NBA draft. The openings of its pop-up shops drew hundreds, mostly young people.
In the lawsuit, it is alleged that Foster convinced Lonzo that he should help grow Big Baller Brand rather than sign a lucrative deal with an established apparel company as most of the best NBA prospects do. Top draft picks can net millions of dollars in such deals, but Lonzo and his father chose a different route.
Foster also encouraged Lonzo to refuse to workout for any team other than the Lakers, according to a person familiar with their communications. In June 2017, Foster sat at the Ball family table along with LaVar, his three sons and Lonzo's agent, Harrison Gaines, as the Lakers chose Lonzo second overall in the draft. When the pick was made, Lonzo got congratulations from everyone, including a handshake-hug from Foster, and quickly put on a pair of Lakers-themed Big Baller Brand shoes.
Soon after the company debuted its first line of shoes, Big Baller Brand received an F rating from the Better Business Bureau. The company was sued by a supplier that said it hadn't been paid. Some customers complained they waited weeks or even months for products, and often couldn't get a response when they attempted to contact the gmail account that served as the customer service point of contact. Responses were often replete with grammatical errors.
"Everything about it was unprofessional," said Adam Panfil, who purchased a Big Baller Brand sweatshirt for his son's 12th birthday but didn't receive it for two months.
In addition to his role with the company, Foster became the family's de facto publicist, and LaVar became known from audacious proclamations. A bit player for Division II Cal State Los Angeles in his heyday, LaVar boasted that he could have defeated Michael Jordan at a game of one-on-one. He called Lonzo the best basketball player in the world.
LaVar's public antics often made the Lakers uncomfortable. When he publicly criticized the organization and former coach Luke Walton, then-president of basketball operations Magic Johnson and general manager Rob Pelinka met with him to ask that he temper his rhetoric. He didn't.
Foster confronted reporters who wrote anything of which he disapproved. He also tried to limit the influence of people working with the Ball family who weren't of his choosing, according to people close to the family.
In October, Lonzo and LaVar were alerted by a different financial manager about what appeared to be suspicious transactions, according to the lawsuit. Foster denied wrongdoing and urged the family to distance themselves from the advisor.
LaVar continued his relationship with Foster, who helped broker the enrollment of LaMelo at Spire Institute, a private high school that operates as a sports academy in Ohio. At a news conference announcing LaMelo would enroll there, LaVar called Foster his "brother" and said he had been entrusted to find a destination for the youngest of LaVar's sons.
Sign up for our Lakers newsletter »
In December, Foster asked for money from the organizer of one tournament in which Spire was scheduled to participate — an appearance fee for LaMelo — according to a person affiliated with the tournament, confirming a Forbes report. Spire knew nothing of the request, the person said. Spire ended up not participating in the tournament.
LaVar was noticeably more reserved with his opinions about Lonzo and the team during the past Lakers' season, but Foster and LaVar were still exerting influence behind the scenes.
In January, Lonzo suffered a severe ankle sprain. When the injury wasn't healing properly, Foster, with LaVar's support, arranged for Lonzo to have surgery in Ohio against the team's wishes, according to two people familiar with the situation. The Lakers threatened to void Lonzo's contract if he underwent the procedure and sent a plane to retrieve their second-year point guard.
In April, a day after the Lakers' season ended, Lonzo was asked why he didn't immediately heed warnings about Foster's financial management.
"[Foster is] like my second dad," Lonzo replied. "So when he came to me, I just talked to him and I didn't think there was anything wrong with it. He just gave me his story. Now, looking back at it, obviously I wish we would have jumped at it back in October."
All things Lakers, all the time.
Get all the Lakers news you need in Dan Woike's weekly newsletter.
You may occasionally receive promotional content from the Los Angeles Times.