Kobe Bryant: Looking at Anthony Davis trade is 'smart' for Lakers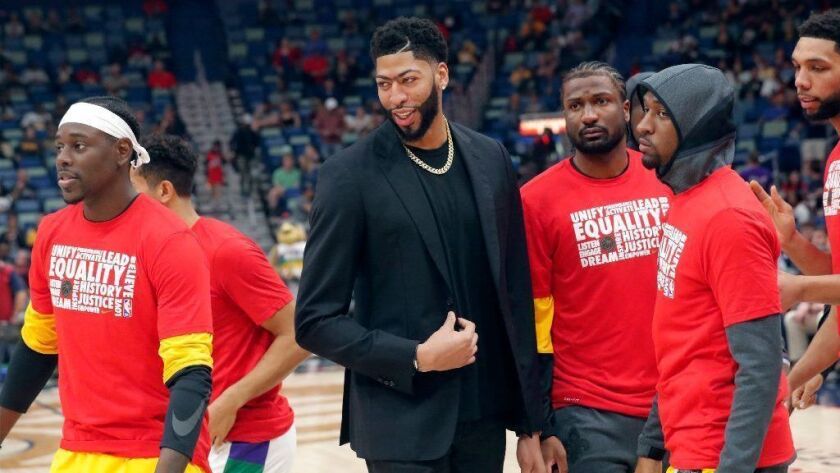 Count Kobe Bryant among those who believe the Lakers should consider trading for Anthony Davis.
In an interview with ESPN, Bryant said the Lakers' off-season signing of LeBron James indicates the team wants to win now, and trading for the New Orleans Pelicans star would go along with that strategy.
"It depends on what you're trying to accomplish and what your long-term objectives are," Bryant said. "Now, by signing LeBron, you're already making an indication that you wanna win now. Right. So, I think it'd be a smart thing to do for the Lakers to look at that. But at the same time, you know, you gotta play a little bit of poker."
It doesn't look like the Lakers will acquire Davis before Thursday's trade deadline. The Lakers have pulled out of trade talks with the Pelicans amid "outrageous" requests from New Orleans, a person with knowledge of the situation told The Times.
The Lakers had agreed to send their entire young core of Lonzo Ball, Kyle Kuzma, Brandon Ingram, Josh Hart and Ivica Zubac to the Pelicans, as well as veteran guard Kentavious Caldwell-Pope, two people with knowledge of the situation said. The Lakers were also willing to also send two first-round draft picks and salary-cap relief.
Davis' representatives told the Pelicans he'd be interested in signing a long-term deal with the Lakers, Clippers, New York Knicks and Milwaukee Bucks. As of Monday, the Clippers had not made a trade offer to the Pelicans. There's also a chance the Pelicans could wait until the off-season to trade Davis in hopes of landing a better deal.
While a trade for Davis would have the potential of transforming the Lakers into a NBA title contender, Bryant isn't sure if the franchise should pay such a hefty price tag for the six-time All-Star.
"Listen, we have a lot of talent in Kuzma," Bryant said. "You have a lot of talent — talent in Ball. … I mean, you gotta really look at it. You got other teams out there, Boston and so forth and so on, competitors looking to add the same piece."
Sign up for our daily sports newsletter »
Twitter: @AustinKnobby
---
All things Lakers, all the time.
Get all the Lakers news you need in Tania Ganguli's weekly newsletter.
You may occasionally receive promotional content from the Los Angeles Times.