Magic Johnson is among Lakers fans applauding Anthony Davis trade
Magic Johnson and his wife, Cookie, had just watched the movies "Shaft" and "Rocketman" on Saturday afternoon when he noticed his cellphone was pinging with the news that the Lakers had acquired Anthony Davis from the New Orleans Pelicans in a four-player, multiple-draft-pick deal.
Then Johnson was bombarded by excited Lakers fans who wanted to know how he felt about the Lakers sending Lonzo Ball, Brandon Ingram, Josh Hart and three first-round picks to the Pelicans for the talented big man.
"I came out and my phone was just blowing up and people were stopping me and saying, 'Are you happy?' I didn't know what they were talking about," Johnson said Saturday afternoon. "They were jumping up and down and everybody hugged me. This is the greatest news any Laker fan could receive. Anthony Davis is a Laker. Wow! Watch out! Watch out! We are back, baby."
Johnson, who shockingly stepped down as the Lakers' president of basketball operations on the final day of the regular season and ripped general manager Rob Pelinka in an interview on ESPN, said he was happy that Lakers owner Jeanie Buss and Pelinka were about to pull off the trade.
Johnson said giving up the fourth overall pick in the 2019 draft had to be done to get Davis to play alongside LeBron James.
"Our leaders stepped up for the L.A. fan base and for LeBron," Johnson said. "And despite what Rob and I have gone through, I want to congratulate him. He pulled off a major trade for the Lakers, and just congratulations to him. We're back, we're back, we're back where we should be and in the championship hunt. …
"You got three starters for sure with [Kyle] Kuzma, LeBron and Anthony Davis. Now you can fill it out. I think when free agents saw this trade, they are going to want to come to Los Angeles now. I think this is exciting for all of us Laker fans, and it's just the start of what could be a big, big summer, maybe the biggest summer in Laker history."
When Johnson was in charge, he and Pelinka tried to make a deal to get Davis as the Feb. 7 trade deadline approached, offering nearly all of their young talent and draft picks. Former Pelicans general manager Dell Demps declined that offer.
"Rob and I worked hard in February to try and make it happen. Now that it's happened here in the summertime, I'm just so proud of Jeanie Buss because she's been taking a lot of flak," Johnson said. "Now everybody can see who the leader, how great of an owner she really is."
Johnson said he texted Buss, Pelinka and Kurt Rambis, the Lakers' special advisor, last week and implored them to get the Davis deal done.
"I'm still going to be right there and I'm still going to be calling and giving them notes," Johnson said. "I told them that this trade could be great for the next 10 years for the Lakers. That's what I sent in the note.
Anthony Davis cuts down the net after Kentucky defeated the Baylor 82-70 in the NCAA tournament South Regional final on March 25, 2012, in Atlanta.
(Streeter Lecka / Getty Images)
Kentucky's Anthony Davis reacts late in the second half against the Louisville Cardinals during the 2012 NCAA semifinals.
(Ronald Martinez / Getty Images)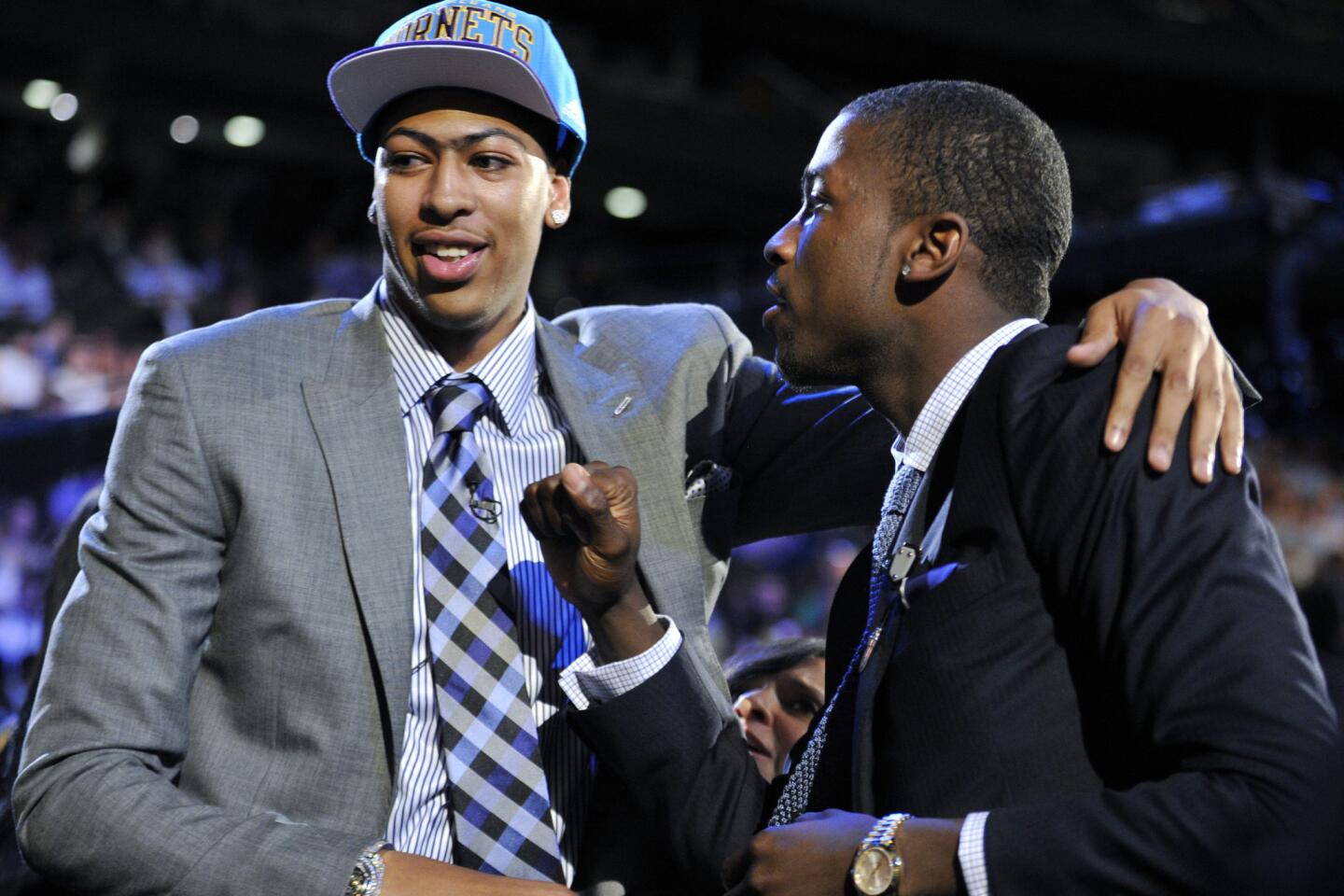 Kentucky's Anthony Davi is congratulated by former teammate Michael Kidd–Gilchrist after Davis was selected the No. 1 overall draft pick by the New Orleans Hornets on June, 28, 2012.
(Bill Kostroun / Associated Press)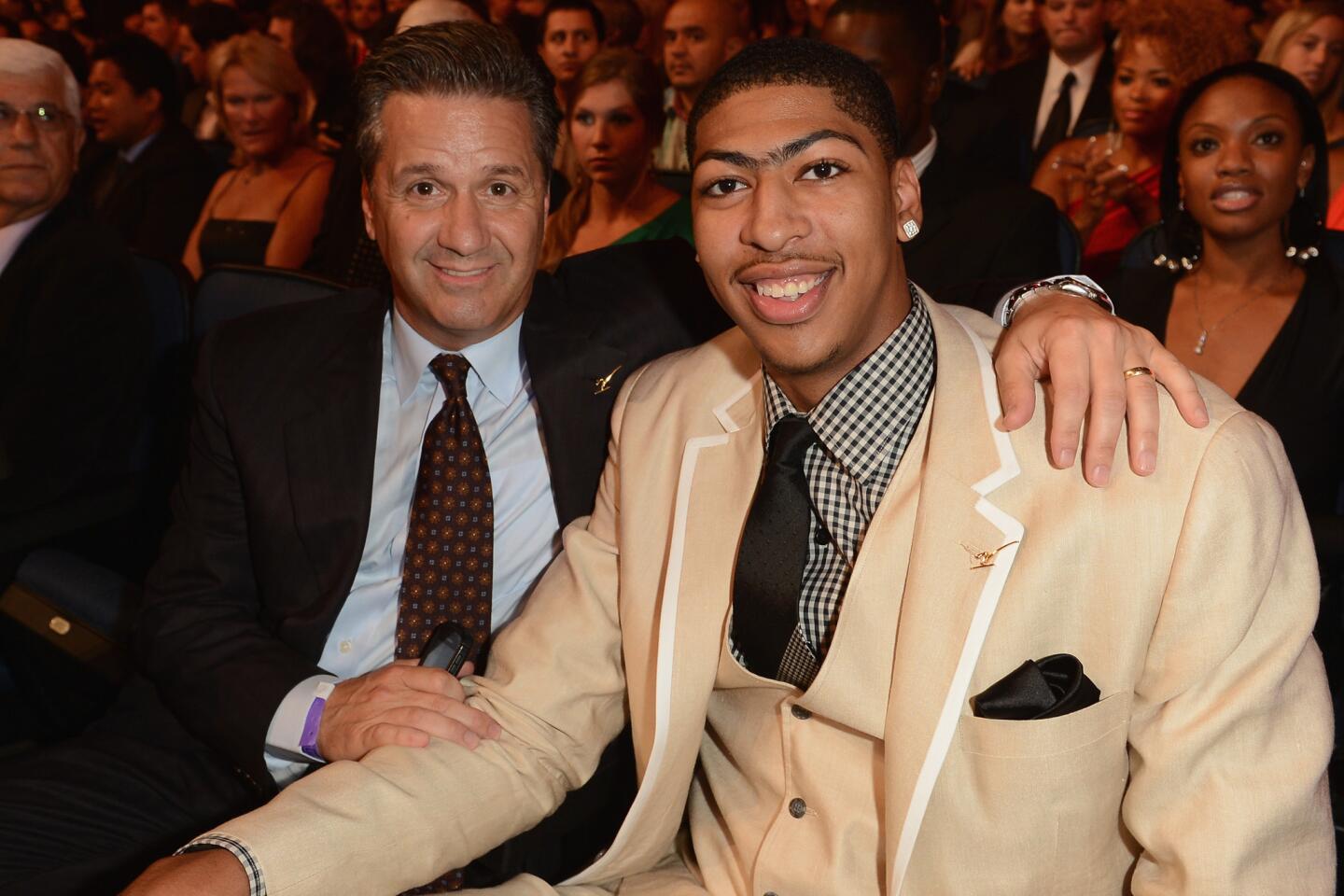 Kentucky coach John Calipari and Anthony Davis in the audience during the 2012 ESPY Awards at Nokia Theatre on July 11, 2012.
(Jason Merritt / Getty Images)
Hornets forward Anthony Davis knocks the ball from the grasp of Lakers forward Pau Gasol during a game in 2013.
(Robert Gauthier / Los Angeles Times)
Pelicans forward Anthony Davis dunks against the Clippers during a game on Nov. 11, 2017.
(Scott Threlkeld / Associated Press)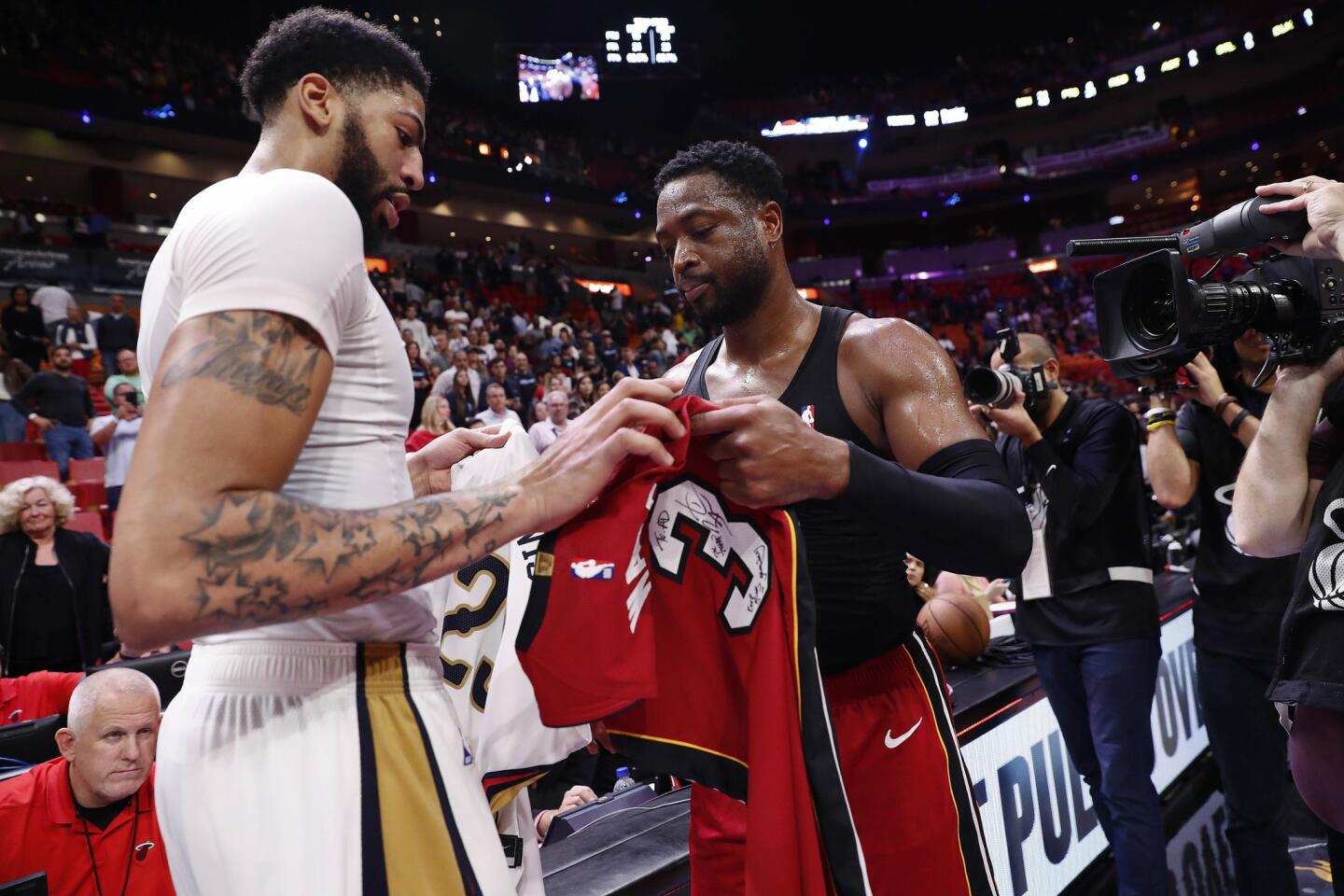 Pelicans forward Anthony Davis and Miami Heat guard Dwyane Wade trade jerseys after a game Nov. 30, 2018, in Miami.
(Brynn Anderson / Associated Press)
Pelicans forward Anthony Davis tries to grab a rebound from Clippers center DeAndre Jordan on March 6, 2018.
(Wally Skalij / Los Angeles Times)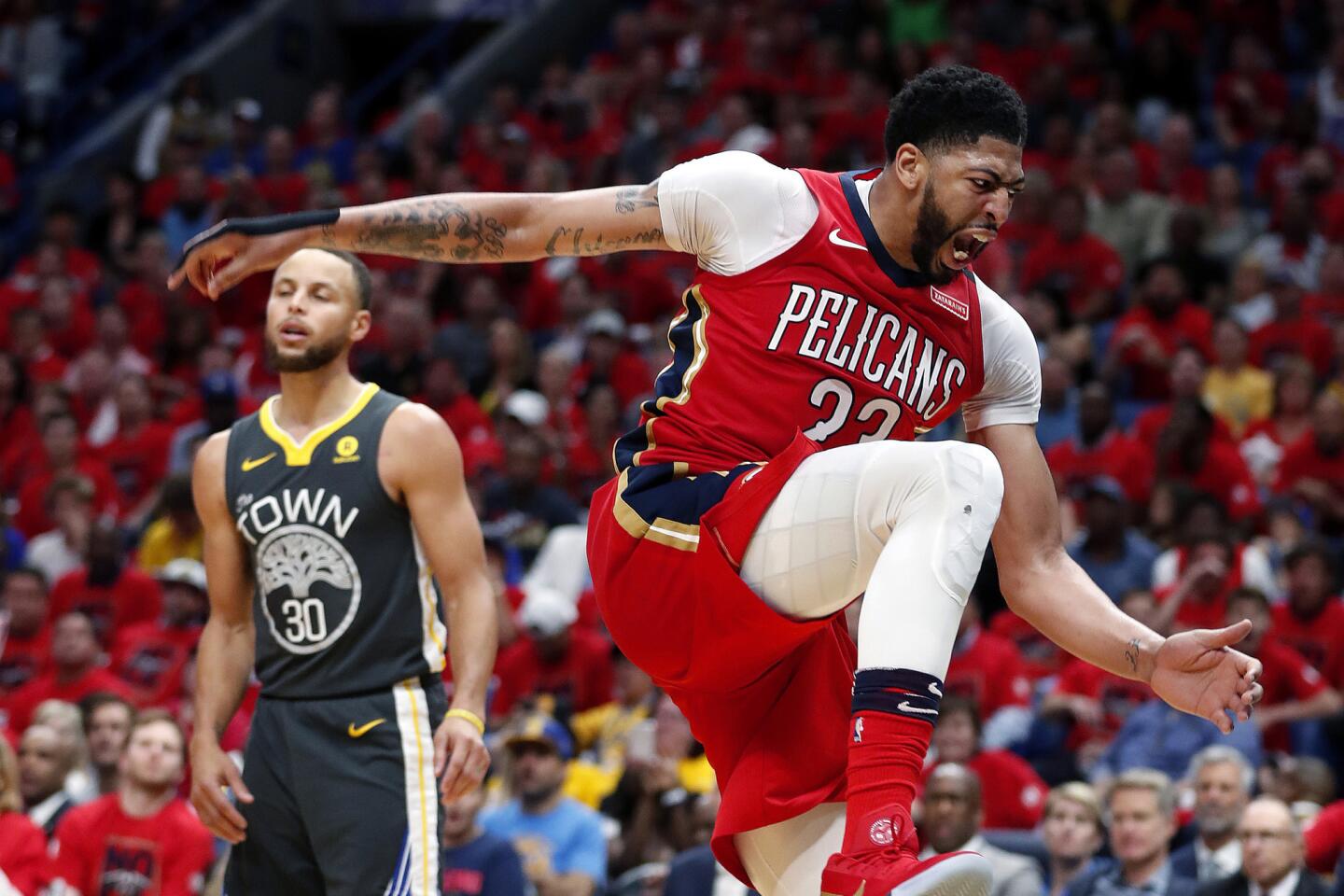 Pelicans forward Anthony Davis reacts after a slam dunk during the second half of Game 3 of a second-round NBA basketball playoff series against the Golden State Warriors on May 4, 2018.
(Gerald Herbert / Associated Press)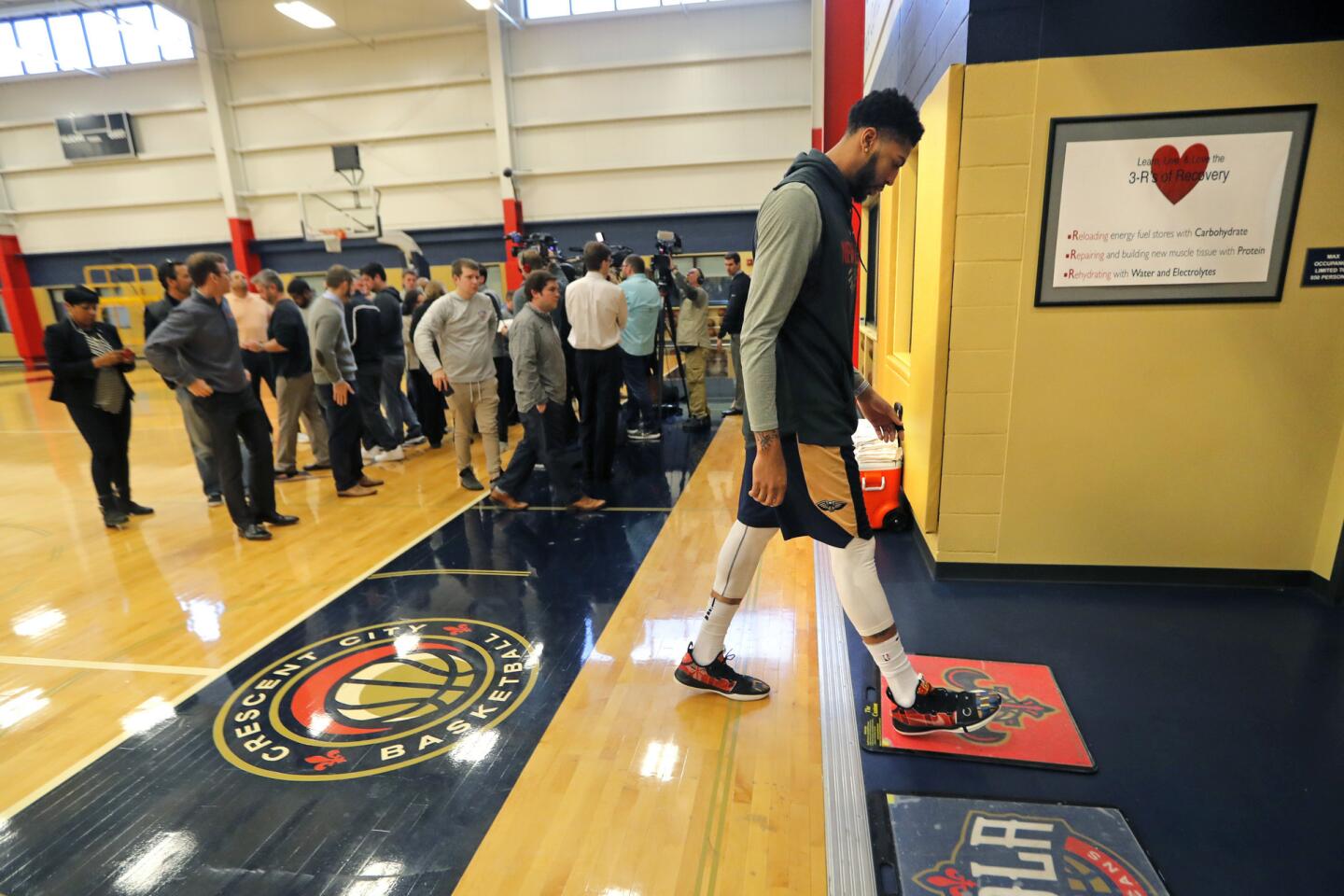 Pelicans forward Anthony Davis leaves the court after talking to reporters on Feb. 1, 2019, shortly after his trade demand became public.
(Gerald Herbert / Associated Press)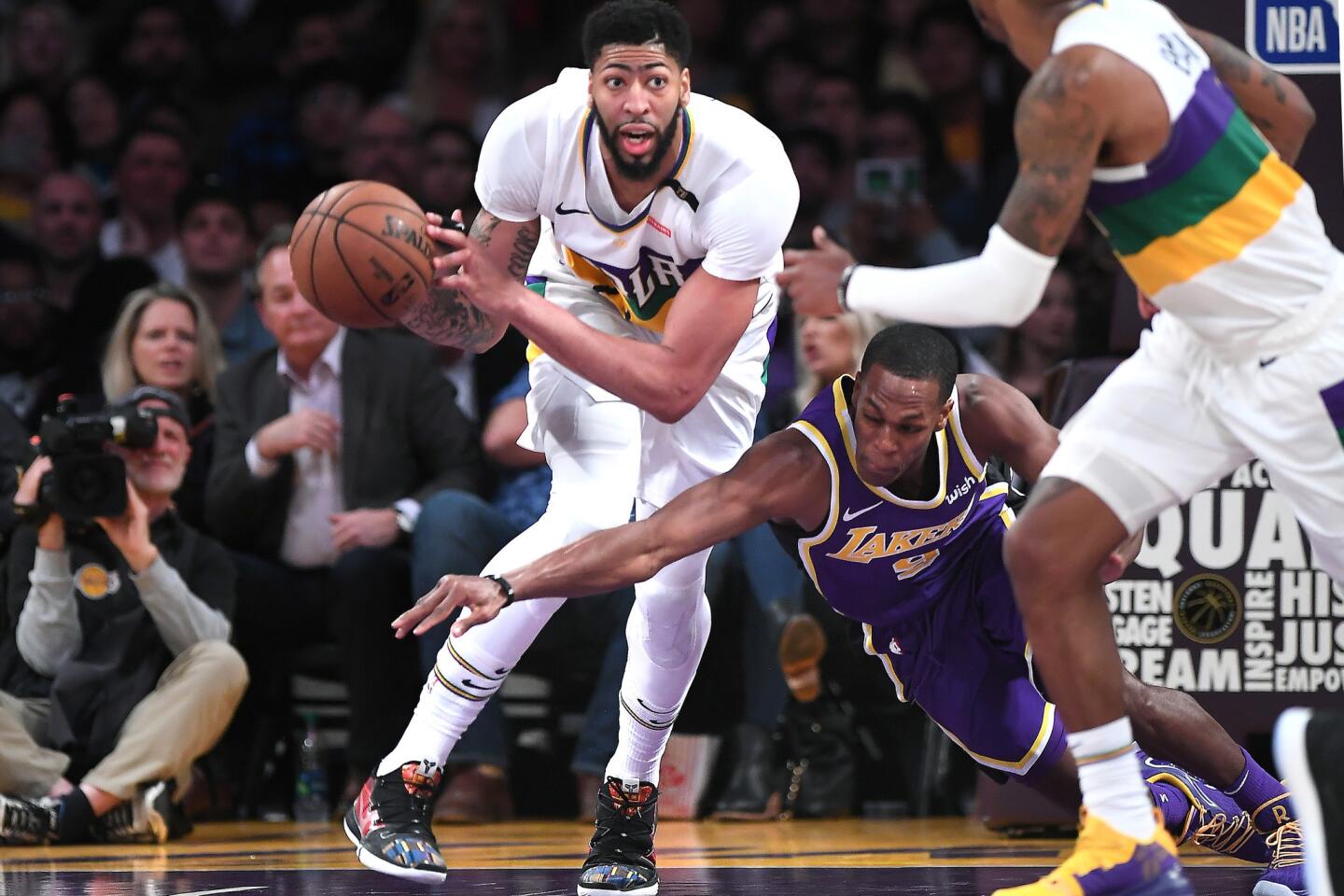 Pelicans forward Anthony Davis has the ball stripped by Lakers guard Rajon Rondo during a game in 2019.
(Wally Skalij / Los Angeles Times)
Lakers forward LeBron James and Pelicans forward Anthony Davis after a March game in New Orleans. The Lakers won 130-102.
(Tyler Kaufman / Associated Press)
Pelicans forward Anthony Davis dunks against the Lakers during a game last season.
(Wally Skalij / Los Angeles Times)
"Listen, all that stuff is past us. I have prayed on that and moved past being mad or upset. I want us to win, so that's why I was sending notes. I wanted us to make this trade because I knew this was a great trade for both teams. The Pelicans got three young talented guys and they got a great pick at No. 4 and two other first-round picks so it was a great trade for them too."
Johnson said he still hadn't spoken face to face with Buss and Pelinka, but he plans on doing that.
"Everybody will talk in time," Johnson said. "Right now let them do their job, what they're supposed to do. We will all, I'm sure one on one, talk. Conversations will happen when they happen."
Twitter: @BA_Turner
All things Lakers, all the time.
Get all the Lakers news you need in Dan Woike's weekly newsletter.
You may occasionally receive promotional content from the Los Angeles Times.