Column: Lakers' trade of Ivica Zubac was a head-scratcher, but he's with a winner now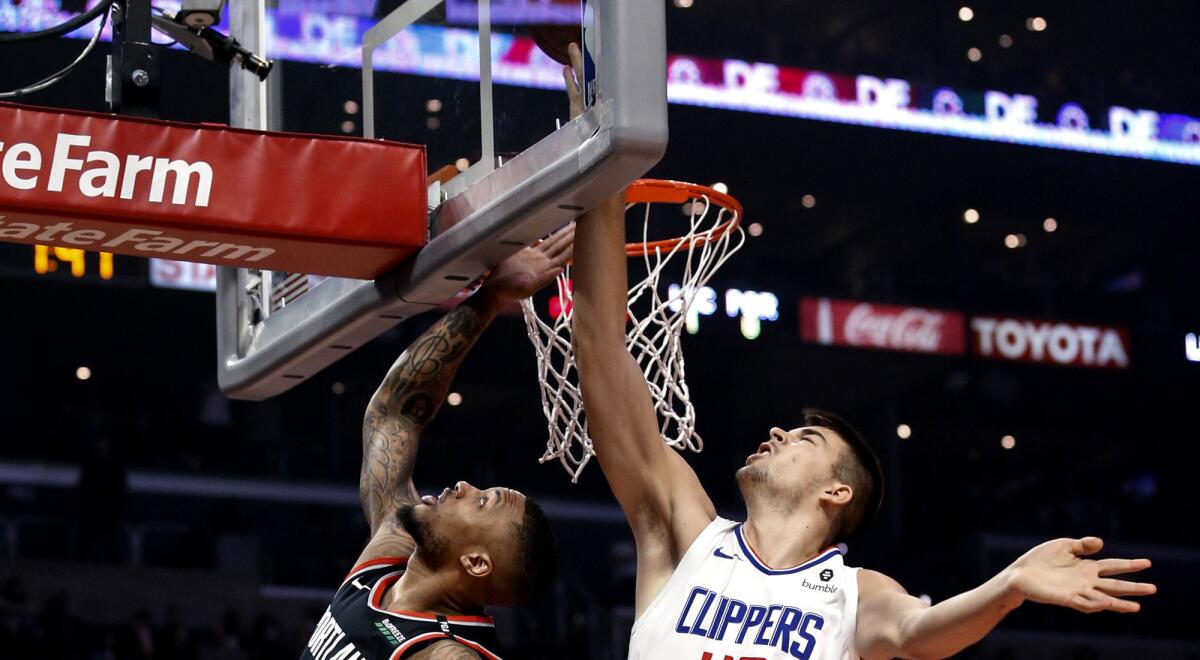 I normally understand trades when they go down, even if I don't agree with them. Maybe a player is in a contract year and intends to leave. Perhaps a team is trying to win now and trades a young, developing player for an established veteran who will help them get over the hump quicker. Sometimes a talented player isn't a good fit from a chemistry perspective and a trade is seen as more of an addition by subtraction.
None of those were the case when the Lakers traded Ivica Zubac, who turned 22 last month, to the Clippers for Mike Muscala at the trade deadline. The 7-foot-1 center had become a fan favorite, was well-liked in the locker room and showed glimpses of being a potential star when given the opportunity to play.
Zubac is under contract for $1.5 million this season and would become a restricted free agent this summer if given a qualifying offer of $1.93 million for next season. Muscala, who will be 28 in July, is making $5 million this season and will be a free agent when the Lakers' season ends. He has bounced back and forth between the NBA and the G League for most of his NBA career and has been a non-factor for a Lakers team that was eliminated from the playoffs soon after he joined. He has averaged 3.7 points in the 13 games he has seen the court while shooting just 25% from three-point range. Zubac, meanwhile, has started all 22 games he has played for the Clippers, averaging 9.0 points and 7.5 rebounds in 19.7 minutes per game.
When I asked Zubac about the move, he smiled and acknowledged that I wasn't the only one curious why the Lakers would move their young center for a short-term rental.
"A bunch of fans have come up to me and they say, 'Why did we trade you? The Lakers front office did the biggest mistake,'" Zubac said. "Everyone's like, 'We miss you.' And I always say, 'I'm on a better team now. You don't have to be sad for me.' And I always make sure to tell them, 'Check our game out if you want to see good basketball.' Everyone has been positive. No one has said anything negative. The fans miss me with the trade and Clippers fans are just happy to have me."
The Clippers looked like they were sellers at the trade deadline before the Zubac trade fell into their laps. They were the eighth seed in the Western Conference when they traded their best player, Tobias Harris, to the Philadelphia 76ers for Landry Shamet, Wilson Chandler, Muscala, two first-round draft picks and two second-rounds picks. Muscala was a throw-in they suddenly flipped for the center (and Michael Beasley). Zubac, who didn't play in 20 of the Lakers' first 27 games, felt wanted from the moment he moved down the hall to the other locker room at Staples Center.
Sign up for our daily sports newsletter »
"I was taught to hate Clippers, you know, since I was with the Lakers," he said. "So I never liked Clippers before. But since coming over here, it's been amazing. The team, the franchise, the organization is like a family, a big family, everyone's so close and it's been awesome. In my two and half years with the Lakers, I didn't win a lot of games, so winning all these games now feels great and got me looking differently about basketball. I don't care about personal stats or whatever. Winning is the most important thing.
"It's tough to talk about it because everyone wants to have the winning culture. With the Lakers, we wanted it but we didn't have it, but over here everyone wants it and we're going to get. It's tough to talk about it and I don't want to get misunderstood."
Zubac didn't want to disrespect the franchise that selected him with the 32nd overall pick in the 2016 draft but he also wanted to remind Lakers fans they can still watch him play at Staples Center if they want to.
"I always make sure to tell them, 'If you want to watch playoff basketball, we're at Staples,'" he said. "So it's up to them. People got this bad image about Clippers, like Clippers did something bad. But the thing is, the Clippers never did something bad, they're just another team in L.A."
::
The fascinating thing about this Clippers team is the way they have been embraced by longtime Clippers fans in a way the "Lob City" Clippers weren't toward the end of a six-year playoff run. Many Clippers fans feel this team is more representative of them than the superstar-laden team that fell short of expectations.
"I think this is a natural team to have a connection with," coach Doc Rivers told me. "If you work for a living, which every person in the crowd does, otherwise they couldn't buy a ticket, then you want to be with this team. If you have had to work hard for anything in your life, I think that type of person connects with this type of team.
"I get it all the time, 'This is my favorite team ever.' A guy in the front row who I had never seen walks up to me and says, 'I've been here for 30 years and this is my favorite team, by far.' He kept saying, 'by far.' I think it's because of that."
::
If Jamie Dixon becomes the next men's basketball coach at UCLA, it will add to what has already been a banner year for Sherman Oaks Notre Dame. Rami Malek, who graduated in 1999, won the Academy Award for best actor for his portrayal of Freddie Mercury in "Bohemian Rhapsody," New York Yankees outfielder Giancarlo Stanton, who graduated in 2007, was inducted into the high school's Hall of Fame and now Dixon, who graduated in 1983, could be on the verge of getting his dream job at UCLA. Oh, and the sports editor of The Knight student paper in 1999 is now writing this column.
All things Lakers, all the time.
Get all the Lakers news you need in Dan Woike's weekly newsletter.
You may occasionally receive promotional content from the Los Angeles Times.