Reporting from New York —
The Lakers probably won't have much to decide in next month's draft.
They'll likely take whoever Philadelphia passes up, be it Duke's Brandon Ingram or Louisiana State's Ben Simmons, freshman forwards who couldn't be any more different, causing much more work for Philadelphia with the top pick than the Lakers at No. 2.
The Lakers will still conduct due diligence on both players and there's a chance they trade the pick — or nab a slightly more unexpected player on draft day, much like they did last year by taking D'Angelo Russell at No. 2 instead of Jahlil Okafor.
But the top of the draft is heavily expected to revolve around two players and their unique styles.
Simmons, 19, is the driver and passer, a point guard trapped in a sturdy 6-foot-10 body. Ingram is a shooter, pure and simple, weighing in at a thin 190 pounds with a ready-made NBA game and 6-9 frame.
Simmons had a touch of Hollywood following him around LSU in his only college season. A film crew tracked his life Kobe Bryant-style, boom mikes and video cameras often joining him at games and at his dwelling.
Ingram, 18, was more reserved, preferring the solitude of sketching with charcoal and shading pencils to ease whatever pressure he felt.
Simmons grew up a world away in Australia, where his father, David, starred in the pro league there. Ingram was reared in Kinston, N.C., where his father, Donald, was a recreation-center director.
"He wasn't a record-chaser. He wasn't ego-driven," Ingram's high school coach, Perry Tyndall, told The Times in March. "He was a true, true teammate that just wanted success for his team."
Confidence is not a problem for Simmons. Earlier this season, he said the best college player was "Oh, myself."
But LSU failed to make the NCAA tournament and Simmons was dropped from the list of Wooden Award candidates because he did not meet the "necessary credentials," an LSU spokesman said at the time. The award is given annually to the top basketball player who also shows progress toward graduation with a minimum cumulative 2.0 grade-point average as a full-time student.
If the Lakers want better ball movement after averaging an NBA-low 18 assists a game, they'll hope Simmons drops to them at No. 2 and figure they can teach him to shoot. He did not attempt a three-pointer in his final 20 college games.
If they want someone to help with their outside game, another shaky spot for them, Ingram is their guy.
"Ingram has that all-around versatile offensive package," said an Eastern Conference executive who spoke on condition of anonymity. "The only question mark about him is his strength.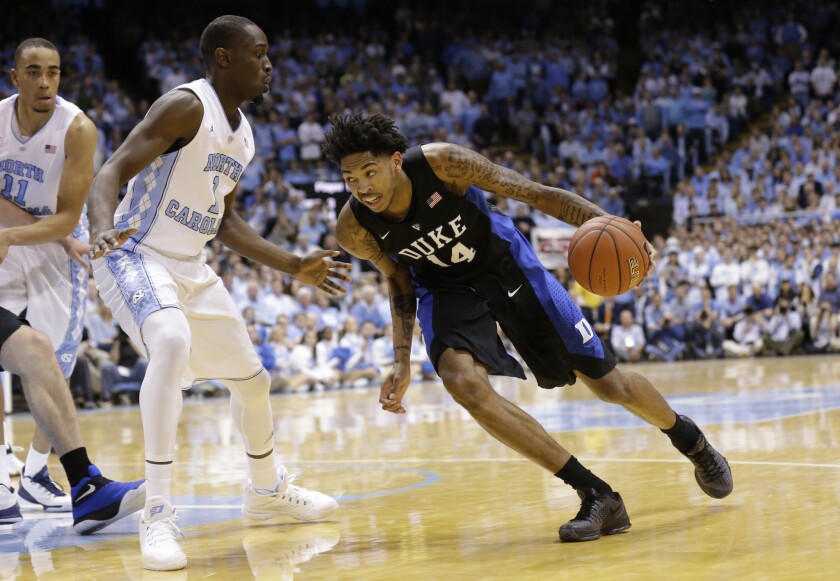 "But the question mark about Simmons is his shooting. Now that's the one thing you do all the time and you can get better at. But not only is he not a shooter, but he's a reluctant shooter. So if the Lakers pick him, I don't see Simmons and [Julius] Randle meshing that well. But if the Lakers get Ingram, they could throw him at small forward and keep that young nucleus together."
An assistant coach whose team played against Simmons this past season explained why he would select the former LSU star second overall.
"Unless a team is willing to play him at point guard, I think he'll be less effective anywhere on the floor unless he has the ball in his hands," said the assistant, who also requested anonymity. "He doesn't shoot it very well. He dribbles a lot to score. He doesn't guard anybody. But Ingram, he has all the offensive game. Plus, Ingram played for Coach K [Mike Krzyzewski] at Duke and that goes a long way for a player."
The Lakers can work each player out twice. Then they'll wait until the draft on June 23.
One thing is known — newly hired Lakers Coach Luke Walton won't have much input on the pick. He will remain an assistant coach with Golden State until the Warriors' playoff run ends.
Walton will "probably not [be] very involved" with the draft process, Lakers General Manager Kupchak said recently. "I know he's hoping to be in Oakland until the middle or the end of June. And if that's the case, we'll send him flash drives of workouts."
Bresnahan reported from New York, Turner from Los Angeles.
ALSO
Lakers' new chant is 'We're No. 2!' ... and it feels like a winner
Simmons or Ingram? Who is the better fit for Lakers?
Lakers survive the drama of draft lottery and will have the second pick in the NBA draft
---