Lakers move into second round of NBA draft to select Iowa State guard Talen-Horton Tucker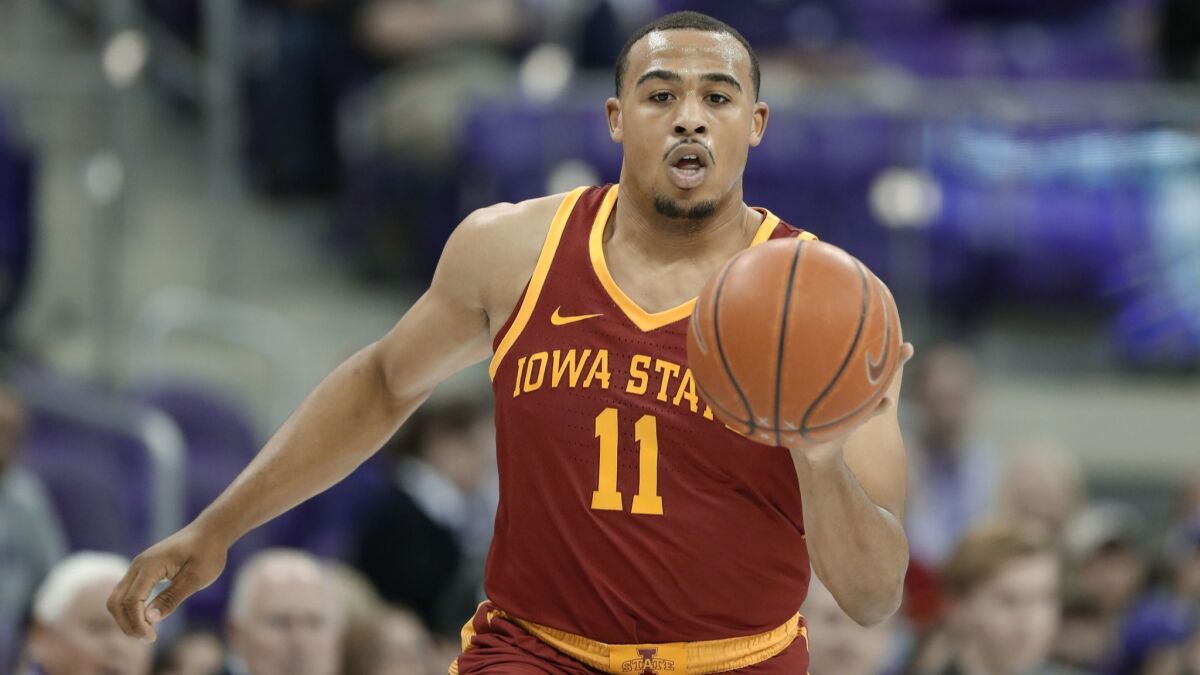 Talen Horton-Tucker had no reason to believe the Lakers would draft him.
They'd seen him in the scouting process, led by director of scouting and assistant general manager Jesse Buss, and general manager Rob Pelinka met him at his pro day. But the Lakers never worked him out nor met with him at the combine.
But he spent the summer working out in Los Angeles and loved it. So Thursday's news was a pleasant surprise as the 18-year-old watched the draft in Chicago with a group of family and friends.
"It was kind of a coincidence," Horton-Tucker said. "It was a great place. I was actually happy, it was a dream destination for me."
The Lakers moved into the second round to select the Iowa State wing with the 46th pick, making the deal with the Orlando Magic for a future pick and cash considerations.
Horton-Tucker has one connection to the Lakers — he shares an agent with LeBron James and pending Laker Anthony Davis, both of whom he has met.
"It was actually great to come in with two guys like that, learn from them as soon as possible," Horton-Tucker said. "It was nerve-racking really, so I was just ready to get to work."
Horton-Tucker averaged 11.8 points, 4.9 rebounds and 2.3 assists per game in his one season in college. He made 40.6% of his shots and 30.8% of his three-pointers.
When he declared for the draft, Horton-Tucker wanted to show teams that he was a better shooter than his numbers suggested. Through the pre-draft process he prioritized shooting and believes he has improved that part of his game.
What the Lakers like the most about him, though, is his potential.
The Chicago native is listed at 6 feet 4, but he has a 7-foot-1 wingspan, one of the longest of any player at the combine in May. That impressed the Lakers, as did his ability to create his own shot off the dribble.
The Lakers entered the night without any draft picks but with a strong desire to trade into the second round and acquire a player with a team-friendly contract. They'd sent their first-round pick — the fourth overall pick in the draft – to New Orleans for Davis. The Pelicans traded the pick to the Atlanta Hawks, who selected Virginia's De'Andre Hunter, and as league rules stipulate, Hunter donned a Lakers cap as he walked across the stage in Brooklyn.
Sign up for our Lakers newsletter »
Horton-Tucker joins a team that lacks guards because of the blockbuster trade for Davis. Having dealt Lonzo Ball and Josh Hart to New Orleans, the Lakers had only one guard remaining on their roster who has a guaranteed contract for next season — Isaac Bonga, who was drafted in the second round last year.
"It's going to be a lot of big shoes to fill," Horton-Tucker said. "Working hard is the most important thing for me. Can't wait to get started."
Follow Tania Ganguli on Twitter @taniaganguli
All things Lakers, all the time.
Get all the Lakers news you need in Dan Woike's weekly newsletter.
You may occasionally receive promotional content from the Los Angeles Times.