Lakers! On the free-throw crisis and the human fight-or-flight reaction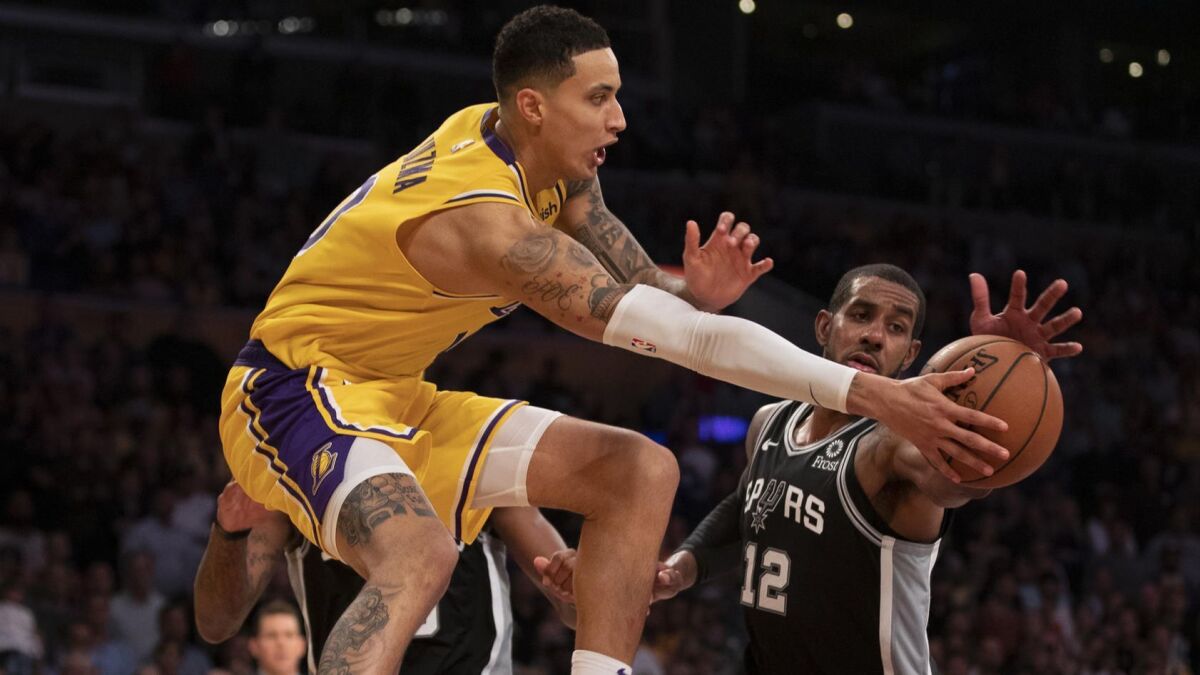 Hi, this is Tania Ganguli, Lakers reporter for the L.A. Times, here with your weekly newsletter.
The Lakers are going through a rough stretch right now and a big part of why is their free-throw shooting.
When I focused my game story from Houston on free throws, I got an email from a reader noting that people who cover the team rarely blame free-throw shooting for lost games in our stories. That's partly because free throws are boring to write about.
Alas, they are a very real issue for the Lakers.
The subject of free-throw shooting came up early this week when I spoke with Kristen Race, who has a doctorate in psychology and runs a business that specializes in mindfulness. I was writing a story about the Lakers' meditation practices and she mentioned free-throw shooting unprompted.
"When we get too deep into our survival mechanisms, our muscles get tense," Race said. "Our senses sharpen, our muscles get tense. That's how you survive. But if your muscles get tense when you're about to make a free throw, you can't make the free throw. … What meditation allows you is to stay relaxed in your body in the moment so you can still perform well when the pressure is great."
Sign up for this Lakers newsletter »
It might not be a coincidence that Kyle Kuzma, who meditates consistently pregame, has been their best free-throw shooter lately. He hasn't missed a free throw since Dec. 7.
Race also said meditation helps with counteracting the natural thoughts about things people can't control, such as worrying about the past or the future or comparing yourself with others. It fits with a problem Luke Walton has noticed in his players' free-throw-shooting issues. When they miss a free throw, he said, the whole arena sighs.
But it wasn't all bad for the Lakers in the last week.
Making Lakers history means something to LeBron James
Lonzo Ball doesn't always share his emotions with us, but after he and LeBron James notched triple-doubles on the same night, Ball was overcome by the moment. He grew up idolizing James and here he was making history alongside him.
It mattered to James too. When he signed with the Lakers, he talked about wanting to be part of the team's storied history. He and Ball became just the second pair of players in Lakers history to have triple-doubles in the same game.
Now he'll have that distinction in Lakers history forever.
Since last we spoke …
--The Lakers didn't just shoot free throws poorly in Houston, they sent James Harden to the line way too much. Harden shot 19 free throws that night and scored 50 points. There was quite a bit of frustration in the Lakers' locker room about a lot of the calls, though players generally bit their tongues.
--Rockets coach Mike D'Antoni had little sympathy for the Lakers.
--Trevor Ariza wanted to play for the Lakers and told that to the Phoenix Suns. But ultimately the teams couldn't work out a deal and Ariza was traded to the Wizards. The trade very nearly included the Memphis Grizzlies, but when the teams agreed to a deal Friday night, there was a great deal of confusion about whether MarShon Brooks (whom the Grizzlies wanted to trade away) or Dillon Brooks (whom the Suns wanted) was the Brooks in the trade. Hilarity ensued.
--Rajon Rondo spent some time with the South Bay Lakers and made quite an impression.
--James was very deferential to Michael Jordan before playing against his team in Charlotte. James said the first time he met Jordan was like meeting God.
--The Lakers were delighted to see Michael Beasley on the bench in Washington. He's been there with his mother, who is seriously ill. She wanted to see her son's team play, so he brought her to the game. Beasley sat on the bench for part of the second half.
--With JaVale McGee suffering from flu-like symptoms, the Lakers needed help from their big men. That meant Moe Wagner got more real playing time than he has all season.
--D'Angelo Russell didn't admit this postgame, but it undoubtedly meant a lot to him to be able to have such a big role in the Brooklyn Nets beating the Lakers. This was at the end of a road trip in which the Lakers went 1-3, and they looked ready to be done with it.
--The Lakers are hoping that once Rondo returns to their lineup their pace will improve. That's been something they've prided themselves on in the past, but they haven't been able to keep up their normal pace since he's been out.
That's all for now. Tonight the Lakers play the New Orleans Pelicans with (possible future Laker?) Anthony Davis and former Laker Julius Randle. Until next time. As always, thanks for reading, and pass along any feedback or questions you have.
---
All things Lakers, all the time.
Get all the Lakers news you need in Dan Woike's weekly newsletter.
You may occasionally receive promotional content from the Los Angeles Times.