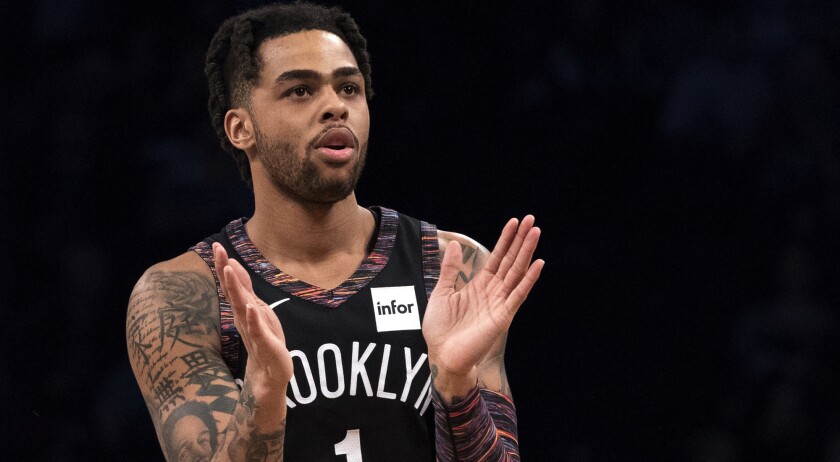 Hi this is Tania Ganguli, Lakers beat reporter for the Los Angeles Times here with your Lakers newsletter.
It was all but a foregone conclusion, but Friday night the Lakers were officially eliminated from the playoffs. That it happened changed nothing. The way it happened offered a bit of symbolism.
D'Angelo Russell's team, the Brooklyn Nets, knocked the Lakers out of the playoffs. He scored 21 points with 13 assists for his third consecutive double double. Russell had scored 44 points in his previous game and scored 39 points in his next game. He's always been a good scorer, but this year Russell's game is becoming more complete than it ever was with the Lakers. He's one of several former Lakers who will be part of the playoffs this year, and among a group of former Lakers draft picks who are flourishing elsewhere.
Russell is the most prominent example, as he was the second overall pick just four seasons ago. Ivica Zubac was a second-round pick three years, and he's been an important part of the playoff-bound Clippers, who are currently the hottest team in the NBA. The Lakers traded Zubac at the trade deadline this year for Mike Muscala, who hasn't seen much playing time. As part of the trade, they sent Michael Beasley to the Clippers in order to free up a roster spot they never used in a meaningful way.
Lou Williams, traded away two seasons ago, has been exceptional for the Clippers, too.
Brook Lopez, whom the Lakers acquired in the trade that sent Russell to the Nets in an effort to pick up an expiring contract, has thrived in Milwaukee as a true stretch five. He is shooting more threes per game than ever before in his career, and making the highest percent of his career, too, garnering the nickname Splash Mountain (a nod to his shooting, his size and his love of all things Disney). His team is one of the best in the league.
On the coaching situation
As the season draws to a close, the question of what will happen to Lakers Coach Luke Walton grows more and more acute.
Magic Johnson hasn't made any commitment publicly or privately to Walton beyond this season. Whether or not Walton remains might not be up to Johnson, but there will be, at the very least, an evaluation at the end of the season.
There are two potential paths here.
On one hand, the Lakers' problems this season have had a lot to do with things outside Walton's control. Injuries have hurt them. So did the way the trade deadline was handled and how that impacted team chemistry. That's not to say Walton is a perfect coach, but those who believe in Walton are quick to point out he is a first-time head coach who needed support in order to be able to work through the learning experience of having that role. Further, Jeanie Buss has said repeatedly that she believes in Walton and wants him to be the Lakers coach in the long term. She could assert her power to give him more time.
On the other hand, Walton's growth might not align with a franchise that has proven to be impatient. This is the sixth straight season the Lakers have missed the playoffs. Prior to this stretch the Lakers as a franchise had only missed the playoffs five times in their entire history. Jerry Buss only presided over two non-playoff seasons. Johnson and Rob Pelinka did not hire Walton and might want a coach of their own choosing. They have differing views on the Lakers' lineups and playing time as the team has struggled through this season. There's also the matter of how he meshes with LeBron James, whose camp has not been on board with Walton this year.
What always comes with that kind of uncertainty is speculation about the future. Potential replacements' names pop up, sometimes because the team is putting out feelers, sometimes because coaches' agents seize the opportunity of a potential opening to get their clients' names into the conversation. At this point, those conversations don't hurt the Lakers as a team. On a human level, though, they can't be easy for Walton and his staff.
Since last we spoke…
--Lonzo Ball announced that he was severing all ties with Alan Foster, a part owner of Big Baller Brand and his father's best friend. Actually doing that is a little bit more complicated, but Ball's decision to step away from a man he believes has been taking money from him without permission was significant. He hired a team of lawyers to help him decide how to proceed.
--LeBron James can understand the position Ball finds himself in to a unique degree. While James entered the NBA with more hype than Ball did, both players were teenagers who had to rely on others to guide them into a new financial world. James learned some tough lessons along the way. I caught up with James about that, about Ball's situation and about the potential for Ball to become a Nike athlete.
--Josh Hart had surgery this morning to handle an issue in his right knee. Hart was struggling with some pain from tendinitis for months and a few weeks ago he began also dealing with a tear in his tendon. Hart is now done for the year and will be back to basketball activities in 12 weeks.
--JaVale McGee has taken his play to another level as the season closes.
--Did you know Jimmy Goldstein has always been an "anti-Lakers fan"?
--After a five-game losing streak, the Lakers beat the Sacramento Kings and had some reason to celebrate.
--They had even more fun two nights later when a Lance Stephenson viral moment shot them with energy.
--Last night, on the second night of a back-to-back, the Lakers fell victim to Utah, a playoff team that has won three games in a row.
That's all for now. As always, email me your thoughts or questions and sign up for this newsletter here. Until next time…
---