Lakers guard Lonzo Ball's game goes into a deep freeze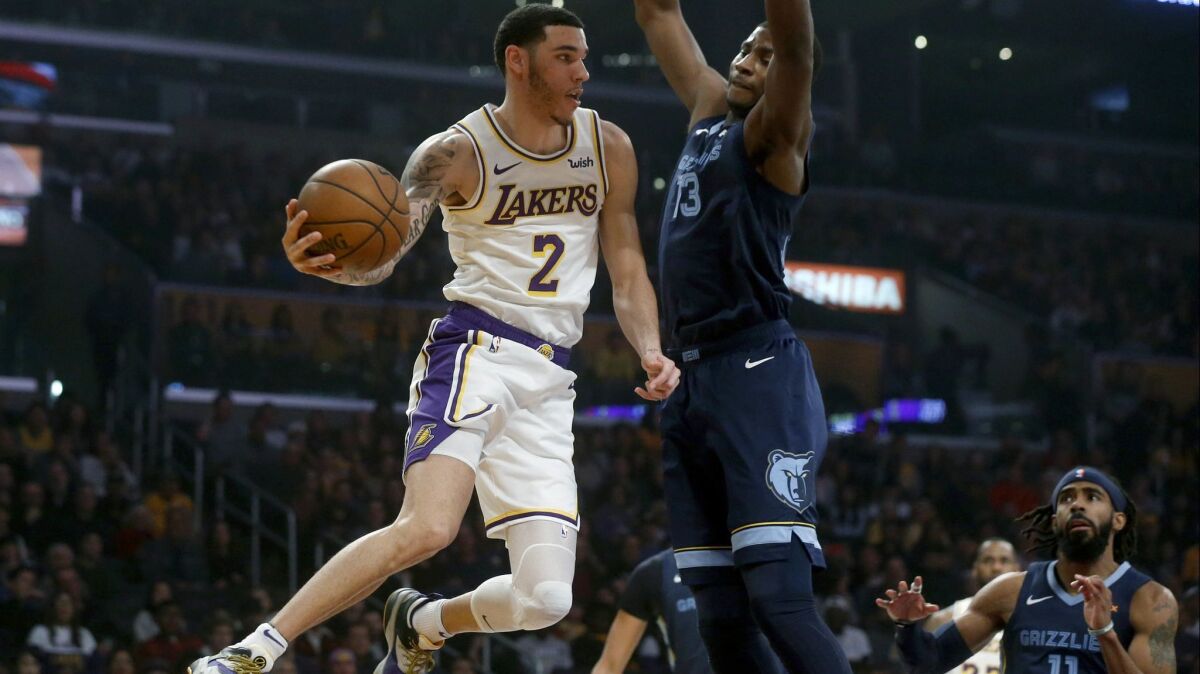 Lonzo Ball checked into the game for the first time in the fourth quarter with three minutes and 27 seconds left knowing full well he had been struggling mightily with his jump shot.
And now he had entered a close game between his Lakers and Memphis Grizzlies with his body not even warm and his shot on ice.
Lo and behold, Ball tossed up a three-pointer from the corner a few seconds after coming back into the game, and like so many of his other hoisted threes, that one missed too.
When he missed yet another three-pointer from the opposite corner 23 seconds later, Lakers coach Luke Walton had seen enough and pulled Ball from the game for good with 2:02 left in what was shaping up as a disappointing loss Sunday night at Staples Center.
Ball had completed the first three quarters two for eight from the field and he had missed all five of his three-pointers.
Then he missed those two three-pointers in the fourth, the first with the Lakers down by three points and the last with them down by five.
"If I'm open, I'm going to shoot it, especially in the fourth," Ball said. "I'm very confident. I just didn't make the shots."
For the game, Ball had missed eight of 10 shots and all seven of his three-pointers.
But Walton didn't like that Ball was subpar in other facets of the game that the second-year point guard usually is adept at.
Ball had just three rebounds and two assists to go along with his four points on a lousy shooting night.
"I thought tonight for some reason he let the fact that he was missing shots affect his overall energy in the second half," Walton said. "And he's too good of a player and he's too important to us to let that happen. People are always going to have off-shooting nights. Find other work. Find other things to help your team win. And normally he's really good with that. But we can still win if he's not making shots."
Naturally, Ball was asked if Walton was correct about his energy being low because his offense was out of whack.
"No, I don't think so," Ball said. "I just missed shots."
The Lakers were having issues on defense in the fourth as a group, letting the Grizzlies rip their defense apart for 35 points on 60% shooting. That included them making a blistering 80% (eight-for-10) of their three-pointers.
So to get so little production out of Ball didn't help matters for the Lakers.
"I mean, it makes it more challenging (to win), but we've done it this season before," Walton said. "Zo's had off shooting nights, but he does so many other things on the court that we find a way to win or somebody else steps up and then he'll make a big play down the stretch."
Though it was a rough night for Ball during his 27:17 on the court, Rajon Rondo maintained that he didn't see any lack of confidence in Ball despite his shooting woes.
"No, he's a very confident young man," Rondo said. "I think you just asked him that. He told you. He's very confident, especially in the fourth quarter.
"As far as rhythm, that's what the game is about. Maybe he didn't have rhythm. But like I said, he does so many other great things on the floor for us that it doesn't really make a difference that he is. Tonight obviously we lost. It magnifies everything else. That's probably why. It is what it is."
Twitter: @BA_Turner
All things Lakers, all the time.
Get all the Lakers news you need in Dan Woike's weekly newsletter.
You may occasionally receive promotional content from the Los Angeles Times.