Kyle Kuzma continues his ironman play and leads an overtime win as Lakers sweeps Spurs for season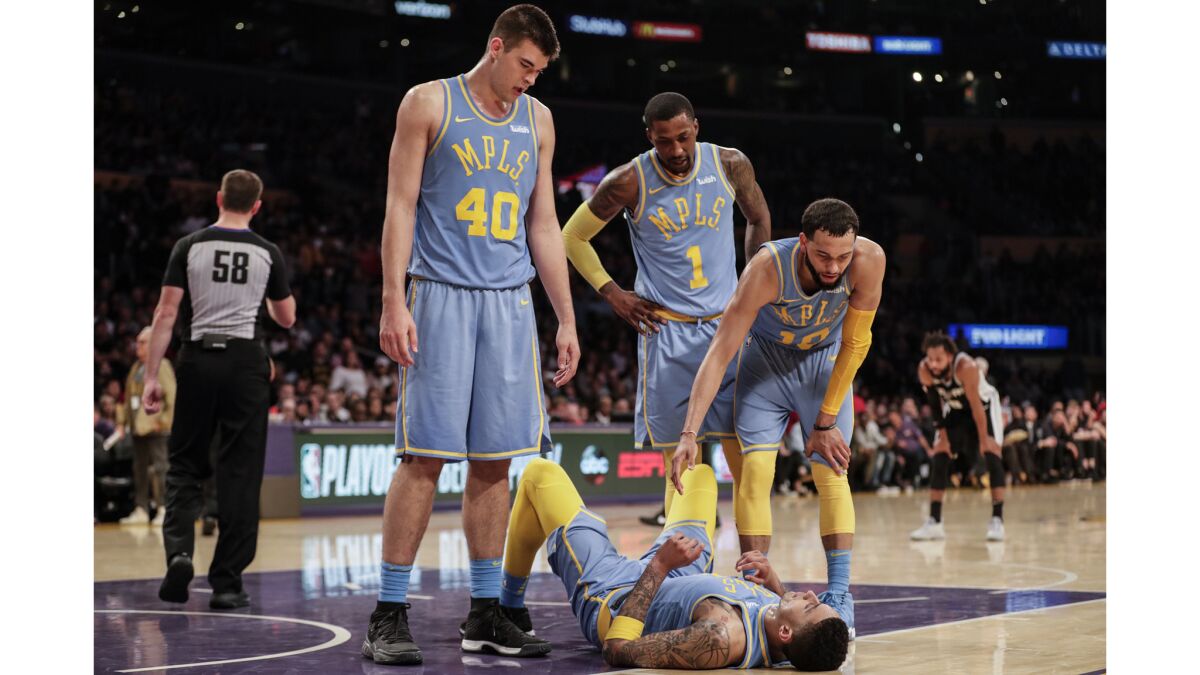 Kyle Kuzma just needed a moment.
After Danny Green fouled him, he lay on the ground, having played 43 minutes in the game, during a month in which he has averaged more than 38 minutes a game.
His teammates surrounded him to lift him off the court, but Kuzma, exhausted, held up one finger to ask them to wait. His chest rose and fell as he took a few deep breaths. Then he nodded his head, lifted his arms toward them, got up off the ground and made a free throw that gave the Lakers an eight-point lead in overtime.
Back home, the worn-out and depleted Lakers had something left Wednesday night.
They beat the San Antonio Spurs, 122-112, without starters Lonzo Ball or Brandon Ingram, and jeopardized the Spurs' playoff hopes. San Antonio ended the night in fifth place in the Western Conference, but only 1.5 games ahead of ninth-place Denver with three games to play. The Lakers swept the season series, 3-0, their first sweep of the Spurs since the 1997-98 season.
Kuzma led the Lakers in scoring for the 17th time this season, and scored the first five points of overtime. He finished with 30 points in 44 minutes.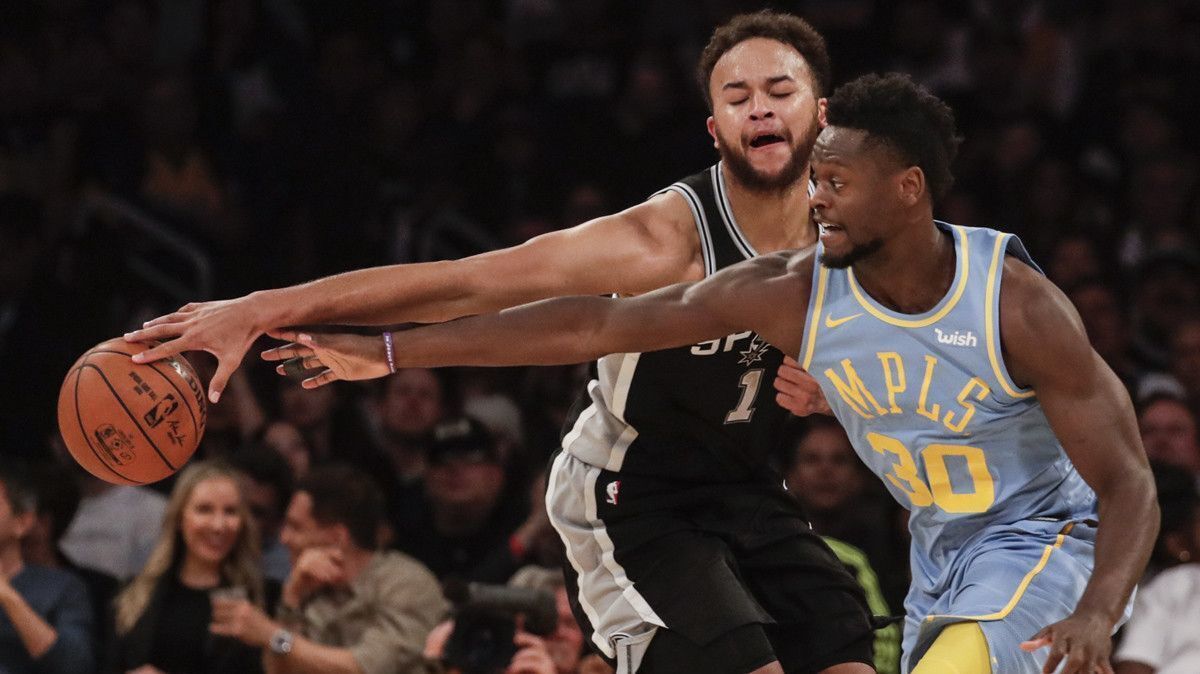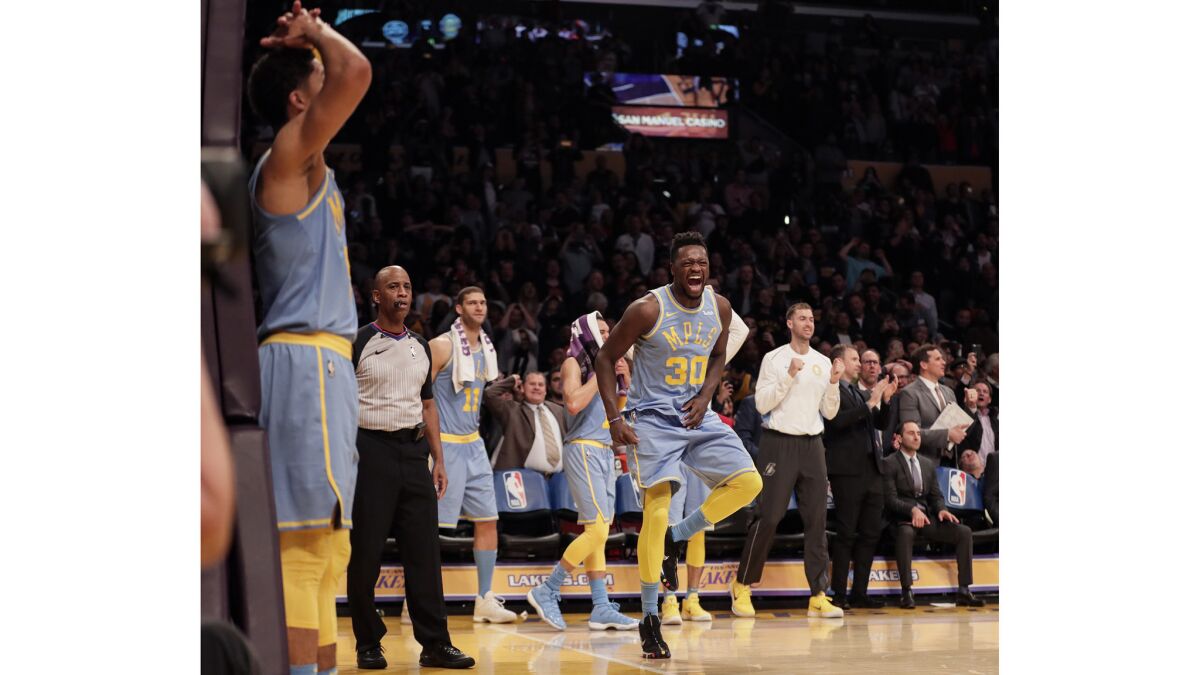 "He plays to exhaustion and then most times plays through it," Lakers Coach Luke Walton said. "They have the saying, 'Fatigue makes a coward of us all.' And that's true, except for a few special players. They'll fight through that. And I thought Kuz tonight did. …
"Tonight I could tell, he wasn't going to ask to come out of that game. He was going to fight through it."
Kuzma continues to average more minutes per game than any other rookie in the NBA since he began starting March 3. He played 80 minutes between Tuesday and Wednesday's games.
"Coming from a back-to-back is always tough," Kuzma said, "let alone playing in Utah with the altitude, then coming back here [on a] late trip. Just really tried to tell myself from the jump I'm not tired, really. That kind of really helped me."
Channing Frye scored 19 points, his best game since joining the Lakers on Feb. 8. Kentavious Caldwell-Pope scored 21 points, including a critical three-pointer that gave the Lakers a seven-point lead in overtime.
The Spurs lost the night before to the Clippers after blowing a 19-point lead and giving up 41 points in the fourth quarter. They held leads at various points Wednesday but could never quite pull away from the Lakers. The game was tied with one minute left.
The Lakers, back home after the trip to Utah, drew energy from their crowd.
Tyler Ennis' running layup gave the Lakers a two-point lead with 42 seconds left in regulation, but the Spurs answered back to tie the game.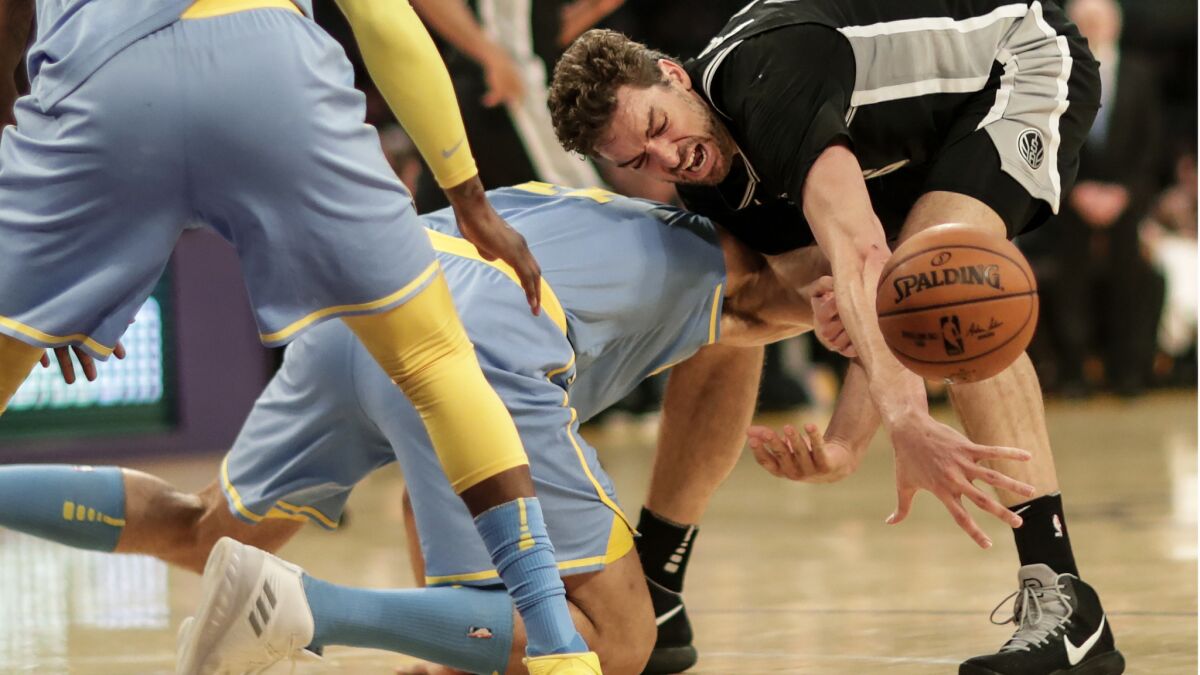 With 4.8 seconds left, the Lakers took a timeout, then Josh Hart inbounded the ball to Ivica Zubac. After getting the ball back off a screen, Hart drove to the rim as the clock wound down and missed a potential game-winning layup. (All those watching the game on ESPN missed it too, as its feed cut to a commercial just as Hart released his shot.) Grinning, teammates Brook Lopez and Julius Randle rushed over to lift Hart's spirits in the break before overtime.
"I think we were just surprised I missed it," Hart said.
Hart more than made up for it in overtime: he took a charge, grabbed two defensive rebounds and made key free throws that helped the Lakers extend their lead.
"I had to do something," Hart said, laughing after the game. "[Missed] the layup. Had to do something in OT."
Between his play and Kuzma's — Kuzma scored the first five points in overtime — the Lakers never trailed in the extra frame.
Last year around this time, the Lakers were playing the Spurs as well, but that team was in a very different place than this one. That Lakers team was still fighting for lottery positioning, whether they admitted it or not.
But the players on the court were tired of losing and they won that game, amid a five-game winning streak.
This year, lottery positioning doesn't matter, and the playoffs are also out of reach. All Walton wants is what he has wanted since before the season began.
"Going back to before the season, I don't give a damn if we win or lose, I just want us to play as hard as we can and play for each other," Walton said.
He saw that in his worn-out players Wednesday night.
Follow Tania Ganguli on Twitter @taniaganguli
---
All things Lakers, all the time.
Get all the Lakers news you need in Dan Woike's weekly newsletter.
You may occasionally receive promotional content from the Los Angeles Times.