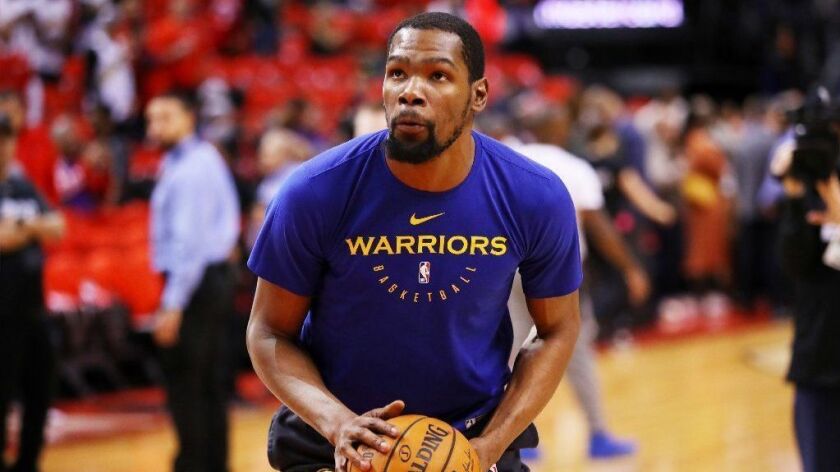 Howdy, my name is Houston Mitchell and I will announce my free agency decision some time this week on MySpace.
Basketball
Sunday was a crazy day, with what seemed like 100 players changing teams in the NBA. Free agency used to be a baseball-dominated niche, but the NBA has taken it over, especially since every player announces their decision so quickly after the deadline.
The biggest splash was by the Brooklyn Nets, who have deals with Kevin Durant (four years, $164 million), Kyrie Irving (four years, $141 million) and DeAndre Jordan (four years, $40 million).
In other big news, it appears the Golden State Warriors and the Nets agreed on a sign-and-trade deal that will send point guard D'Angelo Russell to the Warriors.
In a separate move, the Warriors will send Andre Iguodala to the Memphis Grizzlies for protected first-round picks in 2024 and 2025 and an unprotected pick in 2026.
What does all this mean for the Lakers and Clippers?
Well, the Lakers have all their eggs in the Kawhi Leonard basket now.
Magic Johnson spoke with Leonard, Johnson told The Times. Leonard did not meet with any teams on Sunday.
The NBA won't allow Johnson, formerly the team's president of basketball operations until resigning April 9, to function as a Lakers representative, but his perspective matters to Leonard. While Leonard's camp had initially requested that only Lakers controlling owner Jeanie Buss be present from the Lakers' front office, they have considered expanding the meeting to include GM Rob Pelinka.
And wouldn't you know it, the Clippers also are waiting for Leonard.
So the two local teams are hoping Kawhi Leonard will swoop in and save the day. Maybe they can reach an agreement where Leonard only plays home games for each team? That way, the Lakers get him for 41 games, the Clippers get him for 41, and fans in L.A. get him for 82. Seems fair to me.
Here's a list of what happened as of 11 p.m. PT Sunday (Hey, I have to go to bed at some point). It's important to note that players can't officially sign until Saturday, so things could change, but that doesn't happen often.
--Al-Farouq Aminu, three years, $29 million with the Orlando Magic.
--Harrison Barnes, four years, $85 million to return to the Sacramento Kings.
--Bojan Bogdanovic, four years, $73 million with the Utah Jazz.
--Malcolm Brogdon traded by Milwaukee to the Indiana Pacers for a first-round pick and two future second-round picks. Brogdon has agreed to a four-year, $85-million deal.
--Thomas Bryant, three years, $25 million to return to the Washington Wizards.
--Ed Davis, two years, $10 million with the Utah Jazz.
--Taj Gibson, two years, $20 million with the New York Knicks.
--Gerald Green, one-year deal to return to the Houston Rockets.
--Tobias Harris agrees to a five-year, $180-million contract to return to the Philadelphia 76ers
--Mario Hezonja, one-year deal with the Portland Trail Blazers.
--Rodney Hood, two years, $16 million to return to the Portland Trail Blazers
--Al Horford, four years, $109 million with the Philadelphia 76ers.
--Danuel House Jr., three years, $11.1 million to return to the Houston Rockets.
--Jeremy Lamb signs with the Indiana Pacers, terms unknown.
--Brook Lopez, four years, $52 million to stay with the Milwaukee Bucks.
--Nicolo Melli, two years, $8 million with the New Orleans Pelicans.
--Khris Middleton, five years, $178 million to return to the Milwaukee Bucks.
--Jamal Murray, five-year, $170-million contract extension with Denver.
--Kristaps Porzingis, five years, $158 million with the Dallas Mavericks.
--Dwight Powell, three years, $33 million with the Dallas Mavericks.
--Julius Randle to the New York Knicks for three years, $63 million.
--JJ Redick, two years, $26.5 million to join the New Orleans Pelicans.
--Derrick Rose, two years, $15 million with the Detroit Pistons.
--Terrence Ross, four years, $54 million to return to the Orlando Magic.
--Ricky Rubio to the Phoenix Suns for three years, $51 million.
--Garrett Temple, two years, $10 million with the Brooklyn Nets.
--Jonas Valanciunas, three years, $45 million to return to the Memphis Grizzlies.
--Kemba Walker, four years, $141 million with the Boston Celtics.
--Thaddeus Young to the Chicago Bulls, terms unknown.
Fans of the New York Knicks were very unhappy that the team failed to sign either Durant or Irving, leading team president Steve Mills to release the following statement:
"While we understand that some Knicks fans could be disappointed with tonight's news, we continue to be upbeat and confident in our plan to rebuild the Knicks to compete for championships in the future, through both the draft and targeted free agents."
Which reminds me of the scene in "The Naked Gun," when the bad guy crashes his car into a tanker truck filled with gas, an army missile, and then a fireworks store. While destruction and explosions surround him, Lt. Frank Drebin tells onlookers, "Nothing to see here. Please disperse. Nothing to see here."
Women's World Cup
The U.S. team sent two staff members to check out the hotel team England is staying in Lyon on Sunday. Of course, the U.S. plays England on Tuesday in the semifinals, so what exactly was going on?
U.S. coach Jill Ellis said the visit was "planning, preparation for our staff." But England coach Phil Neville thought it improper.
"It's not something that we'd do, send somebody around to another team's hotel," he said. "But it's their problem. I'm sure that Jill probably wasn't too happy with that arrangement. I wouldn't have been if that was my team ops person going 'round.
"It has no bearings on the game. I actually found it quite funny. I just thought, 'What are they doing?' It's not etiquette, really, is it? I just think that that's not something that I would allow from our organization."
Apparently, the staff members were there to check out if the hotel is good enough to house the U.S. team should they defeat England and advance to the final.
"In terms of arrogance, that stuff has nothing to do with us," she said. "That's planning, preparation for our staff. I think that's pretty normal."
Well, actually, it's pretty arrogant. Which is what this U.S. team does almost as well as it plays soccer.
Quarterfinal results/schedule (PDT)
Thursday's result
England 3, Norway 0
Friday's result
United States 2, France 1
Saturday's results
Netherlands 2, Italy 0
Sweden 2, Germany 1
Semifinals (PDT)
Tuesday
England vs. U.S., noon, Fox
Wednesday
Netherlands vs. Sweden, noon, FS1
Third-place game
Saturday, 8 a.m., Fox
Final
Sunday, 8 a.m., Fox
Your favorite sports moment
Something new to open up this newsletter and make it more reader interactive: What is your favorite all-time L.A. sports moment? Click here to tell me what it is and why, and I'll start running them in future newsletters. And yes, if your favorite moment is about the Angels or Ducks or a team just outside of L.A., I'll count that too. And the moment doesn't have to have happened in L.A., just needs to involve an area team.
Our first one comes from Ken Schwartz of Centreville, Va.:
"I was in L.A. for Kirk Gibson in '88 and UCLA winning it all in '95, but my favorite L.A. moment from the "wrong side of the country" was when the Kings won their first Stanley Cup in 2012.
"I've lived here in Northern Virginia since 2002 and I always represent my West Coast teams: Dodger jerseys, Lakers jerseys, 11 In-N-Out Burger T-shirts (no, really, ask my fiancee, it drives her nuts). As you might imagine, I get a lot of grief from the locals out here. Redskins fans ask me about our (until recently) nonexistent football teams. Hockey fans laugh at the mere mention of ice in L.A.; even baseball fans taunt me with videos of Kirk Gibson and 'what have you done for me lately.'
"So when the Kings finally broke through in 2012 to win their first cup, it was sweet, sweet redemption. I wore my Kings jersey so much that week (in June, when it's hot, we are a swamp after all!) that it almost took on a life of its own. Strangely, I didn't hear from any of my West Coast detractors that summer, and all my friends from Jersey were conspicuously silent. So 'Go Kings Go' and let's bring home another Cup soon. That jersey needs to shake off the dust yet again."
Poll results
Last week, we asked readers to vote in our poll question "Should college athletes be compensated for the use of their name, image or likeness?" After 12,163 votes, here are the results:
Yes: 60.7%
No: 39.3%
Odds and ends
Hyun-Jin Ryu, Clayton Kershaw and Walker Buehler make NL All-Star team…. Dodgers capitalize on big sixth inning to split series with Rockies…. Mike Trout praises All-Star Tommy La Stella for career year 'nobody saw coming'…. Angels dip back below .500 with blowout loss to Athletics…. Kings and Ducks won't be seeking big names during NHL free agency…. Bob Ley's trusted and credible low-key voice will be missed at ESPN…. Riquna Williams and Chelsea Gray lead Sparks' rout over Sky
Other newsletters
We also have other newsletters you can subscribe to for free. They are emailed to you and we don't sell your name to other companies, so no spam from us. They are:
Our Dodgers newsletter, written by me. Subscribe here.
Lakers newsletter, written by Tania Ganguli. Subscribe here.
Horse racing newsletter, written by John Cherwa. Subscribe here.
Soccer newsletter, written by Kevin Baxter. Subscribe here.
Today's local sports schedule
Angels at Texas, 5 p.m., FSW, KLAA 830
Born on this date
1952: NHL player Steve Shutt
1953: NFL player Mike Hayes
1958: Basketball player Nancy Lieberman
1961: Sprinter/long jumper Carl Lewis
1977: NHL player Jerome Iginla
1986: Baseball player Charlie Blackmon
Died on this date
2009: Boxer Alexis Arguello, 57
2010: Football coach Don Coryell, 85
And finally
Carl Lewis wins gold at the 1984 Olympics in Los Angeles. Watch it here.
That concludes the newsletter for today. If you have any feedback, ideas for improvement or things you'd like to see, please email us here. If you want to subscribe, click here.
---