If Kobe Bryant retired, Lakers would have significant cap space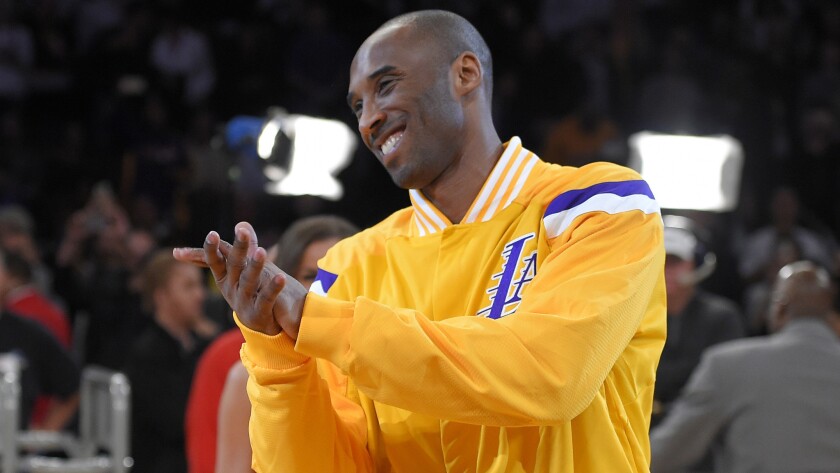 Kobe Bryant is under contract next season with the Lakers for $25 million. With his aging body making the daily grind of the NBA a challenge, would Bryant be willing to give up that much money and forgo his final year with the Lakers?
The All-Star guard, now in his 19th season, recently told The Times that retirement has "crossed my mind."
Moving forward, the Lakers are assuming that Bryant will finish out his contract, but if he did call it quits this summer, before the July free agency period, the team would gain a significant amount of spending power.
The NBA's salary cap projects to jump to roughly $67 million for the 2015-16 season, up from this year's $63.1 million.
If Bryant voluntarily retires, the Lakers would no longer be obligated to pay him his $25 million. Without him, the team would be fully committed to only three players -- Nick Young, Julius Randle and Ryan Kelly for a total of $10.1 million.
The Lakers can also keep Tarik Black, Robert Sacre and Jordan Clarkson on non-guaranteed, minimum contracts, for another $2.7 million.
While the Lakers may owe their 2015 first-round pick to the Phoenix Suns, it's top-five protected. Given the team's paltry 12-30 record, they seem fated to keep that selection in June -- adding another player in the $3.1 to $4.8 million range.
The Houston Rockets (29-13) also owe the Lakers their first-rounder as part of the Jeremy Lin trade, which may land somewhere around 25th (and a rookie making roughly $1.0 million).
The Lakers would have a total of eight players at a salary of $25.9 million, presuming they land the fifth and 25th overall picks. Ed Davis will presumably opt out of the second year of his contract, at $1.1 million. The Lakers have an option on Jordan Hill's $9 million, which would clear yet another sizable amount of space. To maximum their cap room, the Lakers would need to renounce the rights to their remaining free agents (Carlos Boozer, Jeremy Lin, Steve Nash, Wesley Johnson, Ronnie Price, Wayne Ellington, Davis and Hill).
When calculating cap room, the NBA would add in four empty roster charges ($525,093 each), putting the Lakers at $19 million in salary and roughly $48 million in spending power. If the team chose not to cut Hill, that number would shrink to $39.5 million.
With Bryant, but without Hill, the Lakers project to have roughly $23.5 million in spending power this summer.
A number of interesting players may be free agents this summer including LeBron James (player option), Kevin Love (player option), LaMarcus Aldridge, Marc Gasol, Rajon Rondo, Goran Dragic (player option), DeAndre Jordan, Greg Monroe, Reggie Jackson (restricted), Tobias Harris (restricted), Paul Millsap, Al Jefferson (player option), Jimmy Butler (restricted), Monta Ellis (player option) and Roy Hibbert (player option), among others.
Some names on the list, notably James, aren't likely to leave their existing franchises.
Maximum salaries will start at roughly $15.5 million for players with up to six years of experience, $18.5 million for players with seven to nine years' experience and $21.5 million for those with 10 or more season in the NBA. The actual figures won't be determined until July.
Given that Bryant probably won't retire, the Lakers could have the space to add in one player at a maximum salary.
If the future Hall-of-Famer did call it a career, one year ahead of schedule, the team may be able to shop for two or even three highly-paid stars, presumably joining a healthy Randle (leg, foot) plus a top-five draft pick.
Email Eric Pincus at eric.pincus@gmail.com and follow him on Twitter @EricPincus
---
All things Lakers, all the time.
Get all the Lakers news you need in Dan Woike's weekly newsletter.
You may occasionally receive promotional content from the Los Angeles Times.