New Lakers point guard Jeremy Lin doesn't expect 'Linsanity' in L.A.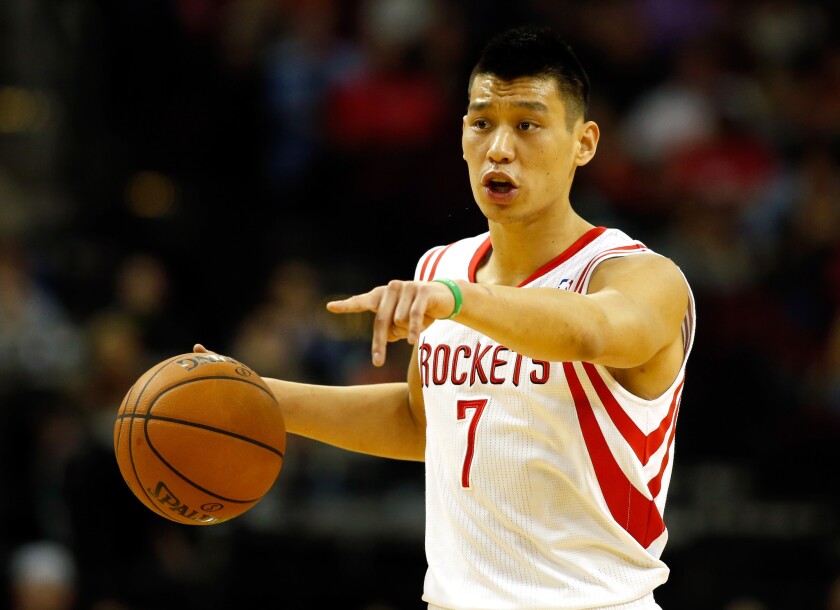 The Lakers finally got the point guard who intrigued them over the years.
They initially tried to sign Jeremy Lin as an undrafted rookie in 2010 but he chose Golden State for the same amount of money. (It was closer to home.)
In a less-publicized action, the Lakers put in a waiver claim for Lin when Golden State dropped him in 2011. Houston had a worse record than the Lakers and was awarded him.
But the Lakers acquired him in a trade with the Rockets this month.
"This time, we got Jeremy Lin," Lakers General Manager Mitch Kupchak said Thursday at a news conference officially introducing the 25-year-old point guard.
One thing is certain. Lin isn't looking to repeat the intense attention that accompanied him while playing for New York in 2011-12.
"I'm not trying to relive that banner season and I think that's been a big weight off my shoulder. I'm not trying to recreate a 'Linsanity,' " he said. "I'm not trying to be that phenomenon that happened in New York. I just want to be myself more than ever."
It took a salary dump from Houston to make Lin a member of the Lakers. The Rockets eagerly sent him to try to make room for free agent Chris Bosh. They even included a lottery-protected first-round pick next year.
But Bosh declined Houston's offer and returned to Miami.
The Lakers might have found a starting point guard, seeing how Steve Nash played only 15 games last season because of recurring injuries.
"I obviously believe that I can start for an NBA team and help that team win," Lin said. "As a competitor I would obviously love to, but that's not me coming in saying, 'I need this or I need that.' "
Lin, however, lost his starting job to Patrick Beverley last season while averaging 12.5 points and 4.1 assists. He has one more year on his contract for $14.9 million.
He has texted with Kobe Bryant and spoken with him a few times since the trade. But unlike some younger NBA players, he never emulated Bryant while growing up.
"His skill set is just clearly different than mine," Lin said, smiling. "I don't think I've ever shot a fadeaway jumper from the mid-post ever."
Lin will wear No. 17, which was most recently worn on the Lakers by Andrew Bynum. He considered asking for No. 7, his number with Houston, but Xavier Henry already had it for the Lakers.
Lin wore No. 17 while with New York but isn't expecting any flashbacks from that season, which included a 38-point outburst against the Lakers at Madison Square Garden.
"I'm not trying to be a player from the past," he said. "I'm trying to make history again."
---
All things Lakers, all the time.
Get all the Lakers news you need in Dan Woike's weekly newsletter.
You may occasionally receive promotional content from the Los Angeles Times.