Lakers hold off late surge by Rockets to win and take commanding series lead
ORLANDO, Fla. —
Before Game 4 against the Houston Rockets, LeBron James bounced in the corner opposite his team's bench, barking out the fake football call like he does before every game. He fired the pass diagonal to half court, where Anthony Davis caught it and quickly drained a half-court shot.
James celebrated, two hands in the air and a four-letter word coming out his mouth, the kind of sign that Thursday might just be a good day.
It really all fell into place for the Lakers Thursday, their spirit matching their output. They were locked in but loose, focused but having fun. And in the Lakers' 110-100 win Thursday, putting them up 3-1 over the Rockets, everyone did their part, although the Rockets made it interesting at the end.
"We have confidence in all our guys," Anthony Davis said. "We can play big. We can play small. We can play in between."
A little of everything — in a lot of ways, that's life in the NBA's bubble. With traveling parties severely limited, there's no room for dead weight. You pitch in where you can, how you can.
So when Lakers coach Frank Vogel decided to keep his two most traditional centers, JaVale McGee and Dwight Howard, on the bench, they became the team's loudest trash talkers, making sure the Lakers energy had a shot of verbal adrenaline on hand just in case.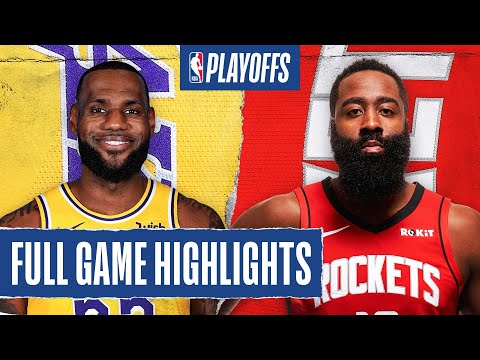 Highlights from the Lakers' 110-100 win over the Rockets in Game 4.
McGee even anchored the Lakers' handshake line during introductions, going back-to-back with Danny Green, finger guns drawn, like a couple of special agents clearing the room.
"It's a good thing that they're still engaged in the games," Davis said. "A lot of guys could just fade away… You see it. They're the loudest guys on our bench."
Davis and James, the two best players in the series, didn't need to dominate, so they mostly didn't, allowing the Lakers' superior depth to rush over Houston. Davis scored 29 on 18 shots, picking on Houston's inferior size.
But it was truly collective on Thursday, every Lakers who played scoring at least once.
"When we're at our best," Alex Caruso said, "we're playing fast, playing off our defense and creating for our other teammates. Obviously, we play through LeBron and AD and they have a super ability to score the basketball and play one on one, but we're at our best when we're getting to the paint, putting pressure on the rim, spacing the court and playing for each other.
"And those kinds of plays for our team are just energy."
Caruso scored 16, his defense gave the Rockets fits. The masks everyone wears on campus might not cover as well as he does. He was part of the crew that harassed James Harden into a two-for-11 shooting night.
Markieff Morris, starting in McGee's place, didn't hesitate and launched from deep on the first Lakers' possession, Green shouting "There you go" as the ball left his hands. It didn't go in, but the rhythm was right, and the next time he got a look, Morris swished it. Seldom-used rookie Talen Horton-Tucker made his playoff debut and made an impact with five points, two rebounds and two steals.
And while James got most of the night off from having to carry such a heavy load, he did manage to complete a deep ball to Davis when it counted, a two-handed wrist-flick that triggered the fastest break possible.
"We got two big guns … and I don't think the rest of the guys get enough credit," Lakers coach Frank Vogel said.
It was like they were just gliding Thursday, in tune with Vogel's game plan and with one another. And against the Rockets, the contrast was jarring.
For the second straight game, Houston played without win Danuel House while the league investigated whether he broke campus safety protocol with a female guest. Before the game, Rockets coach Mike D'Antoni had few answers.
Asked whether the House situation gave Vogel a chance to remind players where they were and what rules needed to be followed, he wasn't concerned.
"Honestly, I don't feel like our group needs to have that talk," Vogel said pregame. "Our guys are really locked in to the task at hand, but obviously, the situation is a reminder."
For the most part they were locked in Thursday too. But the Lakers got a little too loose in the fourth, back-to-back turnovers on inbounds passes from under their own basket leading to back-to-back three-pointers for the Rockets.
Houston got within five with an 18-2 run as the Lakers didn't quite stick the landing, but James found Caruso in the corner in front of the Rockets bench and he splashed home the game-icing three-pointer with 35 seconds left.
"For the first 43 minutes, we had our game plan and we executed it. For the majority [of games] if you're going to execute your game plan for that long, for consistent minutes, you're going to come out victorious," James said. "But we want to strive for something better than that. We want to work the game plan for 48 minutes."

All things Lakers, all the time.
Get all the Lakers news you need in Dan Woike's weekly newsletter.
You may occasionally receive promotional content from the Los Angeles Times.