It's the largest compilation of greatest hits in professional basketball history, a road show unlike any that's come before.
There's the dunk in Miami, the clutch step-back jumper in Cleveland, the three-ball in Los Angeles.
It's a history tour of the league's 21st-century nomad.
There's a layup in Seattle. A 20-footer in Charlotte against the Bobcats. A free throw in Charlotte against the Hornets. A jumper against the Hornets in New Orleans. A buzzer beater against the Hornets in Oklahoma City. A carbon-copy Kobe Bryant slam in Los Angeles.
Each basket added to the total, stacking and stacking until they've gotten James here — Tuesday night in Los Angeles, his family and friends in the building to witness.
James became the NBA's all-time leading scorer late in the third quarter, history coming on a step-back fadeaway jumper from 14 feet.
Even this hoop, the one that'll be highlighted from here on, only counted for two — just like the ones on the road that led here, to this historic, celebrated place.
THE SIGNATURE
Points 9 and 10 (0.026% to the record)
One-handed dunk Oct. 29, 2003, in Sacramento against the Kings
The pressure should've crushed him before he ever soared, the gravity of his first professional game more than enough to keep LeBron James grounded.
The mythology was underway before James even draped himself in a baggy NBA uniform, the most-hyped high school star in generations somehow landing on his hometown team.
The team's owner at the time, Gordon Gund, went as far as talking to David Stern about keeping expectations and hype at reasonable levels.
"I think he'll come along fine," Gund said, according to the Associated Press, "but I don't think he'll start out at the level many people are expecting.''
Lakers' LeBron James became the NBA's all-time leading scorer, tallying 38 points to surpass Kareem Abdul-Jabbar's mark in a 133-130 loss to the Oklahoma City Thunder.
Wrong.
In Game 1, James looked completely at ease — green, for sure, but not out of place. His first points came on a baseline jumper, but it was the one-handed dunk that gave him 10 points that would become one of the iconic images of his career.
The one-handed tomahawk dunk in transition — the first of many — has become the preferred punctuation for James' one-man fast breaks.
Houston coach Stephen Silas was an assistant for the Cavaliers that night when James made his debut.
If James had star potential when he went up for that first dunk, Silas was sure James had already earned it by the time he landed.
"He had that magnetism, he had that swagger, he was confident in that moment," Silas said earlier this season. "When he got that breakaway dunk, it was on. It was the beginning of something that was going to be great."
THE LEGACY
Points 1,673, 1,674 and 1,675 (4.36% to the record)
Three-point basket Nov. 3, 2004, in Cleveland against the Pacers
Year 2 of James' career opened with a home game in Cleveland; Reggie Miller and Jermaine O'Neal on the bench for the Pacers and Metta Sandiford-Artest, then just Ron, chasing him.
Down three points with just seconds left in regulation, James shimmied to his right, gathered his balance and drilled a three-pointer to force overtime — the biggest shot he made all night.
The bucket, though, isn't on the list because the win spawned some great season — the Cavaliers didn't even win this game.
No, this was James' first game as a father — the start of another part of his legacy and one that's reached places he couldn't have imagined.
Less than a month earlier, LeBron James Jr. was born, and the details were scarce. On media day, James declined to discuss his pending parenthood. He didn't even share his son's name in the immediate aftermath.
"I know how to [maintain] my privacy away from basketball," he told reporters.
Yet this season, as James has marched toward his ultimate individual accomplishments, it's come with Bronny James taking the biggest steps toward building his own — outgrowing the pressures of his name to become a top recruit, a McDonald's All-American and a potential professional.
When debating the greatest players in Lakers history, LeBron James is likely the most talented of them all, but only tied for seventh in an L.A. Times poll.
Before and after games, James — who grew up raised by a single mother — is the proudest of fathers, talking about Bronny's upcoming games at Chatsworth Sierra Canyon High or reposting highlights on his social media pages.
"He does it on his own. And listen, he's so unfazed," James said of his eldest child. "And he does nothing that bothers him really, at all. Just a kid who loves playing the game of basketball. Loves being a big brother, loves being a role model to his generation.
"And it's pretty cool that he's been able to experience some of the things that I was able to experience. But at the end of the day, he's creating his own path and creating his own legacy. So I love that more than anything."
THE DETAILS
Points 7,145, 7,1467 and 7,147 (18.62% to the record)
Three-point basket Jan. 3, 2007, in Boston against the Celtics
If there's one point coaches and players around the NBA have returned to when talking about the way James has impacted their sport, it's his commitment to longevity — a willingness to take the necessary steps to be available as much as possible.
Though this record is about offensive skill combined with the kind of generational size, speed and force unseen before, it's also about a willingness to make it all matter — to be mentally and physically engaged for as many moments as possible.
Take this one for instance — a single second of brilliance.
With the clock about to expire at the end of the third quarter, the ball got inbounded to James. He quickly dribbled once and launched a shot toward the rafters in Boston from 83 feet out. And with the horn still echoing, the ball bounced perfectly off the glass and into the hoop — the longest shot of his career and one of the longest in league history.
By becoming the NBA's all-time leading scorer, LeBron James has dethroned Michael Jordan as the greatest player in basketball history.
"I knew it had a chance," James told reporters that night. "Every day after practice me and Drew [Gooden], we shoot trick shots like that and today was one of those times where I got one off and it went in."
It was an awesome shot and an awesome moment — but in true James fashion, it also spoke to the process, because that night in Boston, those three points mattered a lot more than the answers to future trivia. Those points were the margin of victory.
THE BAD GUY
Points 16,031 and 16,032 (41.76% to the record
Driving layup, Dec. 25, 2010, in Los Angeles against the Lakers
There might be some revisionist history at play here, but James' decision to not just play for the Miami Heat but to turn it into a televised sweepstakes seemed to really turn the tide against him.
"My thoughts after that were what Michael Jordan and some of the other guys would say, that they would have never have done something like that," Lakers coach Phil Jackson said.
It's become one of the main arguments used against James when trying to sort out his place at the top of any all-time greatest-player arguments.
Jordan, after all, never needed to leave Chicago to win a championship. That he did, in fact, leave to finish his career with the Washington Wizards is largely forgotten history, not even worthy of mention in "The Last Dance."
James' jerseys were burned. Critical columns were authored. Monologues were given. Pearls were clutched. "Don't think for one min that I haven't been taking mental notes of everyone taking shots at me this summer. And I mean everyone!'' James tweeted.
LeBron James became the NBA's all-time scoring leader, passing Kareem Abdul-Jabbar. Here's a statistical comparison of the two legendary players.
The Heat's early struggles combined with their too-perfect casting as the NBA's villains took some getting used to, but by the time James and the Heat played Kobe Bryant and the Lakers in L.A. for the first time since teaming up with Dwyane Wade and Chris Bosh, things were getting figured out.
In the third quarter in front of a national audience on Christmas, James grabbed a defensive rebound and took it the length of the floor, in front of the celebrities lining the Staples Center court. As he drove to the basket and scored, James howled.
His Heat were rolling, and he was going to be just fine as the bad guy.
THE PLATFORM
Points 18,560 and 18,561 (48.35%)
A layup March 23, 2012, in Detroit against the Pistons
The Miami Heat players stood against a wall, hoods up and heads down, to try and right what they believed to be an unconscionable injustice.
Trayvon Martin was dead because he looked like a threat, because he looked like them.
"#WeAreTrayvonMartin #Hoodies #Stereotyped, #WeWantJustice," LeBron James tweeted March 23, 2012, along with the posed photo.
Hours later, he took the court with "RIP Trayvon Martin" written on his sneakers, his life as an activist taking shape in the most meaningful way.
"As leaders, as role models, we're happy that we're able to shed light on a situation that we feel isn't right," James said, according to the Associated Press. "That's why we did that today."
Former NFL great and activist Jim Brown took notice.
"I'm so glad these young people are paying attention to injustices in this country, getting into issues they normally stay out of," Brown told the Miami Herald. "That's what we need, a passion to get involved. It is almost God-sent. The modern-day athlete doesn't get behind anything, which means they've wasted a lot of their real power. LeBron is learning that money, fame, popularity and notoriety pale compared to human feelings and consciousness."
This path hasn't been without missteps, but it's also led to great victories — philanthropy in Akron, Ohio, with improved schools and housing, grassroots mobilization against voter suppression and a willing voice when asked about perceived social ills.
He runs a company that uses "More than an athlete" as a slogan. No matter the records he breaks, that part of his legacy is inarguable.
THE UNSTOPPABLE FORCE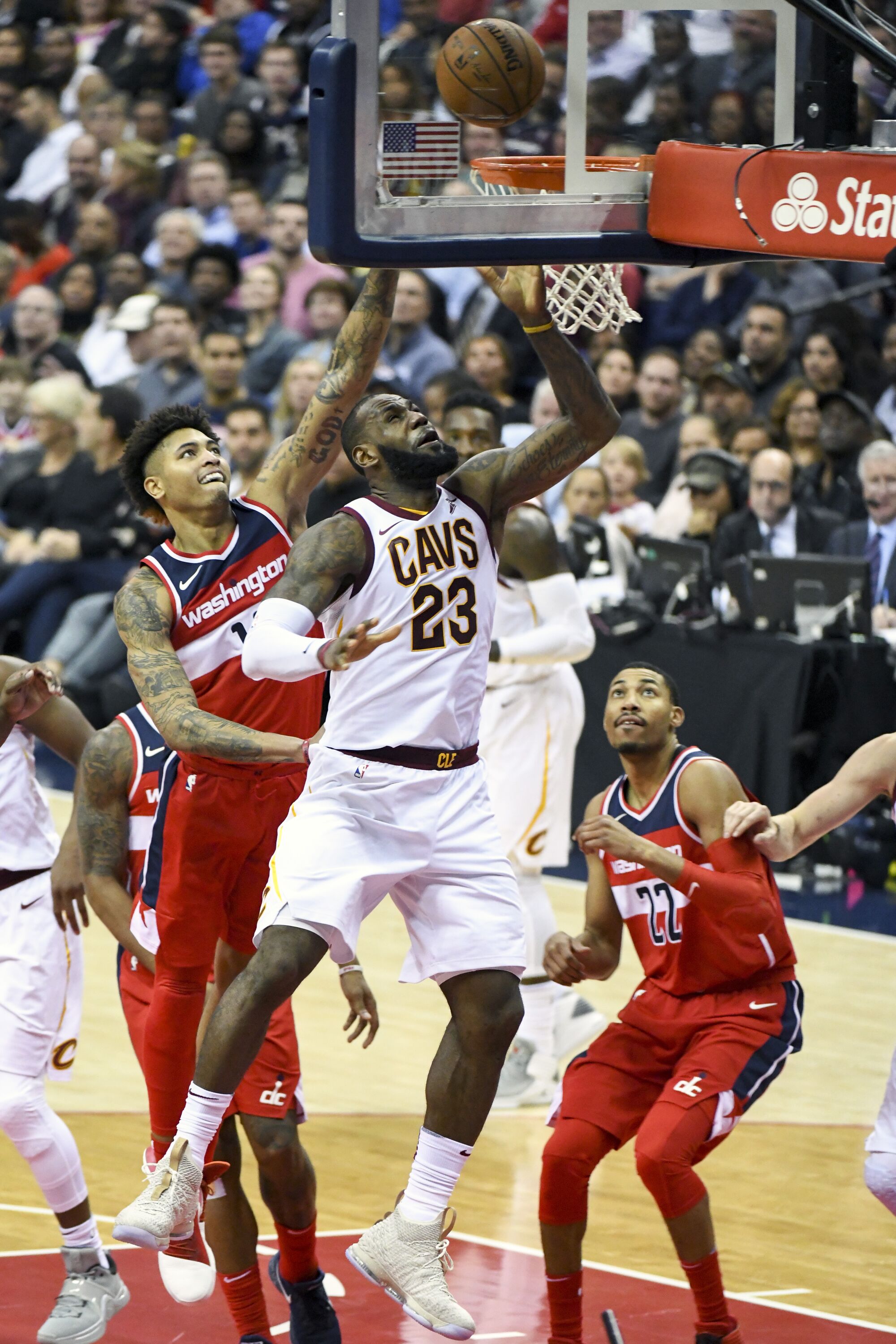 Point 29,049 (75.67% to the record)
A free throw Nov. 3, 2017, in Washington against the Wizards
It's hard to find the moment when James' powers were at their peak, the time when it all aligned and it became more than likely that he'd have the strongest case to challenge Michael Jordan for the unofficial title of greatest player.
This particular point — the final in a 57-point outburst against the Wizards — gave the Cavaliers a needed early-season win after a slow start and set the tone for possibly James' best season as a pro, an 82-game masterpiece that ended with him dragging the Cavs all the way to the NBA Finals.
"This is the best I'm feeling in my career," he told reporters that night. "Every shot that I took, I felt like it was going in."
James had become a champion in Miami and then returned to the Cavaliers to do it again, shedding any of the criticism he faced before he hoisted basketball's biggest trophy.
This version of him was everything coming together, James' physical dominance combined with mental superiority, his ever-expanding skill and encyclopedic experience all made him too good to be stopped.
Credited routinely by opposing coaches and players for his commitment to maintaining his health, James didn't miss a game all season — the only time in his career that it happened.
Current and former L.A. Times staff members selected the 75 greatest Lakers players as the club prepares for its diamond jubilee.
During game broadcasts that season, announcers would wonder when James would start to slow down, especially after he turned 33.
But this season, with performances like the one capped here by a free throw, James began to expand the limits of what an NBA player in his prime could look like — this one soon to stretch from one part of the country all the way to the opposite coast.
THE KING
Points 38,204 and 38,205 (99.52% to the record)
A slam dunk Jan.24, 2023, in Los Angeles against the Clippers
The best moments of James' tenure with the Lakers happened inside a made-for-TV basketball soundstage in Orlando, his championship season with the team marred by unthinkable tragedies and turmoil, including Kobe Bryant's sudden death, the COVID-19 pandemic and months of racial unrest and reckoning after acts of police violence.
He helped lead the Lakers through the shock of Bryant's passing — the most emotionally jarring challenge of his career. And when basketball restarted in Florida, James was incredibly sharp, giving totally to the experience in ways other stars and teams frankly didn't.
But before and after, it's been a mixed bag — the team either building or scrambling, fans in and out of the arena as the Lakers tried to match James' production with wins.
Along the way, he passed Jordan, Karl Malone and Bryant on the all-time scoring list in games the Lakers lost.
It's why this achievement — a dunk late in a loss against the Clippers — is fitting.
The basket gave James 40-point games against all 30 NBA franchises — the first player to torture every team in the league offensively. The record is a reminder of James' nomadic career — four separate stints with organizations.
James' ability to win championships everywhere, to perform at the highest levels of the league everywhere is an unmatched triumph.
He hit bigger shots, won bigger games and made bigger plays — but this kind of totality is why a coach like Doc Rivers said James has had "the greatest career of all time."
"Numbers and everything-wise," Rivers said, "has anyone had a better career than LeBron? I can't think of anyone."
The Record
Feb. 7, 2023, in Los Angeles against the Thunder
He arrived Tuesday afternoon in black, a golden pin with the words "stay present" near his heart.
But the wall of cameras that followed him on and off the court pregame made it impossible to treat this as anything other than an all-time moment.
He was introduced to cheers, wearing a headband just like he did in his first game 20-plus years ago.
With his closest friends, mother, wife and three children in the building, James sprinted his way into rhythm, hitting a three to start the countdown.
Along the way there were free throws — eight of them — a vintage spin move and some old-fashioned bullying, the Thunder unable to suppress his offensive will.
By the time he went to the bench in the third, he needed just six points. When he checked back in with 2:14 left in the quarter, fans rose to their feet.
He wouldn't let them sit again. He scored in transition, caught a lob and scored on a layup from Russell Westbrook.
And then with 10.9 seconds left in the quarter, Westbrook found James again.
With history at stake, James didn't miss.
And as Kareem Abdul-Jabbar handed him the game ball, tears mixed with sweat rolled down the new all-time leading scorer's face.
Stay present?
Why would James ever think of any moment other than this?
All things Lakers, all the time.
Get all the Lakers news you need in Dan Woike's weekly newsletter.
You may occasionally receive promotional content from the Los Angeles Times.