New Manager Scott Servais brings a positive energy to the Seattle Mariners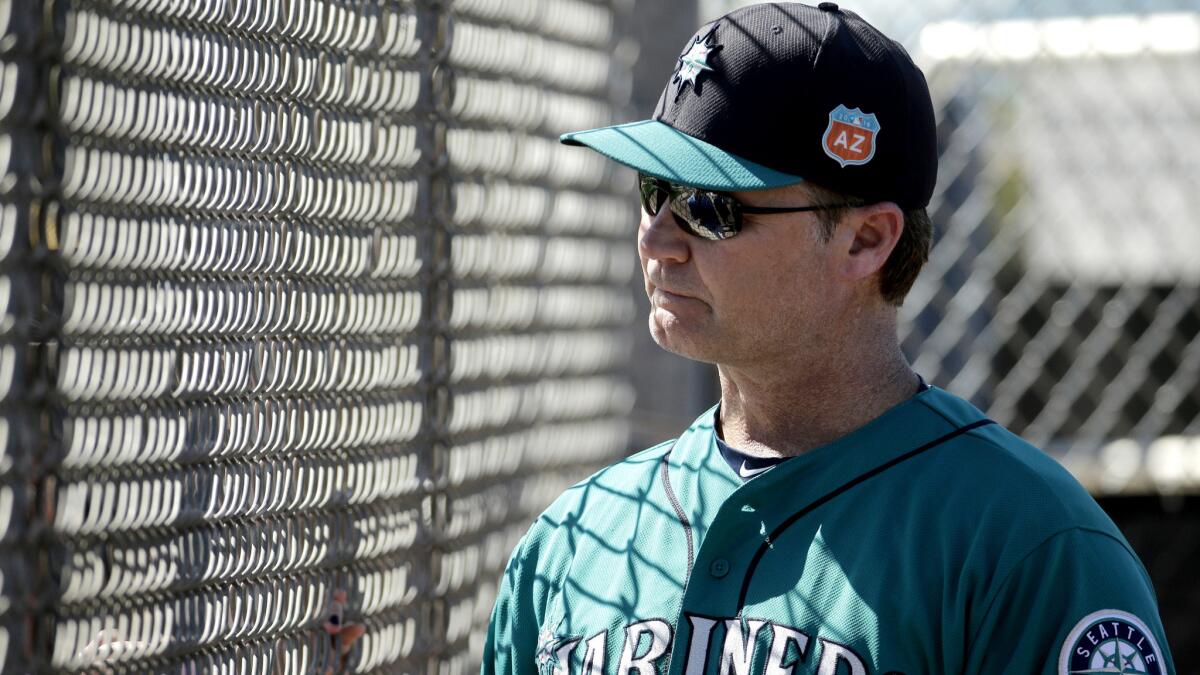 Reporting from Peoria, Ariz. —
In the middle of the Seattle Mariners' spring-training clubhouse is a luxurious new pool table. Not only does it provide a source of relaxation and friendly competition for players, it adds a certain feng shui to the space, providing a centerpiece to the oblong-shaped room.
There was no pool table when the Mariners opened camp in February. How it got there provides some insight into the new manager who, like the ancient Chinese practice, is trying to bring some positive energy to a franchise that has had two winning seasons in 12 years and earned the label of one of baseball's biggest underachievers.
Scott Servais, Seattle's eighth full-time manager since 2004, arrived from the Angels in October with an expansive baseball resume that includes just about everything, except managing a baseball game at any level.
But the former catcher played 11 seasons in the big leagues and has been around enough successful organizations to know the importance of team-building, especially for a Seattle club that, after new General Manager Jerry Dipoto's off-season makeover, has many new faces.
Each day early in camp, Servais had players stand up during the morning meeting to discuss their backgrounds and hobbies, how they got to the big leagues, who their heroes are, what difficulties they overcame.
"It beats the heck out of a 'Hello-My-Name-Is' tag," Dipoto said.
When it was reliever Tony Zych's turn, he said he liked to play pool. Servais asked the right-hander if he was any good. Yes, Zych said. Prove it, Servais said, ordering Zych to have a pool table in the clubhouse the next day. Second baseman Robinson Cano, who has a $240-million contract, said, "I got it."
The next day, Servais and Zych squared off. Servais sank his first shot and missed his next. Zych, clearly a pool shark, ran the table, much to the delight of the team.
Comedian Domingo Ayala spent a day in camp, delivering one-liners and laughs. Pitcher Danny Hultzen was assigned to deliver a daily world news report, and that expanded to outfielder Nori Aoki doing a report on Japan and slugger Nelson Cruz on the Dominican Republic.
When Cano's team beat Cruz's team in a situational-hitting contest, Cruz had to buy steak and shrimp — for everyone in the Mariners complex.
"We never did this kind of stuff last year; it was nonexistent," third baseman Kyle Seager said. "Scott brings such a positive energy. He keeps it extremely loose, but when it's time to get your work in, you work. He's been up front and honest. It's been a fun clubhouse. He's completely changed the culture."
People who believe players and teams are best measured by numbers wouldn't think a cohesive clubhouse would have much effect on the field. People who play the game believe otherwise.
"I think team chemistry is one of the most overlooked things in sports," said Mariners catcher Chris Iannetta, a former Angel. "It's hard to really quantify what it means, but when you have it, you can tell. The teams I've won with have had that, and the teams that have been so-so or had losing seasons did not."
Servais said he has focused "about 95%" of his time this spring on team-building with the goal of "developing equity and trust with players."
How is that done?
"It takes time," Servais said. "They have to know you care about them, more than just what they do on the field. You have to get to know their families, where they came from. Players don't care what you know until they know how much you care."
Setting a positive tone is relatively easy in spring training; games don't count, and the focus is on preparation. The challenge for Servais, the Angels' assistant GM the last four seasons, will be when adversity hits during the regular season.
"I'm going to do the same thing when we lose six straight that I'm doing when we win six straight — I'm going to be myself," Servais said. "We're going to have fun in the clubhouse, we're going to continue to talk to players, let them know where they stand."
Dipoto, the former Angels GM, knows there is an inherent risk in hiring a manager with no game-guiding experience, acknowledging that he is "putting his neck on the line" with the decision.
"That's the idea," Dipoto said, "that you're in it together."
That wasn't the case with his manager in Anaheim, where Dipoto clashed with Mike Scioscia, often over how statistical information was being used in the dugout, and resigned in July in the wake of renewed friction.
Dipoto and Servais have a deeper history. They were teammates at Colorado in 2000 and worked in the Rockies' front office together in 2005.
Servais, the Texas Rangers' senior director of player development from 2006 to 2011, was Dipoto's first hire when Dipoto got the Angels GM job in 2011.
"I've known him for 20 years," Dipoto said. "I know what he's about."
The success of other first-time manager hires — Mike Matheny with St. Louis, Brad Ausmus in his first year with Detroit, A.J. Hinch in his first try with Houston after a stint with Arizona — helped pave the way for Servais.
"So often in the past, you had to earn your stripes, go through the minor leagues or coach at every level," Dipoto said. "Scott has been in baseball for almost 30 years. He's been a farm director, managed people, caught in the league for 11 years, and I think he did those things exceptionally well. You can take a nontraditional route and still do a fantastic job."
Servais has plenty of talent to work with. Felix Hernandez, who has a 104-65 record and 2.83 earned-run average the last seven years, anchors a Seattle rotation that includes Wade Miley, Hisashi Iwakuma, Taijuan Walker and James Paxton. Veterans Joaquin Benoit and Steve Cishek bolster the bullpen.
Seattle ranked 22nd in the major leagues with a .311 on-base percentage last season and was 21st in scoring despite ranking fifth in home runs. But Aoki has a track record of getting on base and adds speed ahead of the potent middle-of-the-order trio of Seager, Cano and Cruz.
New first baseman Adam Lind should add power, and shortstop Ketel Marte and center fielder Leonys Martin provide excellent defense.
"If you look at the roster, it's a lot more athletic," Seager said. "Scott talks a lot about controlling the strike zone, not going up there and whaling away and trying to hit home runs."
With Houston and Texas expected to battle for the American League West title, expectations won't be as high for the Mariners as they were last season, when some picked them to win the division and they finished with a 76-86 record. Servais believes this team will be more competitive.
"We wanted to get more athletic, better defensively, strike out less and create more havoc on the bases," Servais said. "I do not want us to be comfortable to play against."
Get our high school sports newsletter
Prep Rally is devoted to the SoCal high school sports experience, bringing you scores, stories and a behind-the-scenes look at what makes prep sports so popular.
You may occasionally receive promotional content from the Los Angeles Times.