Dodgers' Muncy finds that swinging for the fences in the home run derby is exhausting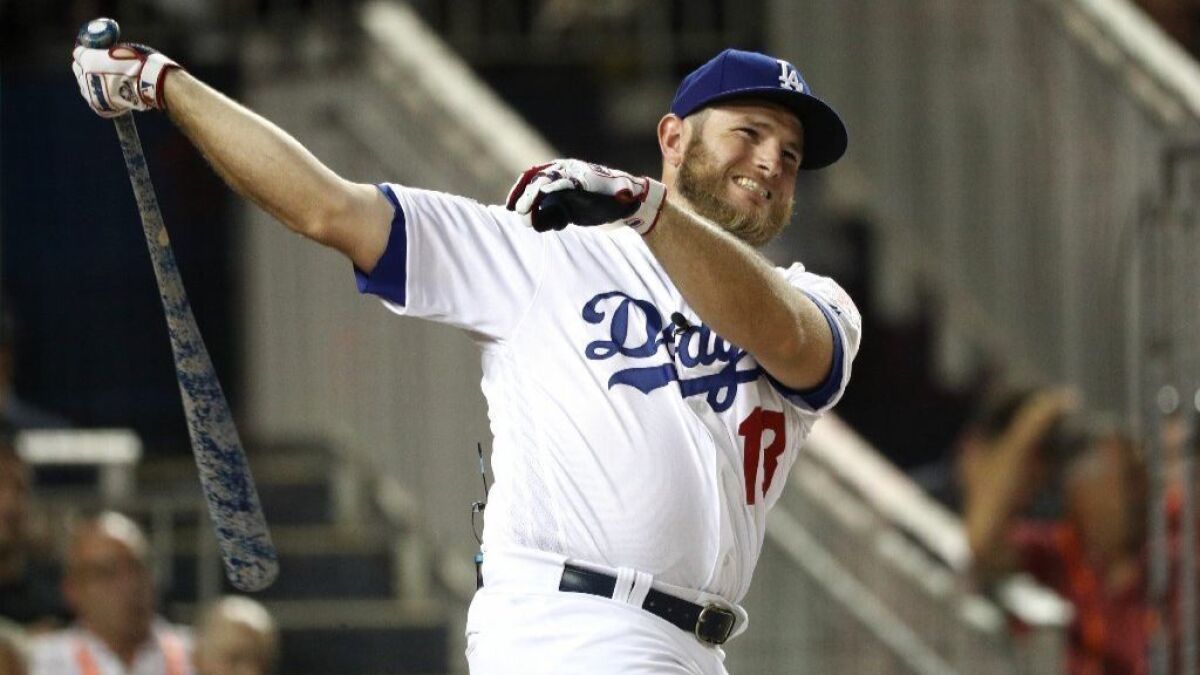 Reporting from WASHINGTON —
Midway through his second round at the home run derby, as he tried in vain to distance himself from eventual champion Bryce Harper, Dodgers infielder Max Muncy felt the cumulative weight of swinging for the fences.
"You can't really feel your hands," Muncy said. "Your forearms are really tight, so you're not sure if you're gripping the bat or if it's falling out of your hands. Your legs are really sore. You just get exhausted."
Muncy could not sustain the pace that carried him through a first-round victory over Chicago Cubs All-Star Javier Baez. Harper, the Washington Nationals star, delighted his home crowd by downing Muncy 13-12 in the semifinals. Muncy delighted in the experience. He stayed on the field to watch Harper defeat Cubs outfielder Kyle Schwarber in the final.
Muncy came to Nationals Park despite just missing out on a selection to the All-Star team. He planned to travel to his family's vacation home in upstate New York on Tuesday, and he was unsure if he would pick up a bat before the Dodgers season resumes Friday at Milwaukee. Muncy earned a spot in Monday's exhibition by swatting 22 homers in his first season with the Dodgers.
"It makes me hungry to get back here next year and be on the team," he said.
Baez did not make it easy. He smashed 16. Muncy was game. He swatted seven in the first 90 seconds, then cooled off. His number stood at eight when he called time with 1 minute 56 seconds on the clock.
After conferring with Kenley Jansen, Matt Kemp and Ross Stripling, Muncy let loose. He reached No. 17 with more than 30 seconds left on the clock, setting the stage for a duel with Harper.
"I think I heard some boos when I was heading up to the plate," Muncy said. "Made it fun."
Muncy went first. He managed to hit 12 this time. Harper started slowly before unleashing a consistent flurry. He drilled No. 12 off the right-field foul pole and hammered No. 13 with 1:15 remaining on his clock.
In the last round, Harper matched Schwarber's total of 18 on his final swing before hitting the winner in bonus time.
"It's hard to be mad that he beats you," Muncy said, "when you see a show like that."
CATCHING TROUT
On the day before the All-Star game, players are scheduled to sit behind a table for 45 minutes and entertain questions from the media. In an upset, Mike Trout made it through all 45 minutes without anyone asking whether he wanted to leave the Angels when his contract runs out in two years, or whether he wanted to sign with the New York Yankees or his hometown Philadelphia Phillies.
He did talk about the Philadelphia Eagles, suggest that Albert Pujols would make an excellent manager someday and jokingly say that Shohei Ohtani might be the worst-dressed Angels player.
"Sometimes he wears the same shirts a couple days in a row," Trout said.
Trout said he would be in favor of restrictions on the use of defensive shifts.
"I think it's just getting a little crazy," he said. "Fans want offense."
Someone asked if he thought aliens were real. Trout laughed, then shrugged.
STRIPLING EXPECTS TO PITCH
Stripling expects to get into Tuesday's game, although manager Dave Roberts had yet to formulate his exact order of deployment for his pitchers. With Nationals ace Max Scherzer starting, New York Mets pitcher Jacob deGrom will follow him. Stripling would pitch sometime in between then and the arrival of Jansen, the closer.
"I'm happy to pitch an inning, an out, whatever they need," Stripling said. "I may not get a chance to come back to another All-Star game. I certainly want to pitch in the one I'm at."
SHORT HOPS
Chris Sale of the Boston Red Sox is set to start for the American League in a third consecutive All-Star game, joining Hall of Famers Lefty Gomez (1933-35) and Robin Roberts (1953-55) as the only pitchers to do so. Scherzer will start for the National League for the second consecutive year. He started for the American League in 2013, when he played for the Detroit Tigers … Thunderstorms are in the forecast for Washington on Tuesday, although skies are expected to clear so that the game can be played Tuesday night. The last All-Star rainout was here, in 1969, when the home team was called the Senators and its manager was Ted Williams. That All-Star game was postponed until the following afternoon.
Follow Bill Shaikin on Twitter @BillShaikin
---
Get our high school sports newsletter
Prep Rally is devoted to the SoCal high school sports experience, bringing you scores, stories and a behind-the-scenes look at what makes prep sports so popular.
You may occasionally receive promotional content from the Los Angeles Times.