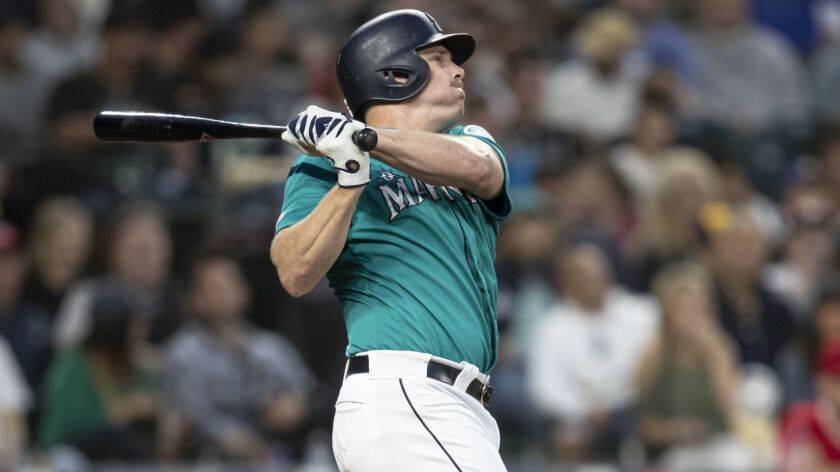 Former All-Star outfielder Jay Bruce was traded to Philadelphia by the Seattle Mariners, a deal that will cost the Phillies just $2.75 million over the next 1 1/2 seasons.
As part of the trade finalized Sunday, Seattle agreed to pay the Phillies $18,567,204 next Jan. 15, offsetting most of the $21,317,204 remaining in the $39 million, three-year contract Bruce agreed to with the New York Mets in January 2018.
Bruce is owed $8,317,204 this year from his $13 million salary and has a $13 million salary in 2020. The Mets remain responsible for the second $1.5 million installment of his $3 million signing bonus, a payment due next Jan. 31.
Philadelphia sent the Mariners minor league infielder Jake Scheiner, who will report to Class A Modesto,
The 32-year-old Bruce is hitting .212 with 14 homers and 28 RBIs. He has struck out 53 times in 184 at-bats.
"I figured this would be the situation," Bruce said. "It's bittersweet. I really like the group of guys here. I got to know some of them and had great relationships. It's part of the business, though. I get to go somewhere I have a chance to win, and at this point in my career, that's pretty paramount for me."
A three-time All-Star for Cincinnati in 2011, `12 and `16, Bruce was acquired by the Mets from the Reds on Aug. 1, 2016, traded to Cleveland on Aug. 9, 2017, then became a free agent and returned the Mets.
He hit just .223 with nine homers and 37 RBIs in 94 games last year, and New York traded him to Seattle in December as part of the deal in which the salary-shedding Mariners sent second baseman Robinson Cano and closer Edwin Diaz to the Mets.
"Jay's been great," Seattle manager Scott Servais said Saturday. "He's got a lot of experience. He's certainly helped a lot of our players, the younger guys especially, just with how to deal with the ups and downs. You're going to have hot streaks. You're going to have cold streaks. It's just how you deal with it."
Philadelphia outfielder Odubel Herrera was placed on administrative leave by the commissioner's office Tuesday under the sport's domestic violence policy after his arrest in Atlantic City, New Jersey.
Bruce's last hit with Seattle was memorable, his 300th home run on Friday, against the Los Angeles Angels. He is one of eight active players with at least 300 home runs and 300 doubles.
Seattle recalled outfielder Braden Bishop from triple-A Tacoma.
Etc.
Texas Rangers slugger Joey Gallo has been placed on the 10-day injured list a day after leaving a game with a left oblique strain. Gallo began Sunday tied with three other players for second place in the American League with 17 home runs and was in first place in slugging percentage (.653). Gallo left the Rangers' game against the Kansas City Royals in the fifth inning Saturday, an inning after hitting his second homer in two days. He was pulled after visiting with manager Chris Woodward and trainer Matt Lucero while batting with a 3-2 count. He initially felt the injury in the outfield and then again on a checked swing during that plate appearance. Center fielder Delino DeShields was recalled from Triple-A Nashville. …
Milwaukee has placed struggling starter Jhoulys Chacin on the injured list with a strained lower back, paving the way for Jimmy Nelson's return to the majors. The Brewers made the move Sunday, two days after Chacin fell to 3-7 with a 5.78 ERA after giving up seven runs in 2 2/3 innings in a loss to Pittsburgh. Milwaukee recalled right-handed relievers Jacob Barnes and Taylor Williams from triple-A San Antonio to give the team some help in the bullpen for Sunday's series finale against the Pirates. The Brewers optioned catcher Jacob Nottingham to triple-A. The team said it expects to recall Nelson on Wednesday and give start him against Miami. The appearance will be Nelson's first in the majors since Sept. 8, 2017, when he partially tore his labrum and strained the rotator cuff in his right (throwing) shoulder diving head-first into first base to beat out a single against the Chicago Cubs.
---