Barry Bonds is not surprised by how good Christian Yelich is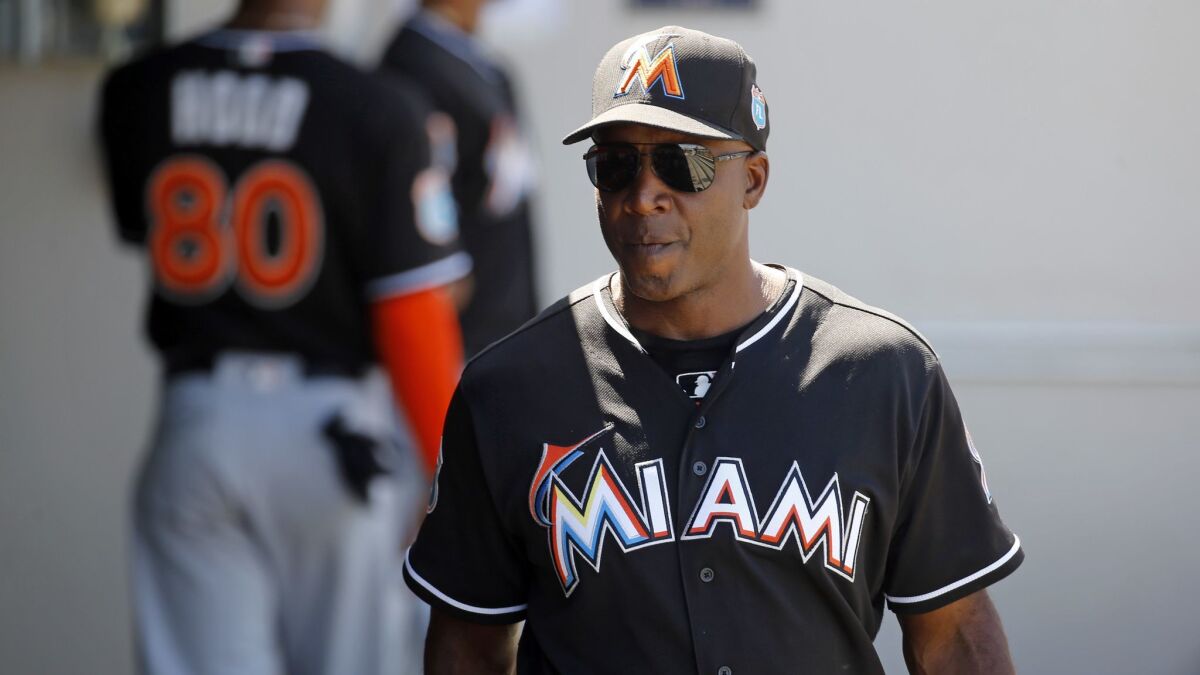 Reporting from Milwaukee —
The regular season is done, the playoffs are in progress, and the coronation awaits. Christian Yelich is widely expected to win the National League Most Valuable Player award next month.
Barry Bonds wanted to talk.
That the two men would talk was not unusual. In 2016, when Bonds was the batting coach for the Miami Marlins, Yelich was one of his pupils.
Bonds knows a little about the MVP award. He is the only player in major league history to win the award seven times. In the final days of this season, as Yelich appeared to turn the MVP race into a rout, Bonds called to offer Yelich some love.
"You've only got six more to go," Bonds said he told Yelich.
Yelich, who leads the Milwaukee Brewers into Game 3 of the NL Championship Series against the Dodgers on Monday, is 26. When Bonds won his first MVP, he was 26.
Yelich led the NL this season in slugging and OPS (on-base plus slugging), each for the first time. Bonds led the NL in slugging seven times, in OPS nine times. He hit more home runs than anyone in major league history.
Surely, Bonds cannot expect Yelich to match his feats. None of the other 19,428 players in major league history have.
"That's who I am," Bonds said. "That's my character. I told him, 'I love you, that's great, now let's move on.'
" 'I want you to go after seven. We want a repeat. Great hitters repeat. Let's not be happy with one. Let's repeat it.' "
In Yelich, Bonds saw a great hitter, even amid the persistent losing that marked his time with the Marlins. To Bonds, Yelich kept an open mind about hitting, picked up on suggestions quickly, and did not let one bad day bleed into the next.
"When you've got a guy who is a contact hitter and can hit the ball out of the ballpark," Bonds said, "they've got a chance for really good success."
Funny he should mention that.
In this era, when a player doubles his home run total from this year to the next, the default explanation is "launch angle" – in a nutshell, the uppercut swing that can lead to more power and more strikeouts.
Yelich vigorously shook his head from side to side before the question had been completed.
"I never talked about launch angle, never mentioned launch angle," Yelich said.
"We can have this conversation somewhere down the road where we can get more in depth and really talk about it, but it wasn't a conscious change in launch angle. I know there's a lot of people probably hoping that I would say that because that's just the trend in baseball. But it wasn't the case."
Yelich hit 36 home runs. The other two NL players with a .400 on-base percentage, Joey Votto and Brandon Nimmo, combined to hit 29 home runs.
Yelich hit fly balls less frequently this season than he did last season, according to Fangraphs. He ranked third in the NL in home runs, 21st in strikeouts.
His mentor, Bonds, struck out 100 times in his rookie season, and never again.
"I say the launch is when it goes out of the ballpark," Bonds said.
"I don't understand why launch angle really matters. I'd rather be a really good contact hitter and put the ball in play and allow my ability to take care of itself."
Bonds said the players were not to blame for the launch angle craze, and the festival of strikeouts that comes with it.
"That's what baseball wants," Bonds said. "That's what people want. Guys adapt to what the game offers them.
"If the game changed, and they said no one could strike out 100 times, guys won't strike out 100 times. If the game says, 'OK, you can strike out 100 times, and just have a launch angle,' then the guys are going to strike out 100 times and have a launch angle.
"If someone told me I could get $200 million and hit .220 and strike out 200 times and hit 20 home runs, I'm going to do that."
That might hit a little too close to home for Chris Davis or Joey Gallo, but otherwise Bonds was playing fast and loose with the numbers to make his point. There were 100 players with 20 home runs this season, three with 200 strikeouts.
"All major league players can adapt," Bonds said. "The game has dictated what they have changed into."
If launch angle is not the reason for Yelich's power surge, what is?
Bonds cited the change in ballparks. In Miller Park, left center is 371 feet from home plate, right center 374 feet.
In Marlins Park, left-center field is 386 feet from home plate, and right center is 392 feet.
"The balls were hitting off the wall," Bonds said. "He'd be hitting the gap at 380 to left center."
Bonds said he had to counsel Yelich to avoid the temptation to try even harder to hit home runs, since he could have ruined his swing and exacerbated his frustration rather than alleviated it. In a fair ballpark, Bonds told Yelich, the home runs would come – 30 or 40, he said.
Yelich practically split the difference this year, his first year here after the Marlins traded him as part of their payroll purge. He no longer has to fear that any ball he does not pull will not be a home run.
"It just allows you to stay within your approach as a player," Yelich said, "You can be rewarded for it and feel like you can leave the ballpark at any part of the field."
Yelich said he is thankful for Bonds' advice and support, and not just in that one year in Miami.
"He's helped me tremendously throughout my career," Yelich said. "Any time a player with those credentials is proud of what you have accomplished, that's great.
"I haven't won an MVP yet. As nice as it is for Barry to say, it hasn't actually happened yet."
Bonds would not end his call with The Times until he had made that exact same point.
"If he does get it – and I say if, so don't write I said when – six more to go, brother," Bonds said. "I'm rooting for him."
Yelich smiled when he heard those words. Setting a high bar is one thing, but six more MVP awards?
"He," Yelich said, "has got a million of those things."
Follow Bill Shaikin on Twitter @BillShaikin
---
Get our high school sports newsletter
Prep Rally is devoted to the SoCal high school sports experience, bringing you scores, stories and a behind-the-scenes look at what makes prep sports so popular.
You may occasionally receive promotional content from the Los Angeles Times.