Shohei Ohtani comes through in a pinch against Dodgers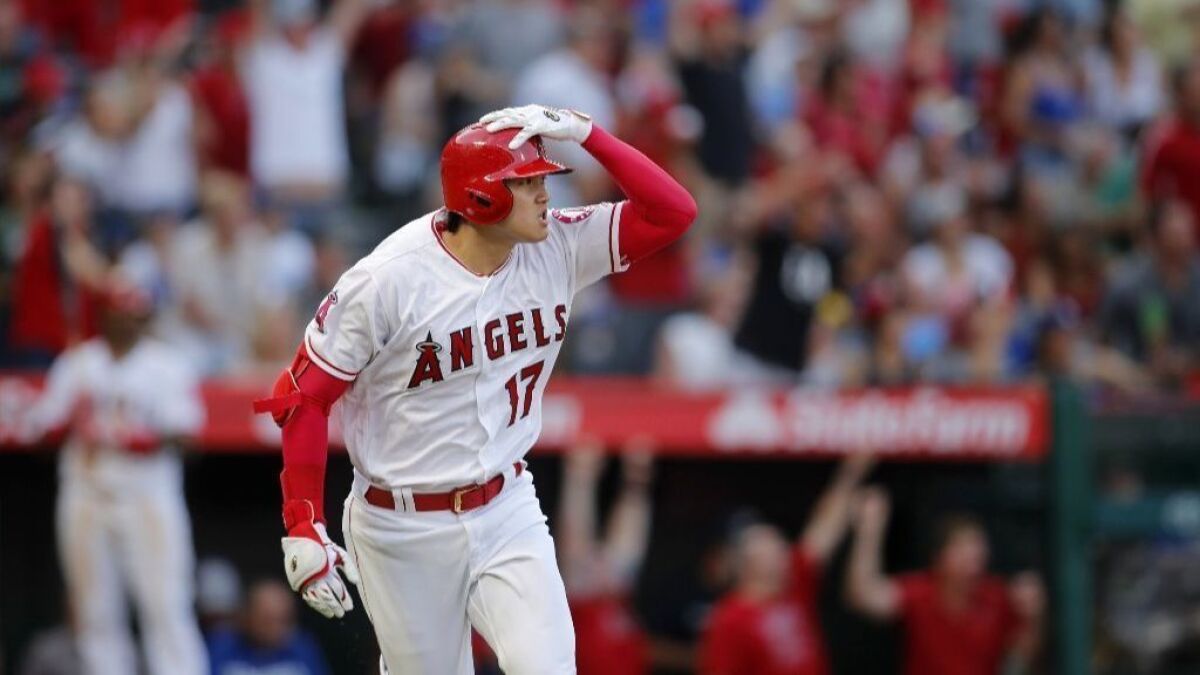 Being a one-way player in the major leagues isn't quite as impressive as being a two-way player, as Shohei Ohtani was for the first two months of the season, when the Angels rookie wowed baseball with his pitching and hitting prowess.
But it beats being a no-way player.
A June 6 elbow injury will probably prevent Ohtani from pitching again this season. It will not stop him from hitting, as Ohtani showed Sunday night when he crushed a pinch-hit home run in the seventh inning to lift the Angels to a 4-3 victory over the Dodgers in front of 42,213 in Angel Stadium.
"It was going to be hard for me to run all-out," Ohtani said through an interpreter, "so I was glad I was able to hit the home run."
Ohtani spent much of Sunday morning undergoing treatment after fouling a ball off his right knee Saturday. Though he felt some discomfort Sunday, he informed manager Mike Scioscia in the second inning that he could hit.
When Dodgers right-hander J.T. Chargois replaced starter Alex Wood to start the seventh inning of a 3-3 game, Scioscia sent the left-handed-hitting Ohtani up for Jefry Marte.
Chargois (2-2) threw a 2-and-2 fastball at 96 mph on the inside part of the plate and down. Ohtani seemed to lean back as he dropped the barrel of his bat on the ball, sending a 109-mph laser into the rock formation beyond the center-field wall, 443 feet away, for his seventh home run and first since May 17.
"With Ohtani, his nitro zone is down," Dodgers manager Dave Roberts said. "I don't know how much of the plate it got, but to come off the bench and put that at-bat together, foul off some offspeed pitches and get a fastball he can handle and hit it to the big part of the park … you have to tip your hat."
Ohtani said the pitch "wasn't in a great location" for a hitter. "I was kind of lucky that the ball found the bat," he said.
The Angels weren't necessarily buying that.
"It's just what he does," said left-hander Andrew Heaney (5-6), who gave up three runs and three hits in seven innings, matching a career high with 10 strikeouts, to improve to 5-6 with a 3.94 earned-run average. "It's really impressive. And it's great for us."
Hansel Robles got Justin Turner to ground into a double play to end the eighth inning, and Justin Anderson got Cody Bellinger to bounce into a double play to end the game, as the Angels won two of three from their Southern California rivals.
The Dodgers lost more than a series. They also lost right fielder Yasiel Puig to a right intercostal oblique strain, an injury Roberts said would "almost certainly" send Puig to the disabled list.
Puig had homered in two consecutive at-bats, a 419-foot shot to center field in the ninth inning Saturday and a 421-foot three-run shot to center field against Heaney that gave the Dodgers a 3-0 lead in the second inning Sunday.
The slugger looked as if he was trying to hit a ball 500 feet in his next at-bat when he swung violently through a 1-and-0 changeup and then at a 1-and-1 fastball that he fouled off in the fifth inning.
Puig clutched his right side and grimaced in pain as he hopped out of the batter's box. After conferring with Roberts and athletic trainer Nate Lucero, Puig was pulled from the game.
"I don't know how long I'm gonna be out," said Puig, who will undergo an MRI test Monday. "I feel bad because I can't help my team win. Now, all I can do is rest, work with the trainers … we'll see."
Heaney retired 12 consecutive batters after Puig's home run to keep the score close. The Angels cut the deficit to 3-2 in the third, an inning that started with Martin Maldonado's single and David Fletcher's one-out single to right field.
Maldonado took third base on Fletcher's hit, and Fletcher took second when Puig air-mailed his throw to third, missing the cutoff man. Andrelton Simmons popped out for the second out.
With first base open, the Dodgers gave Mike Trout his major league-leading 16th intentional walk so they could pitch to Justin Upton, who had a .161 average (14 for 87) with runners in scoring position and a .167 mark (two for 12) in at-bats after intentional walks to Trout.
Upton jumped on a 2-and-0 fastball from Wood and lined a two-run single to center. Albert Pujols struck out with runners on first and third to end the inning, but he drove a hanging curve from Wood over the left-center-field wall in the sixth for a two-out home run that tied the score 3-3.
It was Pujols' 627th home run and 1,276th extra-base hit, the latter moving him into sixth place all time.
---
Get our high school sports newsletter
Prep Rally is devoted to the SoCal high school sports experience, bringing you scores, stories and a behind-the-scenes look at what makes prep sports so popular.
You may occasionally receive promotional content from the Los Angeles Times.