Dodgers first baseman Adrian Gonzalez hopes time off will clear mind, improve hitting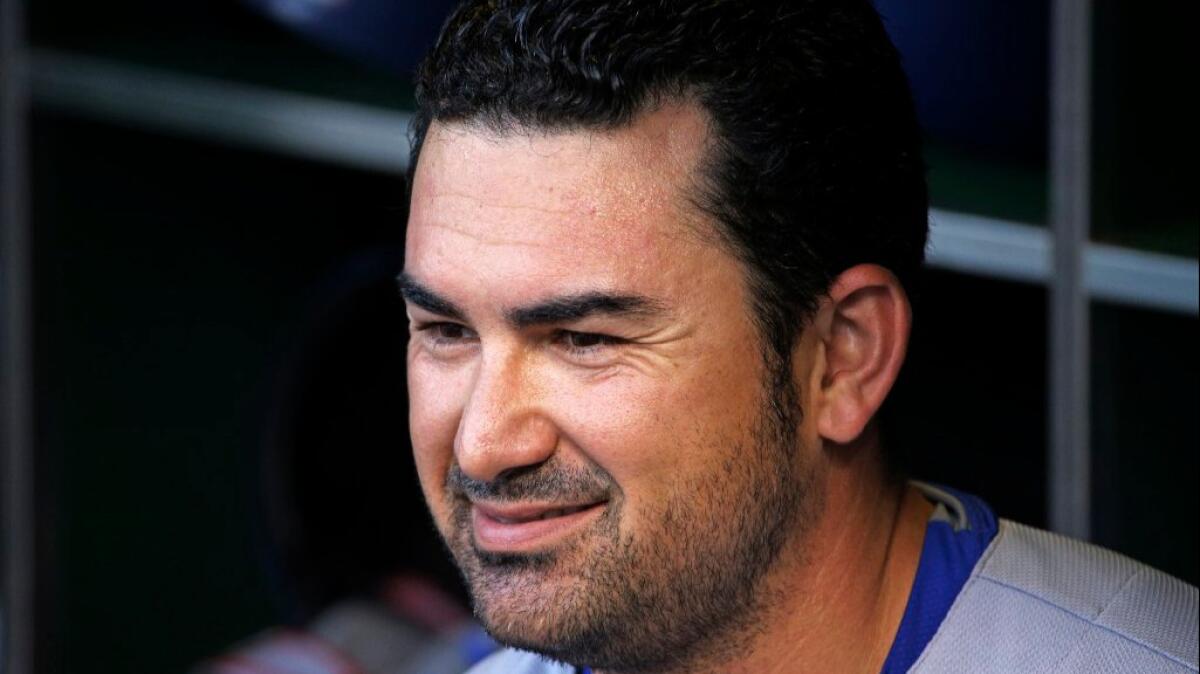 Reporting from PITTSBURGH —
Adrian Gonzalez gazed at a clubhouse television, and then looked toward his locker. On the screen, Dodgers third baseman Justin Turner was giving a television interview conducted on the field at PNC Park. A.J. Ellis suggested Gonzalez should pay Turner a visit.
"You think I'll make it?" Gonzalez asked.
Assured he could get there in time, Gonzalez grabbed a white sombrero and the navy jacket of his custom-made charro suit, outfitted with silver medallions, to interrupt the interview. Once his sombrero popped up on the broadcast, occupying a significant portion of the screen, the Dodgers back in the clubhouse cackled with laughter before avoiding a four-game sweep by the Pittsburgh Pirates with a 5-4 victory over the Pirates.
For the first time in four games here, the Dodgers (42-36) overcame a shaky effort from a starting pitcher. Scott Kazmir allowed four runs before recording two outs. His teammates pulled ahead with a four-run rally in the fifth capped by Ellis' infield single. Dave Roberts used five relievers, including Kenley Jansen for a four-out save, to cover the final four innings after Kazmir's departure.
"It was really special to be a part of that win today," Ellis said. "Those are the wins that show a lot of character."
Gonzalez played a part in lightening the mood. The suit arrived last week, so he packed it for this road trip, waiting for the proper moment to maximize his teammates' enjoyment. A designer from Mexico measured Gonzalez for the traditional horseman's outfit three months ago. He chose to wear it Monday, in part because he sought a diversion.
The stress of the worst month of his career left him preoccupied at the plate. On the flight to Pittsburgh, Roberts told Gonzalez he would sit on Monday's matinee. Two days later, after Gonzalez went hitless in four at-bats on Saturday, he asked his manager for the day off on Sunday, too. He felt he needed time to decompress.
"It's rare for him," Roberts said. "It's never easy to ask for an extra day. He's a guy that wants to be out there every single day. But he felt to help the club going forward, it might be good for him to take two days. So I think that as a manager, you've got to listen to him."
See the most-read stories in Sports this hour »
Roberts reversed course on Sunday, after six innings, when he realized his team might lose a game started by Clayton Kershaw. Gonzalez entered Monday's game in the sixth inning. He rolled a single through the infield for his third hit in the past week. The hit raised his on-base-plus-slugging percentage to .708, which is 122 points below his OPS in 2015.
For Gonzalez, the decline stems from a wretched June. He is suffering through the worst month of his career with a .507 OPS. Roberts suggested his slump arose from an attempt to defeat infield shifts. Gonzalez countered that he had overloaded his mind with competing strategies, shifting his approach from moment to moment in vain.
"Every at-bat has been a grind," Gonzalez said. "I'm thinking about my mechanics. I'm thinking about where my hands are, where my legs are, where I want to hit the ball. And then the ball's by me. And then the next at-bat, I'm like 'I'm not going to think about anything, I'm just going to get the [bat] head out.' And then they throw me a changeup, and I roll over."
The confusion has resulted in a bevy of weak flyballs to the left side and soft grounders to the right side. One such grounder snuck through on Monday, but Gonzalez understands he must elevate the baseball and hit line drives. Through his first 73 games in 2016, his groundball percentage was 51.7, well above his career average of 40.7.
Gonzalez turned 34 in May. He averaged 159 games per season during the first decade of his career. His health has declined in recent years. His neck bothered him in spring training. He received an epidural for a back issue in May. Since then, he explained, the issue has been his mind, not his body.
"I haven't had any symptoms in three weeks," Gonzalez said. "And I think that's why I'm putting so much pressure on myself. Because I'm like 'I'm finally healthy. I should be doing good.' You're just pressing for that, rather than letting it happen."
Gonzalez hoped the time off would allow his mind to clear. His outfit on Monday helped, at the very least, provided some comedy for a team in need of a laugh. He strutted through all corners of the clubhouse, from the weight room to the food room, exhorting his teammates to get a win.
"I was a little hesitant after we lost three in a row," Gonzalez said. "But I thought it would lighten the mood."
Follow Andy McCullough on Twitter @McCulloughTimes
Get our high school sports newsletter
Prep Rally is devoted to the SoCal high school sports experience, bringing you scores, stories and a behind-the-scenes look at what makes prep sports so popular.
You may occasionally receive promotional content from the Los Angeles Times.