Column:: Paul Goldschmidt's struggles mirror those of the Cardinals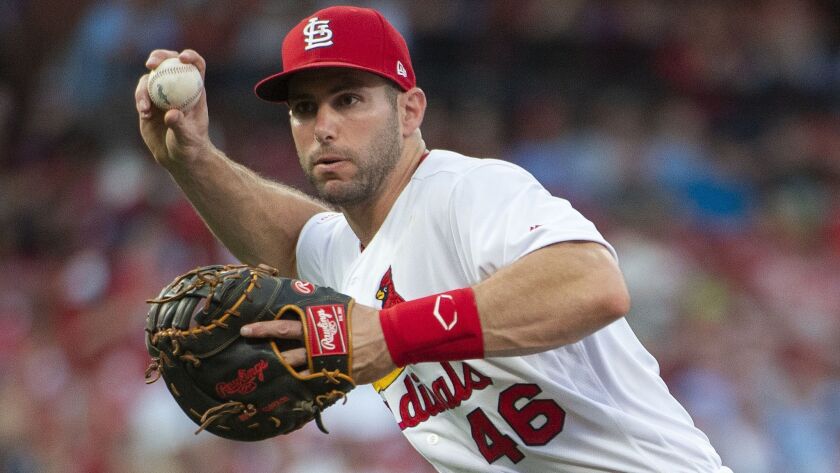 Reporting from ST. LOUIS —
Paul Goldschmidt received a text message from St. Louis Cardinals manager Mike Shildt in the hours before Wednesday's game at Busch Stadium. Goldschmidt had been mired in a stretch of ugly baseball, at a time when his team could not afford it, with one hit in his previous 20 at-bats. Shildt gave Goldschmidt the day off to recharge, but asked him to be ready for the late innings.
"Today is just an opportunity to take a break," Shildt said before the game. "And then come off the bench, and do some damage."
On a normal day off, like those he had during eight dynamic seasons with the Arizona Diamondbacks, Goldschmidt would have prepared as if he were playing. He would have taken batting practice. He would have studied scouting reports. He would have begun to rest only once the game began.
On Wednesday, he opted for a different tack. He did nothing. At least, not until the sixth inning, when he slipped inside an indoor batting cage. The change felt necessary, he explained later, because "I'm not playing too well."
The game that night found a place for him in the ninth inning. He entered as a defensive replacement with the score tied against the bottom-dwelling Miami Marlins. He came to the plate in the bottom of the inning ... and struck out on three pitches. "I was like, 'Man, maybe I should have done something different,'" Goldschmidt said. "That's baseball."
Goldschmidt shrugged after he spoke and allowed himself a smile. He could grin because of what happened in the 11th. He hammered a belt-high changeup from Marlins reliever Adam Conley for a walk-off home run. It was his first as a Cardinal, and a bright spot during a season that had already featured plenty of irritation.
"There's close games that we've lost where I felt like, 'Man, if I could have gotten a hit, or if I could have driven somebody in, the result might have been different,'" Goldschmidt said. "We all want to do our part. To have a big part is very gratifying."
The euphoria did not last through Thursday. The Cardinals suffered a dreary, extra-innings defeat to the Marlins in the series finale. After going two for four in Saturday's victory over the Angels, Goldschmidt found himself hitting .260 with a .777 on-base plus slugging percentage, a significant dip from the .301 average and .947 OPS he produced during his last six seasons in Arizona.
One National League talent evaluator noted he had done less damage on fastballs, and had become more susceptible to offspeed pitches. He was playing in a park that suppresses power, rather than one that amplifies it. The rest of his teammates were not exactly thriving at Busch Stadium, either.
The mediocrity of the Cardinals, who entered a weekend series with the Angels stuck behind the Chicago Cubs and Milwaukee Brewers in the National League Central, cannot be left at the feet of Goldschmidt. No single player can lift a franchise; Mike Trout cannot carry the Angels to the postseason on his own. But the struggles of Goldschmidt encapsulate the frustration of a Cardinals season that has fallen short of expectations.
In April, the Cardinals looked primed for October. They finished the month nine games above .500 and three games ahead of the pack in its division. They displayed their capability during a four-game sweep of the Dodgers at Busch Stadium; the Dodgers managed only five runs in the first three games.
"That," Dodger manager Dave Roberts said afterward, "is a good ball club over there."
That club cratered in May. The Cardinals went 9-18 and lost control of the division. The skid coincided with a slump for Goldschmidt, who posted a .744 OPS. Since his first All-Star campaign in 2013, Goldschmidt has completed only two calendar months with worse production (May 2018 and September 2017).
Responsibility for the swoon does not reside solely with Goldschmidt. The bat of shortstop Paul DeJong has cooled. The outfield duo of Dexter Fowler and Marcell Ozuna has been productive but unspectacular. Miles Mikolas, the leader of the rotation, has regressed after making the All-Star team as an import from the Korean Baseball Organization last season. Jack Flaherty, a candidate for rookie of the year in 2018, has been easier to hit in 2019.
Sign up for our daily sports newsletter »
The dual millstone of a sluggish offense and a wobbly rotation has continued into June. The lineup entered Friday's games ranked 21st in the majors in on-base plus slugging percentage, stacked behind middling clubs like the Pittsburgh Pirates and San Diego Padres. The rotation rated 13th in earned-run average.
There is little Goldschmidt can do about pitching, although his defense at first base has had a stabilizing effect on the infield, Shildt insisted. Shildt took pains this week to praise Goldschmidt for the totality of his skills, like running the bases or making scoops in the field.
"His presence in the lineup, you can't really put a figure on," Shildt said. "You hope that's what people appreciate. He's a big presence. And he makes people around him better."
The Cardinals have yet to benefit from that in the standings. The expectations for Goldschmidt were already sizable when general manager John Mozeliak acquired him during the winter. Before he played his first game at Busch Stadium, Goldschmidt agreed to a five-year, $130-million extension to his contract, one that could keep him a Cardinal through 2024.
Goldschmidt became the latest slugger to attempt to fill the void created by Albert Pujols' departure in 2011. As Goldschmidt struggles in his new home, the players who were sent to Arizona have been useful. Pitcher Luke Weaver posted a 3.03 ERA before requiring a stint on the injured list to rest his elbow. Catcher Carson Kelly produced an .830 OPS in his first 52 games with Arizona.
The contrast did not help Goldschmidt's case. The Cardinals have not made the playoffs since 2015, and lacked interest in extending the streak to four seasons. They still have all summer to revive themselves but they will require a sizable contribution from Goldschmidt.
"The results, in an unfair way, make you judge the rest of the stuff," Goldschmidt said. "So for me, I try to not look at the results, and just try to show up every day, prepare to the best of my ability, and work, and try to go out there and give it my best effort. And then the results be what they are."
Twitter: @McCulloughTimes
---
Get our high school sports newsletter
Prep Rally is devoted to the SoCal high school sports experience, bringing you scores, stories and a behind-the-scenes look at what makes prep sports so popular.
You may occasionally receive promotional content from the Los Angeles Times.