Colorado star Nolan Arenado faces a choice: Test free agency, or 'be one of the best Rockies of all time'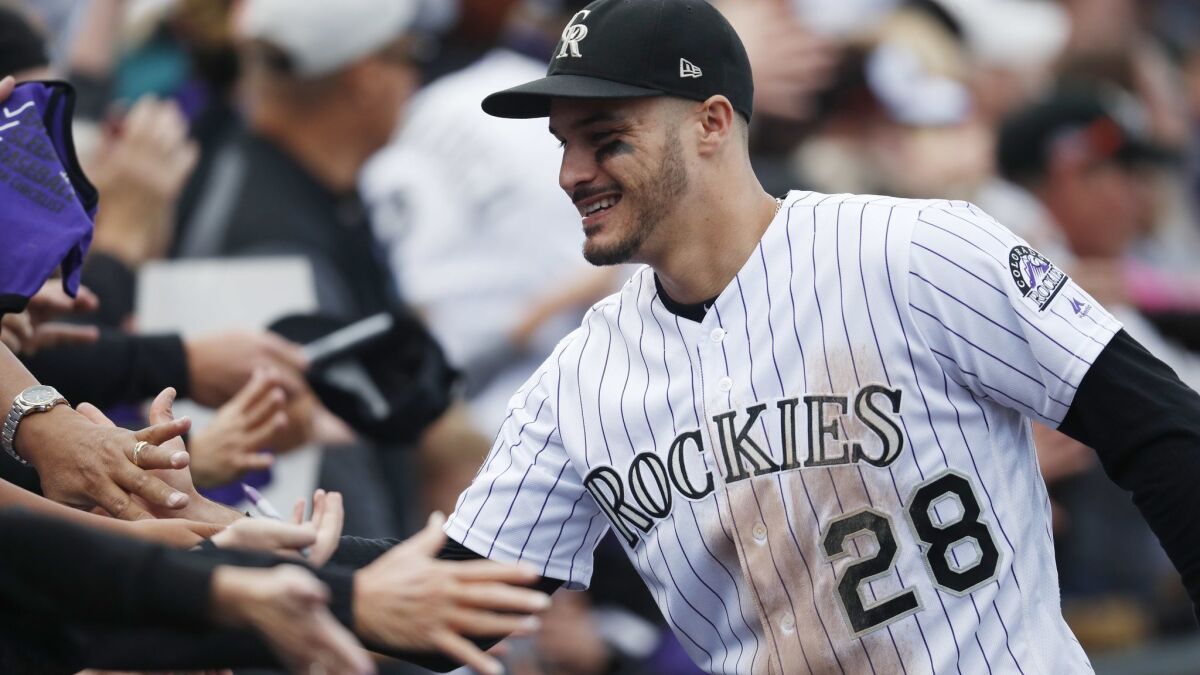 Reporting from scottsdale, ariz. —
On the morning that Manny Machado agreed to a 10-year, $300-million contract with the San Diego Padres, Nolan Arenado pondered the next decade of his life. The thought did not trouble him. He burst into a smile outside the Colorado Rockies' clubhouse at Salt River Fields, and shrugged at the questions that could follow him for the duration of 2019.
"I'm 27 … that means I'll play until I'm 37?" Arenado said. "I don't know if they're going to be giving that away to me."
He may be right. If Arenado enters free agency after this season, he will be two years older than Machado was this winter, and baseball executives treat actuarial tables as sacrosanct.
Arenado also could be wrong. He is one of few baseball players who can stake a claim to being more valuable than Machado, or Bryce Harper, the other unsigned star on the market. Some people in baseball believe his availability could incite the bidding war between the Dodgers and the New York Yankees that never materialized for Machado and Harper.
Sign up for our daily sports newsletter »
In a sport overflowing with elite third basemen — Justin Turner with the Dodgers, Jose Ramirez with the Cleveland Indians, Kris Bryant with the Chicago Cubs — Arenado might be the best. He has won six consecutive Gold Gloves and four consecutive Silver Sluggers. He has led the National League in home runs in three of the past four seasons. He has missed only 16 games in the past four seasons. He is durable and reliable, sure-handed and rocket-armed in the field, potent and unpredictable at the plate.
"He doesn't ever give away a pitch, offensively or defensively," Rockies infielder Daniel Murphy said. "So when you take someone who is as physically gifted as he is, and they have the mentality of never wanting to check out, then you get special things."
Arenado is also facing a choice as the season approaches. He boiled it down to a binary decision.
Behind Door No. 1: "I don't know what it's like out there," Arenado said. "Part of me wants to find out."
Behind Door No. 2: "But part of me is like 'Hey, I want to be one of the best Rockies players of all time.'"
Arenado insisted the debate did not weigh on him, even as speculation swirls. Earlier this month, Rockies chairman Dick Monfort suggested the discussions regarding an extension had reached "the crescendo." There has been speculation a new contract could last eight seasons and cost $250 million. But no deal has been struck, and people familiar with the situation indicated there was nothing imminent.
Arenado met with his agent, Joel Wolfe, before he reported to camp. Arenado asked for a couple weeks of space so he could focus on his craft. Any contract talks could wait until he felt comfortable at the plate and ready for the season. Arenado measures himself against contemporaries such as Turner, Ramirez, Bryant, Machado and Washington Nationals third baseman Anthony Rendon, and "I don't want to get left behind," he said.
Which is why he gave up cheese when he returned to his home outside Los Angeles this winter. Arenado had marauded through 2018 with his typical results. He launched 38 home runs and posted a .935 on-base-plus-slugging percentage, the second-highest of his career. Yet as the year progressed, he struggled to keep his legs loose. "I felt heavy and bad," he said. "I just felt terrible, man."
One day late in the season, Arenado fell into a conversation with teammate Matt Holliday and Dodgers veteran Chase Utley. Both vouched for the perks of eliminating dairy. So Arenado replaced cheese with eggs and reported to Scottsdale at 215 pounds, an 11-pound decrease from the year before.
A more refreshed, pliable version of Arenado would be a terror for opposing pitchers. Murphy ran through the checklist of his teammate's elevated skills: hand-eye coordination, balance, strength and attentiveness.
"It's just impressive how well he consistently gets into good positions and stays in them," Dodgers shortstop Corey Seager said. "He's never off balance. He's never in between. It's a hard thing to do, and he makes it look very easy."
Arenado combines his gifts with an element of surprise at the plate. Dodgers pitcher Ross Stripling noted that he had learned how to think along with other sluggers like St. Louis Cardinals first baseman Paul Goldschmidt and Cincinnati Reds first baseman Joey Votto. Stripling might not always disarm those hitters, but he understood their intentions. Arenado offers a different challenge.
"With Arenado, it's just high energy in the box, crazy eyes, a lot of movement," Stripling said. "There's sometimes no rhyme or reason. He'll swing at something at his neck sometimes. It's one of those guys that when you're going pitch for pitch with him, you don't know what he's thinking."
In a sense, the rest of the industry also desires to know what's on Arenado's mind. An extension with Colorado might materialize this spring. Or he could enter the market and see if he fares as well as Machado. The Yankees are likely to view Arenado as an upgrade over third baseman Miguel Andujar. The Dodgers will enter 2020 with Turner in the final year of his contract at age 35
In camp, Arenado has vowed to keep those issues in the distance. He pivoted his focus toward the National League West title, which the Rockies have never won. Arenado acknowledged he had grown tired of living beneath the boot of the Dodgers, who have won the division six years in a row.
"It's frustrating," Arenado said. "There's no question about it. But you have to respect it. They go out there, they compete and they win. You can only get so upset about it."
His potential free agency added a new wrinkle to his winter talks with friends. Arenado starred at El Toro High and still lives in the area. For years, he heard trash talk about how he and the Rockies couldn't beat the Dodgers. Now he hears the occasional plea to come join them.
"I hear it all the time. It's cool, man. I love it," Arenado said. "Listen, man: Playing in L.A. is my favorite place to play on the road. It's a lot of fun. It's just a great place. A lot of history there. I've known them as a kid, me and my family. I love it. But I can't predict the future."
Twitter: @McCulloughTimes
Get our high school sports newsletter
Prep Rally is devoted to the SoCal high school sports experience, bringing you scores, stories and a behind-the-scenes look at what makes prep sports so popular.
You may occasionally receive promotional content from the Los Angeles Times.