Column: A healthy Giancarlo Stanton ignites talk of chasing the home run record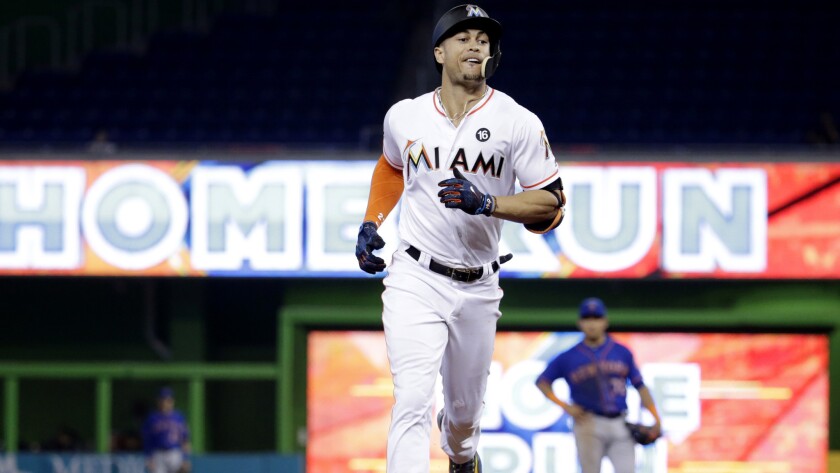 Reporting from Phoenix —
There is a fanciful notion that legitimacy is conferred by a line in the record book, as black and white as the type on the page or the line on the screen.
Legitimacy is in the eye of the beholder. You can read that Barry Bonds holds the legitimate home run records: 73 in a season, 763 in a career. If there were no dispute about the legitimacy of those records, Bonds would have been inducted into the Hall of Fame four years ago.
There would seem to be no way to end the debates about legitimacy, to shrink the stain of the steroid era to a historical footnote, unless someone could break Bonds' records.
Mark McGwire, the only player besides Bonds to hit 70 home runs in a season, believes Giancarlo Stanton of the Miami Marlins could be that guy.
"He could hit 80," McGwire said in San Diego, where he is the bench coach for the Padres.
Stanton smiled as those words were relayed to him. When he was growing up, his father took him to Dodger Stadium to see all the greats: Bonds, Ichiro Suzuki, Ken Griffey Jr., Mike Piazza.
But his favorite, the player after which he modeled himself, was McGwire. Stanton wore No. 25 and played first base for the Cardinals in the Tujunga Little League, just as McGwire did in the National League.
Stanton did not dismiss the notion of hitting 80. He has 57 home runs, a career high. He also has 565 at-bats, a career high. He is hitting a home run about as often as he did two years ago, when he had roughly half the number of at-bats.
This is his first injury-free season in six years, and it has included a span in which he hit 18 home runs in 25 games.
"You don't have a chance to go on those stretches if you're out for three weeks," Stanton said Friday at Chase Field. "The thing about baseball is, you never know when that streak is going to come. You could be 0 for 30, or 20 for 30 with 12 or 15 [home runs]. You never know. But, if you're not out there, you for sure know."
Good health over a full season is one thing. Consistent performance is another.
"In terms of giving away at-bats, which is hard as heck not to do, this has been the best," he said, "but still there is plenty in there. I've had some bad stretches of 10-15 games, which you can't afford if you're going to try to do legendary things."
In this season of the home run, Stanton is the headliner, but he is far from the only attraction. MLB shattered its all-time record for home runs, breaking the mark set in 2000, at the height of the steroid era.
There are 147 players qualified for the batting title, through Friday. There are 157 players that have hit at least 15 home runs.
McGwire has heard enough of the talk of whether the ball might be juiced, or the players might be juiced, or both. The drug-testing program is in place, he said, and now is the time to celebrate a generation of young sluggers.
"It's awesome to see the young studs we have in this game," McGwire said.
"We should take that and promote that in the most positive way instead of trying to find out, 'Why is this happening?' I hope Major League Baseball takes all these guys and promotes the [heck] out of them, because we have an unbelievable group of young men that are just taking over this game right now."
McGwire dropped plenty of names beyond Stanton: Cody Bellinger, Aaron Judge, Manny Machado, Corey Seager, Mike Trout.
"It's unfortunate that Trout doesn't get the attention he should be getting," said McGwire, who lives in Irvine. "He's stuck. The Dodgers take over Southern California."
The league is not quite sure what to make of all the home runs. In the spring, Commissioner Rob Manfred indicated he might want to legislate more action into a game increasingly dominated — and dragged out and dulled — by home runs, strikeouts and walks.
The average game attendance is on pace to fall below 30,000 for the first time since 2003. But MLB has commissioned surveys that show fans love the home runs, at least.
"We haven't really talked about making any changes on the home run front," Manfred said the other day at Angel Stadium.
"We believe that what is going on is a product of the way people have been taught and have decided to play the game at the big league level. The game has always evolved in response to those types of natural forces, and my inclination is to think we should leave it alone and let it evolve."
Pitchers traditionally are taught to keep the ball down. If a new generation of hitters is learning to swing with an uppercut, it makes less sense for pitchers to keep the ball down.
"I think pitchers are starting to make adjustments to the launch angle stuff," Marlins manager Don Mattingly said. "More and more teams are pitching up in the strike zone. You're going to see, I think, a ton more guys pitching up in the strike zone next year.
"The game changes all the time. You grow with it."
Stanton, 27, will have power to spare no matter what pitchers might do, or where he might play. The Marlins' new ownership might trade him this offseason, to revitalize a barren farm system and to try another new approach with a team that has not had a winning record since Stanton arrived in 2010, or for that matter has not advanced to the postseason since 2003.
Marlins Park ranks as one of the six worst stadiums for home runs this season, according to ESPN. The Philadelphia Phillies have money to burn, prospects to spare, and a need in the outfield, and Citizens Bank Park ranks as the most likely place to hit a home run this season. Stanton might obliterate Bonds' records if he played there.
For now, Bonds retains the single-season record, at 73. Stanton could finish this season with 62, which would be the most for any player not associated with performance-enhancing drugs.
Stanton generated a wave of attention last month, when he was asked by Miami reporters whether he considers Roger Maris' 61 as the legitimate record.
"The record is the record," he said then. "But, personally, I do."
He is not alone. In 2013, on his way to the last 50-homer season before Stanton, Chris Davis of the Baltimore Orioles told The Times: "In my opinion, 61 is the record, and I think most fans agree with me on that."
On Friday, Stanton called 61 "the original history" and said there is no right answer about what the legitimate record should be.
"If you have an educated opinion, there could be a few answers to that," he said. "I think it's a cool debate."
Said Manfred: "It's never going to be answered in every fan's mind. I'm a literalist when it comes to this. I know what the most home runs hit in a season is. I think it's one of those baseball issues people will continue to debate, and they should."
McGwire saw no room for debate.
"Last time I saw, it was 73," McGwire said.
"It is what it is. There were no rules and regulations back then. That's unfortunate. I think Major League Baseball has done a hell of a job to do what they've done.
"That's what it is. If Stanton does what he does, I truly believe he could surpass that. That's how good he is. He's just really coming into his own."
Follow Bill Shaikin on Twitter @BillShaikin
---
Get the latest on L.A.'s teams in the daily Sports Report newsletter.
You may occasionally receive promotional content from the Los Angeles Times.