MLB | Three up, three down: Zimmerman's hot, Mets are not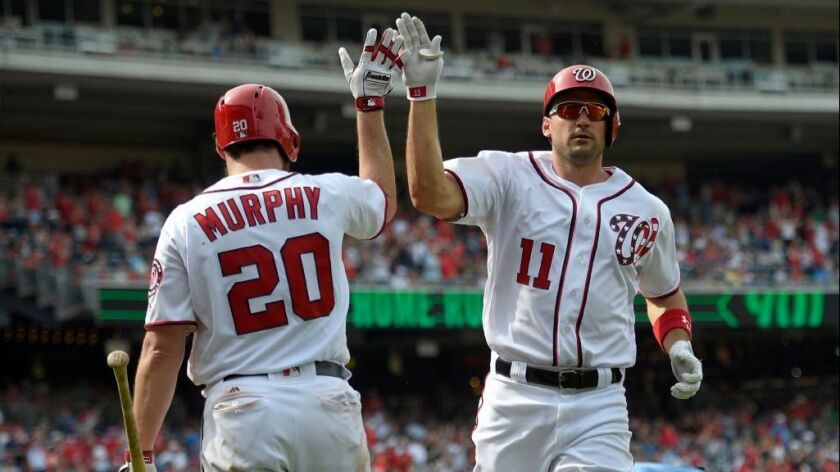 A look at what's trending in Major League Baseball:
Three Up
Ryan Zimmerman: In the seventh inning of the final game of last year's National League division series against the Dodgers, the Washington Nationals trailed by one run. They removed Zimmerman in a double switch, a decision that would be unthinkable today. Zimmerman, 32, the face of the Nationals before Bryce Harper and Stephen Strasburg showed up, hit 15 home runs last season with a .642 on-base-plus-slugging percentage, fourth-lowest of any NL player (minimum 450 plate appearances). He has 11 home runs already this season, and he leads the NL in all of the Triple Crown categories. The major league RBI leaders, in order: Zimmerman, Daniel Murphy and Bryce Harper. The Nationals might run away with the NL East before they get a closer.
Scott Schebler: The Dodgers included Schebler in a three-for-three prospect swap 16 months ago. The return: outfielder Trayce Thompson, who hit 13 home runs for the Dodgers last season but started this season with one hit in 48 at-bats between the majors and minors; infielder Micah Johnson, cut in January; and reliever Frankie Montas, who was included in the Rich Hill trade last July and has pitched more innings for the Oakland Athletics this year than Hill has for the Dodgers. Schebler, 26, a depth player in the Dodgers' system, has eight home runs and an .874 OPS for the Cincinnati Reds. No one has more than five homers on the Dodgers (Schebler would look good in left field right now). The OPS for Dodgers outfielders: left field, .664; center field, .559; right field, .775.
World Baseball: Baseball is back in the Olympics in 2020, on a trial basis, for the first time since 2008. The International Olympic Committee had kicked out baseball in part because of the steroid crisis, in part because it resented that Major League Baseball wouldn't shut down its season so the best players could try the Olympics, and in part because the Euro-centric IOC saw baseball as a niche sport popular almost exclusively in North America, Latin America and Asia. MLB countered by launching the World Baseball Classic and accelerating global development programs, so last week was a celebratory one, with the Pittsburgh Pirates calling up the first Lithuanian-born major leaguer, pitcher Dovydos Neverauskas, and then the first South African-born player, infielder Gift Ngoepe.
Three Down
Mets mess: The New York Mets lost 10 of 11 games, and their last one was particularly painful. Their scheduled starter, Noah Syndergaard, was scratched because of biceps soreness. His replacement, Matt Harvey, was notified that morning that he would start one day ahead of schedule. He did not survive the fifth inning and reported afterward that he was "pretty tight." The Mets' best offensive player, Yoenis Cespedes, strained a hamstring and headed for the disabled list. And, when the Mets asked Syndergaard to undergo an MRI examination the following day, he said his arm felt fine and declined. "I can't strap him down and throw him in the tube," general manager Sandy Alderson said.
Royal flush: The Kansas City Royals might have been the team most in need of a fast start, a small-market team that figures to break up the roster if not in contention in July. The pending free agents include outfielder Lorenzo Cain, first baseman Eric Hosmer, third baseman Mike Moustakas and pitcher Jason Vargas. The bad news: the Royals scored two or fewer runs in eight consecutive games, and they have scored 58 runs in all, the fewest in the major leagues. No other American League team has scored fewer than 82; half the other teams have scored more than 100. The good news: Flags fly forever.
That trade: On Tuesday, fired Arizona Diamondbacks general manager Dave Stewart told USA Today he was not surprised by the team's fast start because "I knew exactly what I was doing." And, while outfielders A.J. Pollock and David Peralta are starring this season after missing most of last season because of injury, karma shot back on Saturday when pitcher Shelby Miller said he would undergo Tommy John surgery. Miller went 3-12 with a 6.15 ERA last season, and Stewart was ripped for trading shortstop Dansby Swanson — the first overall draft pick in 2015 — and outfielder Ender Inciarte to get him. On the other hand, Swanson is batting .134 and Inciarte .217 for the Atlanta Braves.
SERIES OF THE WEEK
Rangers at Astros
Monday through Thursday at Minute Maid Park.
The two Texas teams meet for the first time this season, with the Astros looking like the class of a weak AL West, yet still plenty vulnerable. Dallas Keuchel, the 2015 Cy Young winner, has a 1.22 ERA, but no other Houston starter is below 4.00. The players ranking lowest in OPS: designated hitter Carlos Beltran, who turned 40 last week (.618), third baseman Alex Bregman, the second overall pick in 2015 behind Dansby Swanson (.649), and franchise shortstop Carlos Correa (.662). The Rangers' looming issue might be Cole Hamels, 33, who has made all his starts but is striking out batters at less than half the rate of his career average. Hamels has struck out five or fewer in five consecutive starts for the first time in his career. He makes $22.5 million this year and $22.5 million next year, and 400 innings pitched in 2017-18 could guarantee him $20 million in 2019.
Follow Bill Shaikin on Twitter @BillShaikin
---
Get the latest on L.A.'s teams in the daily Sports Report newsletter.
You may occasionally receive promotional content from the Los Angeles Times.