Three up, three down: Twins and Verlander complete turnarounds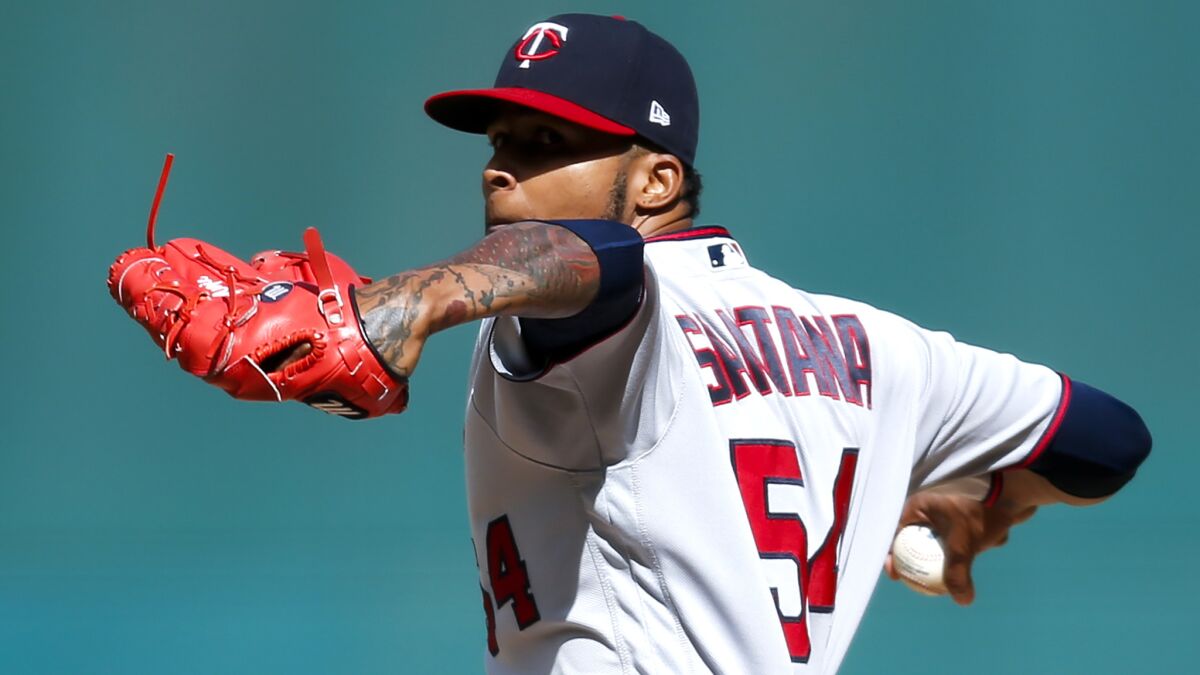 A look at what's trending this week in Major League Baseball:
THREE UP
Anti-tank weapons: The Minnesota Twins had the worst record in the major leagues last year. Now they're the first team in MLB history to lose 100 games one season and advance to the playoffs the next. The Arizona Diamondbacks lost 93 games last year, then hired a general manager who reportedly considered a tank job that could have included the trade of MVP candidate Paul Goldschmidt. They let the team play first, and Arizona is in the playoffs for the first time in six years. There are no guarantees in tanking — the Atlanta Braves, Cincinnati Reds, Philadelphia Phillies and San Diego Padres probably will not all succeed — and owners might look at the Twins and Diamondbacks and stop general managers from throwing away three or four summers for the dream of a future October.
Verlander roars: At the All-Star break, Justin Verlander had a 4.73 earned-run average and a contract that guaranteed him $56 million for the next two seasons. He stayed put at the July trade deadline, and in August he put up a 2.36 ERA for the Detroit Tigers, while the Houston Astros stumbled to a 17-loss month. So the Astros swallowed hard and sent top prospects to Detroit for Verlander; the suddenly tanking Tigers kicked in $16 million. Verlander started five games in September and won them all, with a 1.06 ERA. The Tigers also dumped J.D. Martinez and Justin Upton; their 5-23 September record means they had won as many games since the trade as Verlander himself, through Friday.
Lights, camera, Cubs: As the Chicago Cubs try to become the first National League team in 41 years to repeat as World Series champions, casting has begun for a film that celebrates the Cubs' 2016 championship. The movie is based on the book "Teammate," by retired catcher and "Dancing With the Stars" runner-up David Ross. According to Deadline, manager Joe Maddon could be played by Bill Murray, a diehard Cubs fan who joined in the clubhouse clinching festivities last year. "Are you serious?" Maddon said. "That's awesome. He's much better looking than me."
THREE DOWN
American League: For the first time since the second wild card was introduced in 2012, every team with a winning record in one league has made the playoffs. That would be the American League, where 10 of the 15 teams failed to deliver a winning record. What made this scenario particularly compelling is that the playoff teams did not fatten their records on a pack of truly awful teams. No AL team lost 100 games. Two lost 90, the tanking teams in Detroit and Chicago. That left eight teams with 80-something losses, and those are the seasons that often tempt owners and general managers into the misleading belief their team is one player away from October. The Angels were the last AL team eliminated; they could clone Mike Trout and still be more than one player away.
Halo, goodbye: The last Southern California team to win a World Series? The 2002 Angels, whose roster included rookie pitchers John Lackey and Francisco Rodriguez. If both retire this winter — Jon Lester said he believes Lackey will retire after the Cubs' October run, while Rodriguez has not returned to the majors since the Tigers cut him in June — there will be no active players left from the '02 Angels. That roster includes current college head coaches Darin Erstad (Nebraska) and Troy Percival (UC Riverside) and the father of Dodgers rookie star Cody Bellinger. Clay Bellinger had one at-bat for the '02 Angels — he struck out in what turned out to be his final major league at-bat — but that was good for a ring.
Home sweet home: It was bad enough that the Texas Rangers soaked Arlington taxpayers for $500 million to build a new ballpark to replace the current one, which opened all the way back in, uh, 1994. But it got worse this week, with Commissioner Rob Manfred in town for the groundbreaking ceremony. The Rangers proudly unveiled renderings of the new ballpark before the Arlington City Council, but the council members were underwhelmed. Two said the drawings appeared to depict "a field house," and another member called the feel "too institutional." Said Councilman Charlie Parker: "This looks very much like our library."
NOT-SO-GOLDEN STATE
This has not been a banner year for baseball in California. For the first time in 23 years, only one of the state's five major league teams will finish the season with a winning record.
Hail to the Dodgers. Better luck next year to the Oakland Athletics and San Diego Padres, each with some impressive young players as they rebuild, and to the Angels and San Francisco Giants, each with no intention of rebuilding.
The 2017 All-Cal team:
C: Buster Posey, Giants
1B: Cody Bellinger, Dodgers
2B: Jed Lowrie, A's
SS: Andrelton Simmons, Angels
3B: Justin Turner, Dodgers
LF: Chris Taylor, Dodgers
CF: Mike Trout, Angels
RF: Yasiel Puig, Dodgers
DH: Corey Seager, Dodgers
SP: Clayton Kershaw, Dodgers
SP: Alex Wood, Dodgers
SP: Rich Hill, Dodgers
SP: Jeff Samardzija, Giants
SP: Jhoulys Chacin, Padres
RP: Kenley Jansen, Dodgers
Manager: Mike Scioscia, Angels
Follow Bill Shaikin on Twitter @BillShaikin
Get our high school sports newsletter
Prep Rally is devoted to the SoCal high school sports experience, bringing you scores, stories and a behind-the-scenes look at what makes prep sports so popular.
You may occasionally receive promotional content from the Los Angeles Times.