The mood among the relatively few players at baseball's union camp: 'As positive as it can be'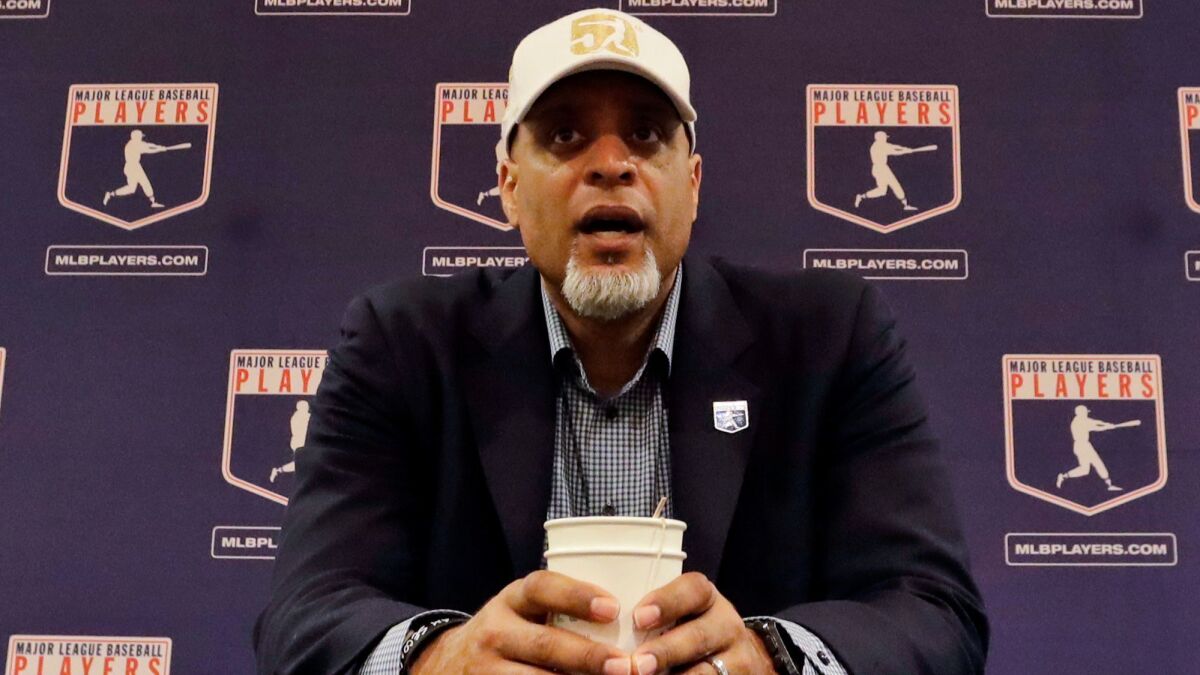 The majority of unsigned free agents have so far chosen not to participate in the training camp set up by the baseball players' union.
The pitchers and catchers at the camp, as in many other camps throughout baseball, had their first workout Wednesday. Tony Clark, executive director of the Major League Baseball Players Assn., spoke with the assembled players on what he said was "our first day of what we call free-agent camp."
Of what he estimated are 85 unsigned major league free agents, Clark said "upwards of about 30" were in attendance.
"The general mood is as positive as it can be," Clark said by phone from the camp in Bradenton, Fla.
"The expectation is that some guys will come in later, some may drop off. Obviously, the hope is that there aren't any guys here in the very near future. It's unfortunate that we are providing the opportunity for guys to get themselves ready for the season, as a result of not having the opportunity to get to camp themselves."
Clark said he has not been advised whether commissioner Rob Manfred plans to announce on Thursday the implementation of rules designed to speed the game. Manfred has said he would prefer to reach an agreement with the union rather than make unilateral changes; Clark said there is no agreement in place but would not discuss the status of any negotiations with the league office.
Mindful that spring training would give teams, players and umpires time to adjust to any rule changes, Manfred could announce restrictions on mound visits and/or the introduction of a pitch clock at a news conference Thursday in St. Petersburg, Fla. The first exhibition game is scheduled Feb. 21.
Despite what Clark acknowledged was "an all-time high" of free agents available with spring training underway, and despite unrest among players and agents about how the first full offseason under the new collective bargaining agreement played out, Clark said he was not concerned about whether he might be ousted from his job.
"My concern is only the players," he said. "I have had a number of conversations with players and agents. That dialogue has been focused on how to move us forward. To the extent players have concerns, we sit down and talk about those concerns.
"The players are the decision makers here. As I continue to have dialogue about the organization moving forward, I am as confident as ever with respect to what we have and where we are going, against the backdrop of what it is we are seeing."
And what is it that he believes we are seeing?
"We're working with a free-agent offseason the likes of which we haven't seen since the late '80s," he said.
That, of course, is the era in which baseball owners were found to have engaged in collusion, for which they were later fined $280 million. Clark said the union is evaluating information gathered from agents with regard to contract offers, as it does every year.
Clark declined to offer any conclusions about the market, or even use the word "collusion." He did suggest that earlier conjecture that the market had been held up by, for instance, the Giancarlo Stanton trade talks and the Shohei Ohtani bidding process, had been far off the mark.
"There are a lot of excuses out there about how this offseason has manifested itself," Clark said. "I say excuses because, as the offseason has moved along, a lot of those excuses have fallen by the wayside. There is a fundamental flaw here, where roughly a third of the league is not interested in competing.
"When fans are questioning the integrity of what they are seeing on the field, and against the backdrop of an agreement that is designed to provide support from a competitive balance standpoint and it's not manifesting itself that way, that is a concern we all should have."
Manfred has said that team building has "always been a cyclical player business" and that fans understand that short-term losses can lead to long-term wins, as evidenced by the strategy of the last two World Series champions, the Chicago Cubs and Houston Astros.
"Our fans are very sophisticated," Manfred said.
Clark said the flurry of public statements by frustrated agents and players last week was not orchestrated. At one point, after agent Brodie Van Wagenen suggested a boycott of spring training, the union issued a statement saying there would be no boycott.
Clark said the concurrence of the historically high number of unsigned players, the rapid approach of spring training and the concept that one-third of the teams might be playing to win this year had triggered the statements. He dismissed the notion that agents were upset now because the union reportedly had not worked closely with them during collective bargaining negotiations.
"We spent time with a number of agents throughout bargaining," Clark said. "We did not talk to everybody. So, to the extent that rhetoric is out there, with respect to us not communicating with the agent community, that is not the case.
"To the extent there was commentary out there publicly related to a boycott of spring training, I think as much of anything that was a demonstration or acknowledgment by the players of the concerns that they had."
Follow Bill Shaikin on Twitter @BillShaikin
---
Get our high school sports newsletter
Prep Rally is devoted to the SoCal high school sports experience, bringing you scores, stories and a behind-the-scenes look at what makes prep sports so popular.
You may occasionally receive promotional content from the Los Angeles Times.