Justify becomes only 13th horse to capture the Triple Crown with wire-to-wire win in the Belmont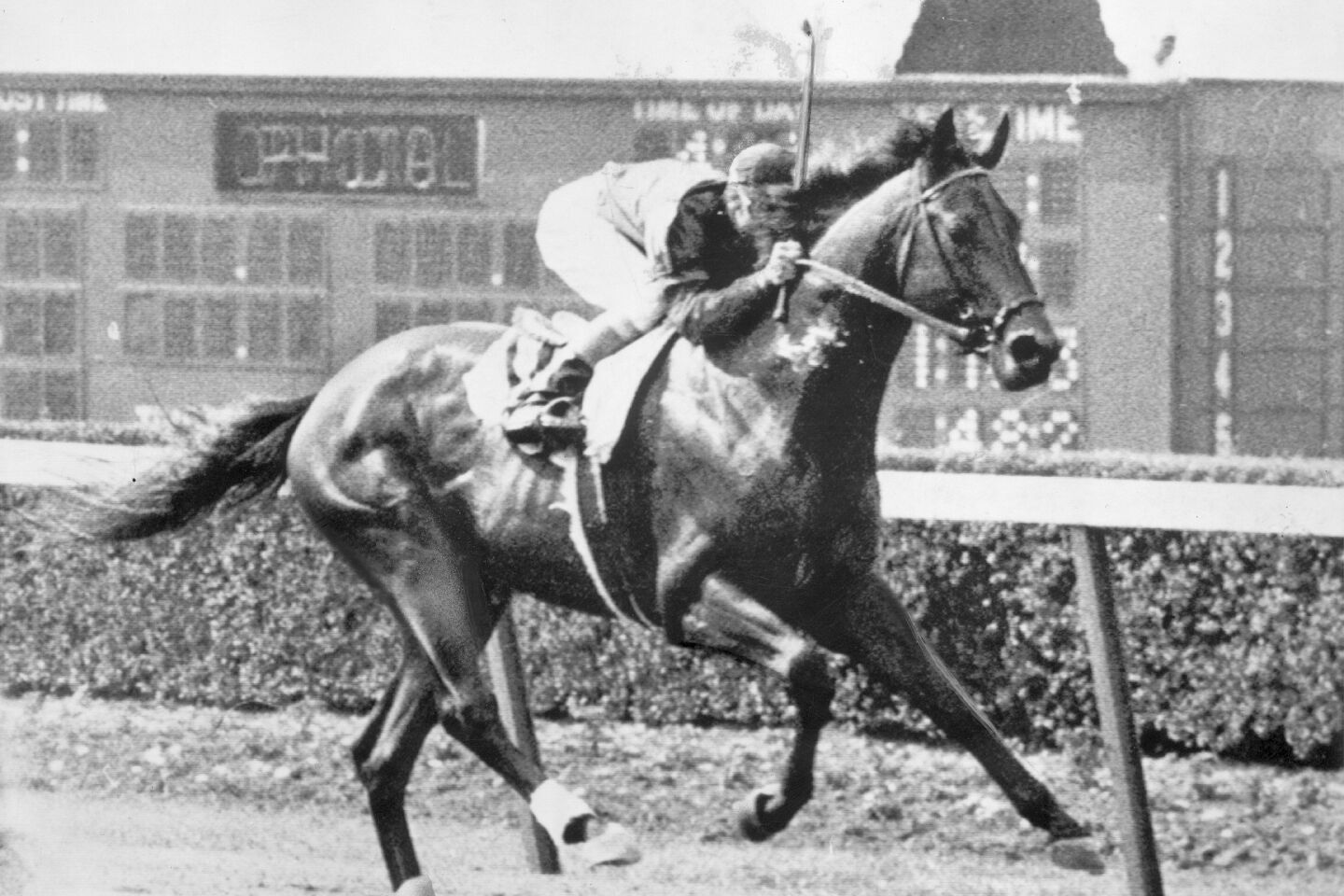 1948 -- CITATION | Jockey: Eddie Arcaro.
Kentucky Derby time: 2:05.4. Runner-up: Coaltown.
Preakness time: 2:02.4. Runner-up: Vulcan's Forge.
Belmont Stakes time: 2:28.2. Runner-up: Better Self.
Died: Aug. 8, 1970
(Eric Jamison / Associated Press)
2015 -- AMERICAN PHAROAH | Jockey: Victor Espinoza.
Kentucky Derby time: 2:03.02. Runner-up: Firing Line.
Preakness time: 1:58.46. Runner-up: Tale of Verve.
Belmont Stakes time: 2:26.65. Runner-up: Frosted.
(Travis Lindquist / Getty Images)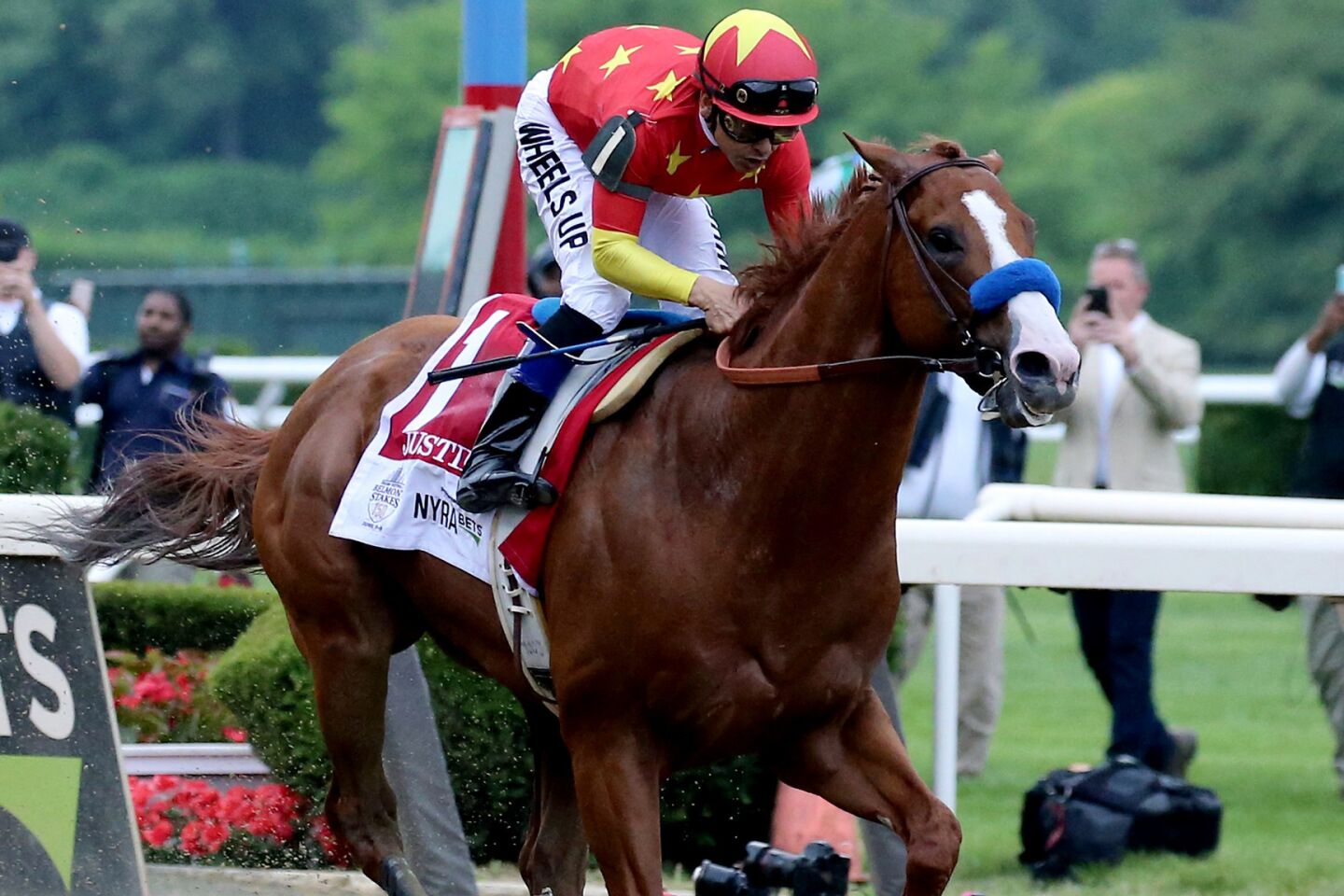 2018-- JUSTIFY | Jockey: Mike Smith.
Kentucky Derby time: 2:05.2. Runner-up: Good Magic.
Preakness Stakes time: 1:55.93. Runner-up: Bravazo.
Belmont Stakes time: 2:28.18. Runner-up: Gronikowski.
(Peter Foley / EPA-EFE )
Reporting from Elmont, N.Y. —
It didn't take 37 years to find the next Triple Crown winner. It only took three.
But as Justify rolled down the homestretch of Belmont Park, with 90,000 people screaming with the passion of New Yorkers, it was clear something special was happening on this Saturday. Justify etched his place in history by becoming only the 13th horse to achieve horse racing's greatest honor.
He led the entire race, and with his 1 ¾-length win he joined Seattle Slew as the only other undefeated winner of the Triple Crown. And it was only his sixth lifetime race.
Trainer Bob Baffert also joined the history books as the second two-time winner of the Triple Crown. He tied "Sunny" Jim Fitzsimmons, who accomplished the feat in 1930 and 1935. Baffert was the trainer three years ago when American Pharoah won the Kentucky Derby, Preakness Stakes and Belmont Stakes, all in a five-week span.
American Pharoah's win in 2015 snapped a 37-year drought that started after Affirmed's Triple Crown victory in 1978. Twenty-three horses have won the first two legs, only to lose on the wide sweeping turns of Belmont Park, known as "Big Sandy."
"It's amazing and it never gets old," Baffert said. Justify "was showing me the same signs [as American Pharoah]. He showed me the same brilliance. He's a superior horse. He could have won every race on the undercard [Saturday]. He's just that kind of horse."
Baffert does concede, though, that American Pharoah will "always be my first love."
It was the first Triple Crown for Hall of Fame jockey Mike Smith, who at 52 became the oldest jockey to sweep the three races in the same year.
"This horse ran a tremendous race," Smith said. "He's so gifted. He's sent from heaven. He's just amazing."
It was the 15th time Baffert has won a race in the Triple Crown series, the most of anyone in history.
"I didn't really think about that," Baffert said. "It's just a privilege to have a horse like this. I mean, we're like the coach, but they are the athletes and the jockeys get it done."
Still, the moment was not lost on Baffert.
"I was weeping when they interviewed me," he said. "I get very emotional because I really think I'm getting help upstairs. I think of my parents. I think of all the good friends that I've lost … and I know they are helping me out, giving me that little push."
Describing the race is pretty simple. Justify broke from the one hole, went to the lead and stayed there. Justify has won all of his races either on or near the lead, which is a good way to stay out of trouble.
"Turning for home, you could just tell this horse … was one of the great ones," Baffert said. "They find another gear."
Justify is now an American treasure, but his win is also a testament to racing in Southern California. The trainer, jockey and horse all live in the San Gabriel Valley and use Santa Anita as their home base.
I'm so happy for "my team back at Santa Anita, just an unbelievable team," the 65-year-old Baffert said. "I just have a great team around me, and [assistant trainer] Jimmy Barnes, he's been through it all."
And that's where this late-developing adventure started on Feb. 18, when Justify won his first race. Horses usually get ready for the Triple Crown by racing as a 2-year-old, but this colt was still growing into his massive body (16.3 hands) when others were starting to race. He is even bigger than the legendary Secretariat.
Baffert knew he had something special before he ever ran and went into the office of the Santa Anita racing secretary — something he never does — to make sure Justify's first race had enough horses to be run. Everything had to go perfectly — no missed races, no missed workouts.
Everyone else learned about Justify that day when he won by 9 ½ lengths.
This created another problem: No one would want to enter a race in which he was going to run. So Baffert and majority owner Elliott Walden of WinStar pulled a bit of subterfuge in telling everyone that Justify would run in the Sunland Derby, all the while pointing him to an allowance race at Santa Anita. It worked, and Justify won that race by 6 ½ lengths.
"When he won his second [race] I was thinking this is a Derby horse," Baffert said. "But I'm also thinking this could be a Triple Crown horse. He just showed us the raw talent that was there."
Justify's next race was the Santa Anita Derby, in which he needed to finish first or second or he wouldn't have enough qualifying points for the Kentucky Derby. He won by three lengths.
Then it was on to the first two legs of the Triple Crown, both run on very wet tracks. He was the favorite at Churchill Downs and romped home to a 2 ½-length win.
The Preakness, three weeks ago, was probably his toughest and most impressive race. He went to the lead and was involved in some serious match racing against Good Magic that took a lot out of him. Still, he had enough left to win by half a length.
"It was a bit my fault that it was as close as it was," Smith explained on Saturday at the urging of Baffert. "I could have come off the turn really riding him and made that race look a whole lot better than it probably did."
The Preakness put some doubt in people's minds that perhaps Justify couldn't handle the Belmont. What makes it such a difficult race is that it's 1 ½ miles, a distance a 3-year-old has never run, and probably will never run again on the dirt.
"I'm just thankful we were able to pull it off under the circumstances," Baffert said.
From here, Justify will get a little rest and then go back to the track, although it's unlikely he will race in Southern California. There are no big-money races for 3-year-olds the rest of the year, and he will probably train at Santa Anita but run in New Jersey or New York.
No doubt Justify's celebrity will grow both with people and his equine peers.
"I've never had a horse — when I unloaded him [off the van on Wednesday] — and the other horses [in the barn] went nuts when they saw him," Baffert said. "I've never seen that. They just knew there was something about him."
Click here (or type in this url: lat.ms/2wVt90g) to sign up for our free horse racing newsletter.
Get our high school sports newsletter
Prep Rally is devoted to the SoCal high school sports experience, bringing you scores, stories and a behind-the-scenes look at what makes prep sports so popular.
You may occasionally receive promotional content from the Los Angeles Times.