Column: Nothing can replace the excitement of Roger Federer versus Rafael Nadal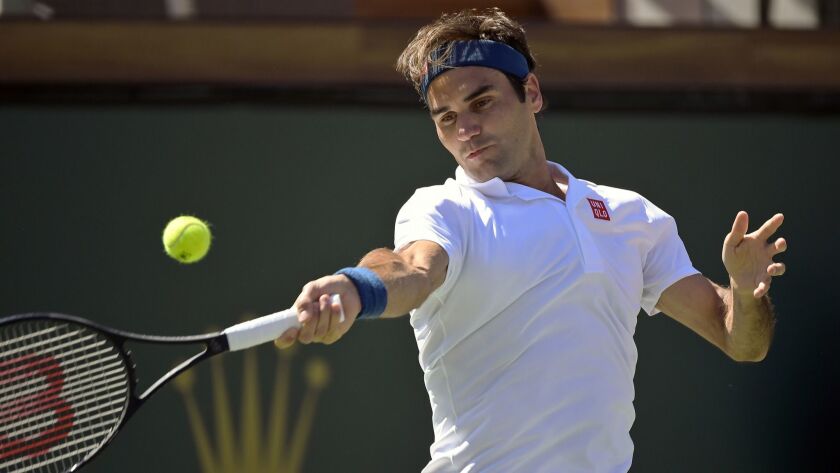 Reporting from Indian Wells —
Roger Federer saw Rafael Nadal get through the BNP Paribas Open men's quarterfinals essentially on one knee, but Federer clung to the hope Nadal's chronic injury would improve enough for them to play their semifinal match Saturday, scheduled to be the 39th edition of a rivalry that grows more precious as passing years and mounting infirmities make such occasions less predictable or frequent.
As Federer warmed up Saturday morning at the Indian Wells Tennis Garden, he heard Nadal was warming up too, on an outside court, so Federer set his mind on preparing for a fully fit Nadal. But as Federer was riding in a golf cart to the main building he got a text from Nadal. It wasn't going to happen. Nadal simply couldn't go. Not even to face Federer, a rival who is also a friend.
"For me is not about only today. It's about what means for me to have to pull out in a tournament that I love so much, like this one, and in the semifinals after playing well during the whole tournament," said Nadal, who will be 33 in June. "You can imagine that I can't be happy. Sometimes is tough and can be frustrating for me sometimes personally to go through all this stuff."
It was a letdown for 37-year-old Federer too, and a colossal disappointment for fans who had paid steep prices to see Federer's grace and Nadal's fire and felt robbed of that spectacle.
Federer got a walkover into Sunday's final against hard-hitting Austrian Dominic Thiem, who outlasted error-prone Milos Raonic 7-6 (3), 6-7 (3), 6-4 in their semifinal. Federer will get a shot at his 101st tournament title, a record sixth title here, and the winner's check of $1,354,010. His career record against Thiem is 2-2, with Federer winning both of their meetings on hard courts. Seventh-seeded Thiem has done well here after recovering from an illness that slowed him early this year; he hadn't won a set from Raonic in two previous matchups but was nearly flawless in the first set Saturday and he earned the only service break of the match at 3-2 in the third set.
"It's amazing that I came this far," Thiem said, "and hopefully it's not the end."
Federer has to be favored. But a triumph Sunday will have a little less shine than if he'd earned it by beating Nadal. They cherish their matchups and Federer lamented the circumstances that kept them apart Saturday.
"We've had so many epic battles that yes, I know that every one that we have now could be our last," Federer said as he spoke to the crowd at center court, a gracious move on his part. "Was this our chance for the last one? I really hope not, and I believe that at the level he's playing and I'm still going there's definitely going to be more, but if we stay up high in the rankings it's a long way to get to each other in the draw.
"It would have been really epic. It's one of the most beautiful center courts we have in the world. And we all know Rafa, he would have given it all he had if he could have."
Nadal had spoken Friday about having some "issues," after he'd hobbled through a straight-sets victory over Karen Khachanov in the quarterfinals, but he wouldn't go into detail. Maybe he hoped the ache would vanish if he didn't put it into words and make it real. But when he warmed up Saturday he realized he could not compete at the level required. A 17-time Grand Slam event winner — he's three behind Federer — Nadal has had to endure a litany of injuries over the years. This was another trial, and at a regrettable time.
"I have this since long time ago," said Nadal, who planned to return to Spain and consider treatment options for his right knee before he prepares to play on his beloved clay next month. "Some moments are better, some moments are worse. Always stays there. And always remind me, limit me to practice less than I want and play less than I want. But it's not the moment to complain much. With all this stuff, I am still where I am today."
Nadal's withdrawal left tournament officials scrambling to entertain the crowd. Their solution was a doubles exhibition that aligned tournament director Tommy Haas with John McEnroe against Pete Sampras and Novak Djokovic, and put actor-comedian Jon Lovitz in the umpire's chair, which provided a few chuckles. McEnroe played to type and pretended to be angry over a call, prompting Lovitz to announce, "John McEnroe throws his racquet in a fit, which is what we've been waiting to see!"
Nice try, but not quite. We wanted Federer against Nadal and didn't get it. Nothing is guaranteed in sports or in life, but this missed chance left a keen sense of regret.
"I'm obviously excited to be in the finals but not this way," Federer said. "He's played so well this week and I thought he was playing some of his best tennis again. So I was really looking forward to the match and I'm sorry it didn't happen."
And sorrier still because there might not be many more of them in the future.
Follow Helene Elliott on Twitter @helenenothelen
---
Get the latest on L.A.'s teams in the daily Sports Report newsletter.
You may occasionally receive promotional content from the Los Angeles Times.