Mick Ruis is on the verge of one more success — a trainer on the path to the Kentucky Derby
Reporting from Del Mar —
Raised in El Cajon, some 27 miles from Del Mar racetrack, a young Mick Ruis quit high school and set his sights on outworking everyone in the construction game.
Some four decades later he sold his scaffolding business for $78 million and did what no multi-millionaire would do: He decided to buy and train his own race horses.
"My accountant said we have about $17 million in tax bills," Ruis said. "And I said, 'I know something I can lose money on.' So we went buying race horses."
Buying money-losing thoroughbreds is one thing that Ruis has not been particularly successful at. On Saturday, his 2-year-old colt Bolt D'Oro will probably go off as the favorite in the Breeders' Cup Juvenile. If the colt wins, he'll be the early favorite for the Kentucky Derby.
Even Triple Crown savant Bob Baffert tipped his cap to Ruis when Bolt D'Oro soundly beat Baffert's Solomini in the FrontRunner Stakes at Santa Anita.
"I just have to figure out how to make up seven lengths on Bolt D'Oro," Baffert said.
"I'd be happy just to run second to him [in the Juvenile], He's definitely the horse to beat."
Ruis, 56, is a story straight out of the pages of Horatio Alger, who wrote about the rags-to-riches tales of young men, who through hard work climbed the social strata and ended up with the wealth that comes only to the most privileged.
His father was a laborer, his mother a homemaker, until the kids were gone and she became a teacher, working with special education students.
"We got a couple of pairs of shoes a year," Ruis said. "Toward the end we had gray tape around them. I remember folding the tops of my socks because they had holes in them. But we grew up and had a good life. We weren't super, super poor. But we had no extra money."
Ruis quit El Capitan High in his senior year, after finishing his final match as a wrestler, with one month to go in the school year. He never went back to get his GED but instead stayed in the workforce.
Within a couple years he was a boss, moving up fast despite his age.
My accountants said, 'You said you were going into horse racing for a writeoff and you made yourself more of a problem.
— Mick Ruis, on originally buying horses to offset a tax liability but he actually made money
"I was lucky the owner wasn't one of those guys that believed in seniority," Ruis said. "He wanted to make money. He ended up selling the company for $9 million."
What Ruis also learned was that he wanted to run his own company.
"That's how I got started," he said.
Ruis ended up in Montana's Columbia Falls with a 12-year-old, 7-year-old and a 1½-year-old son.
"I was a single dad and in those days you didn't get full custody of your kids," Ruis said without elaboration.
Ruis, splitting time between San Diego and Montana, had started a construction company. But he also wanted to build another business as a property owner.
He wrangled a deal with the owner of a small apartment complex to let him buy the place for $6,000 at a 10% interest rate.
"I don't even own a house, but I owned an apartment complex with 11 units," Ruis said.
"I took a week off, got some used carpet from Spokane, about six hours away, and then spraypainted the place."
The place he bought for $110,000 sold a year later for $310,000.
He went looking for a house in the nearby upscale city of Whitefish and his realtor pointed him to one house. The owner was wife-to-be Wendy, who was widowed with two children. The house, he didn't want so much, Wendy, whom he saw from a distance, was a different story.
They talked on the phone for three weeks before their first date.
"I asked him what he looked like and he said 'typical white boy,'" Wendy Ruis said of Mick, who is part Yaqui Indian and Irish.
Mick, who has a claw-like approach to eating with a fork, decided she couldn't see that and their first date was at a sandwich shop. No forks allowed.
Three weeks later they were married.
"He was really sweet," Wendy Ruis said. "He was really charming. How do you date when you have five children? So we got married."
Ruis' business was thriving. He was doing shoring, which is basically scaffolding on water reservoirs. He sold the company for $2.5 million with a five-year non-compete clause.
"And that's how I got into horse racing [the first time]," Ruis said.
Ruis bought a ranch and started training on the Southern California circuit. His most successful purchases he named after his wife, Don't Tell Wendy and Wendy's On To Me. They made more than $200,000.
But not every horse or investment was successful.
"It was hard times," he said. "I was trying to train but I had to compete against Bob [Baffert] and the boys."
As his non-compete clause was coming to an end, Ruis found himself $1 million in debt.
"I couldn't pay my bills," Ruis said. "The IRS was taking the ranch away. I've never worked so hard to lose money."
Mick had lost a lot but not his wife.
"I always have faith in Mick," Wendy Ruis said. "I always knew no matter what he wants to do or chooses to do, he'll be successful. I always think that."
So, $1 million in debt Mick went back to work building concrete reservoirs. He traveled almost nonstop for four years and eventually made enough money to buy American Scaffold.
His big break was when the Navy called and he got a contract working on an aircraft carrier in Bremerton, Wash. The Ruis family moved back to Montana and Mick commuted on the 10-month project.
"The admirals then wanted us on the East Coast so the company kind of blew up there with work," Ruis said.
The business grew so big that he sold 80% of it to a company headed by John Lehman, a former secretary of the Navy.
For the first time in the event's history, San Diego is home to the renowned Breeders' Cup. Hear from trainers and jockeys on the uniqueness of the Del Mar racetrack and what fans can expect from the event.
And that takes him back to the $17-million tax liability.
"So we went and bought horses and people on the backside said we'd be broke in a couple years," Ruis said. "I spent $1.2 million the first year. The second year I spent $1.9 million on horses. The first year I got Union Strike, a Grade 1 winner. The second year we got Bolt D'Oro.
"My accountants said, 'You said you were going into horse racing for a writeoff and you made yourself more of a problem.'"
Ruis wanted to train his horses, so he went back to renew his license and was told because it had been more than 10 years he had to retake the test.
"I was stubborn, because I had a license, and I didn't think I should have to take the test again," Ruis said.
So he did the next best thing and turned over his newly bought horses to his daughter Shelbe, who had recently gotten her license.
Things didn't go well.
"When dad stepped in, Shelbe didn't realize how demanding I could be and how difficult it is to separate the father-daughter relationship from the employer-employee," Ruis said.
So Ruis moved his horses from his daughter's barn to that of Craig Dollase.
"You can put that she fired me," Ruis said. "It was horrible at that time. I was getting killed on social media. What a [bad] dad, how can he do this?"
Shelbe Ruis did not return messages requesting comment.
He then moved his horses from Dollase's barn to Mark Rheinford, who is now an assistant trainer for Ruis.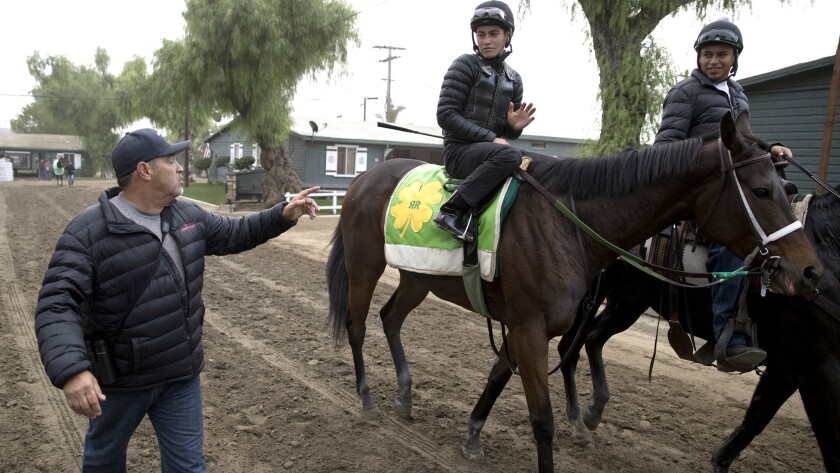 Ruis was essentially training the horses himself without a license.
"Finally, the stewards said you are deceiving the public, you need to go get your trainer's license."
Mick Ruis is not a great studier, so he enlisted the help of Shelbe, the relationship back to father-daughter. In fact, Mick wants Shelbe to one day take over the family horse business when he's ready to slow down.
"She says, 'OK Dad, I'll help you with the test,'" Mick Ruis said. "I go and take it and was told that only two people have gotten a 98 on this test in the last 10 years and that's you and your daughter."
Ruis is a bit of a character on the backstretch, calling veteran trainers by Mister. Or always being dressed in his Levi's, whatever the occasion.
He also has his sights on being the next Baffert.
"Give me five years," he said, "and Bob and I will go at it mano a mano."
Ruis remains an anomaly in that he both owns, trains and does most of the work, all with his horses. He started the Santa Anita meeting with 28 horses.
"He bought some good horses," Baffert said. "He got his family involved. He's out there every day. He's a competitive son of a gun but he's also having fun. He works hard and he's a smart guy."
Saturday, with some help from Bolt D'Oro, Ruis could be taking a major step in playing with the big boys.
The Los Angeles Dodgers in the 2017 World Series
On Now
Video: Kenley Jansen, Cody Bellinger, Rich Hill talk about losing Game 7
1:59
On Now
Video: Analysis: Dodgers lose Game 7 and the World Series
11:43
On Now
Video: Yu Darvish talks about using his slider for Game 7
1:34
On Now
Video: Kenley Jansen and others talk about winning Game 6
1:58
On Now
Video: Analyzing the Dodgers Game 6 win
7:26
On Now
Video: Clayton Kershaw on starting Game 5 of the World Series
1:57
On Now
Video: Dave Roberts Talks Rich Hill and Kenley Jansen pitching in Game 6
1:57
On Now
Video: Dave Roberts talks preparing for Game 7
1:26
On Now
Video: Here it is, Game 7, and Bill Plaschke knows who wins
2:22
On Now
Video: Rich Hill talks about Game 6 of the World Series
1:48
---
Get our high school sports newsletter
Prep Rally is devoted to the SoCal high school sports experience, bringing you scores, stories and a behind-the-scenes look at what makes prep sports so popular.
You may occasionally receive promotional content from the Los Angeles Times.