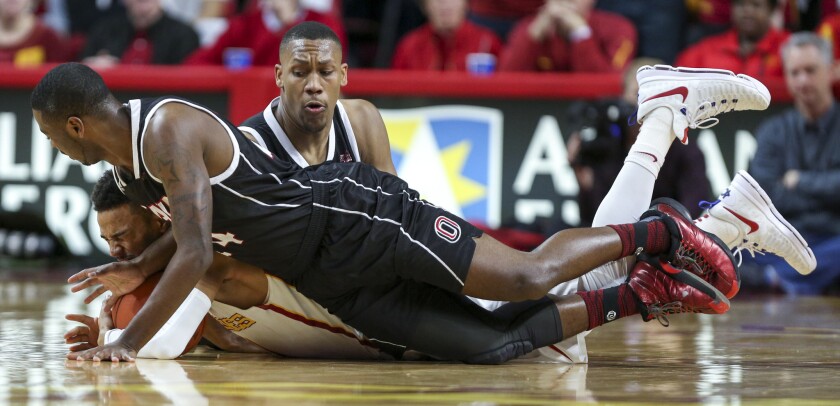 Iowa State moved the ball and yet again played strong defense.
The result was a surprisingly satisfying win on the heels of two tough losses.
Deonte Burton scored 20 points and the 25th-ranked Cyclones pummeled Nebraska Omaha, 91-47, on Monday night, snapping a two-game losing streak.
Donovan Jackson had 15 for the Cyclones (6-2), who hit 15 of 29 three-pointers and rolled to their third win of 40 or more points this season.
"I thought we did some things better," Iowa State Coach Steve Prohm said. "Pace of play. Sharing the basketball, moving the basketball, the ball moving side to side. And defensively, for the majority of the game, I thought we competed."
Iowa State knew it had to take the Mavericks (4-5) seriously after they stunned Iowa on Saturday. The Cyclones never let Omaha think it had a chance, storming ahead, 36-9, after just 12 minutes — with Burton scoring their first 13 points.
SOUTHLAND
MEN
at St. John's 76, Cal State Northridge 70: Freshman Shamorie Ponds scored a season-best 25 points and the Red Storm (4-5) held off the Matadors. Darin Johnson hit two free throws with 1:08 left to get Northridge (3-6) within 71-68. After Bashir Ahmed went one for two at the other end, Tavrion Dawson made a layup with 40.3 seconds left to cut it to 72-70. Kendall Smith, who finished with 10 points for Northridge, fouled out with 18.7 seconds left and Ponds sealed it with two free throws.
Boise State 80, Loyola Marymount 79: Chandler Hutchinson made six of nine from the field and scored 17 points as the hot-shooting Broncos (5-4) held on for a win over the Lions (2-3). Justinian Jessup scored 13 points and James Reid added 10 for Boise State. Jessup's layup gave the Broncos a 78-66 lead with three minutes left but Boise State committed two turnovers and scored just two points the rest of the way. Stefan Jovanovich and Shamar Johnson had 14 points apiece for Loyola while Haney and Brown scored 13 each.
MEN TONIGHT
UC Irvine at No. 20 Arizona — 7 p.m. PST
---