College basketball roundup: Xavier starts quickly to knock off Baylor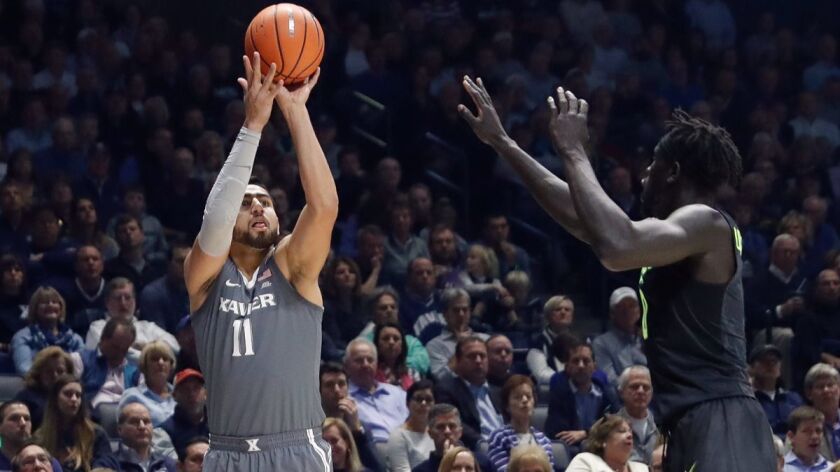 J.P. Macura scored 15 of his 19 points in the first half as Xavier surged ahead to stay, and the 21st-ranked Musketeers sent No. 16 Baylor to its first loss of the season, 76-63 on Tuesday night at Cincinnati.
The Musketeers (6-1) recovered from their first loss — against Arizona State — by controlling the boards and putting together decisive runs in each half. They never trailed after an opening 21-8 spurt.
Kaiser Gates also had 19 points for Xavier, including a three-pointer that blunted the final comeback attempt by the Bears (5-1).
at Purdue 66, No. 17 Louisville 57: Vince Edwards scored 15 points and Carsen Edwards and Dakota Mathias spurred a late run in the ACC/Big Ten Challenge.
at No. 2 Kansas 96, Toledo 58: Devonte Graham scored a career-high 35 points, Malik Newman added 17 and the Jayhawks (6-0) extended their best start in seven years. Svi Mykhailiuk made five three-pointers for Kansas, which built a 59-30 lead by halftime and pushed the advantage to more than 50 points before coasting down the stretch.
at No. 8 Wichita State 112, Savannah State 66: Samajae Haynes-Jones scored a season-high 31 points for the Shockers, who might have lost leading scorer Landry Shamet to an ankle injury.
SOUTHLAND
MEN
at California 83, Cal State Northridge 63: Darius McNeill made six of seven three-pointers on the way to a game-high 22 points for the Golden Bears (3-4), who shot 51.7% from the field. Seven-foot-one Kingsley Okoroh had six blocked shots for Cal. Terrell Gomez led the Matadors (1-5) with 20 points and Tavrion Dawson added 17.
UC Santa Barbara 79, at San Francisco 72: Leland King II had 21 points and 14 rebounds, and the Gauchos held off a late surge by the Dons (3-2). King made nine of 15 shots and Max Heidegger added 18 points for Santa Barbara, which took a 72-64 lead on a 10-0 run with 3:33 to play.
at Loyola Marymount 87, Cal State Los Angeles 66: Eli Scott scored 17 points on seven-of-nine shooting as the Lions (4-2) defeated the Division II Golden Eagles in their first matchup since 1982. Mattias Markusson, a 7-foot-3 sophomore, had a career-high 14 points and tied his career high with eight rebounds for LMU.
WOMEN
at No. 7 UCLA 68, UC Riverside 48: Monique Billings had 14 points and 12 rebounds for her third double-double of the season and the Bruins (6-1) cruised to their third victory in a row since losing to No. 1 Connecticut. The Highlanders (1-6) committed a season-worst 25 turnovers.
MEN WEDNESDAY
Long Beach State at Arizona, 5 p.m.
Southern Utah at Pepperdine, 7 p.m.
Whittier at UC Irvine, 7 p.m.
---
Get the latest on L.A.'s teams in the daily Sports Report newsletter.
You may occasionally receive promotional content from the Los Angeles Times.