Washington QB Jake Browning not listening to what the haters say
Most of the sportswriters have drifted away, leaving Jake Browning at the back of the room, plopped down on a chair, still dressed in his jersey and shoulder pads, his tousled, brown hair streaked with sweat.
The Washington quarterback has patiently answered questions about his role in leading the Huskies past UCLA. He has talked about this weekend's game at Oregon.
Now the conversation turns to another topic.
"I like my mental sanity," Browning says.
The tenor of his voice remains steady, if faintly subdued, and his gaze tends to shift toward the floor as he speaks.
"There are not many people who have been doing this for as long as I have," he says. "And I think you'd go mentally crazy if you listened to what everyone's opinion is of you."
Midway through his fourth season as a starter, the senior has seen it all.
That includes big wins and passing records, bowl games and a trip to the College Football Playoff. Also a few stumbles on the national stage and a junior season that fell short of expectations.
It might sound odd to college football fans in Southern California — where USC and UCLA are struggling with freshman quarterbacks — but Browning still faces doubters in the Pacific Northwest.
Skeptics dwell on his size and arm strength, a tendency for circling backward and heaving the ball when the protection breaks down. His coach, Chris Petersen, insists that "the quarterback position is seldom ever going to be good enough for anybody."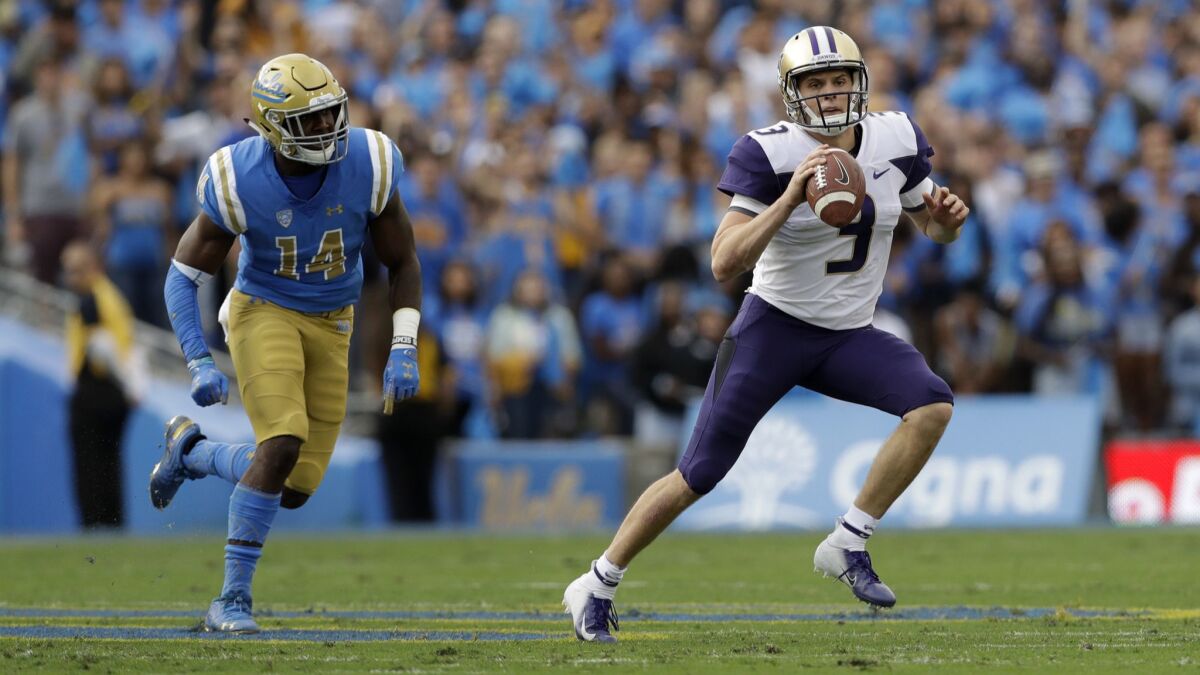 By pure numbers, Browning ranks as the most prolific passer in Washington history. Still, with the seventh-ranked Huskies hovering at the edge of the CFP playoff race, needing a strong push down the stretch, his legacy could hinge on what happens over the next month.
::
If statistics provide a measure of Browning's success, they might also be part of the problem. His numbers coming out of Folsom High, just east of Sacramento, were ridiculous.
On the way to a national record for career touchdown passes, he became the first high school player to throw for more than 60 scores and 5,000 yards in three consecutive seasons.
No one mistook him for the archetypal quarterback, not at 6 feet 2 and a lanky 185 pounds. Smarts and ability set him apart.
"You can have the strongest arm in the world, but if you're not accurate, you won't be successful," Folsom coach Kris Richardson said then. "His vision is off the charts."
Alabama offered a scholarship. So did Oklahoma State and California. Browning took a liking to Petersen and signed with Washington, where his arrival in 2015 generated predictable hype. He tried his best to stay focused.
"I don't really read my news clippings or comment on it," Browning said. "I don't see the point."
That first season in Seattle, Browning led the rebuilding Huskies to a 7-6 record, passing for 284 yards in a Heart of Dallas Bowl victory over Southern Mississippi.
Things went even better in 2016-17 as he broke a slew of school records and ranked second nationally in touchdown passes, earning Pac-12 offensive player of the year honors.
That fall included a 70-21 win over Oregon, as Browning passed for six touchdowns and ran for two more while snapping a 12-game losing streak against the Ducks and shifting the balance of power in the Pac-12 North.
But the season ended with a 24-7 loss to Alabama in a CFP semifinal game that could be viewed in two ways.
Though No. 4 Washington put up a fight against the top-ranked Crimson Tide, Browning had two passes intercepted, one returned for a touchdown.
"We still lost … no one's happy about that," he said this summer. "I don't think there's any saving face by saying at least we represented the conference."
The defeat set the stage for a junior slump. Though other quarterbacks might have envied his 68% completion rate, Browning saw his passing yards and touchdowns dip noticeably.
Too often, critics said, he seemed to abandon the intelligence and discipline that brought him so far. Those backward scrambles, giving up chunks of yardage, were especially troublesome.
Petersen acknowledged that his star needed to improve.
"For any player that's going to be elite, it's always about consistency … you're not going to bait him into making bad decisions and bad plays," the coach said during the offseason. "So I say those words, but those are very difficult words to get done at that position."
::
Six-foot-six. A cannon for an arm.
It didn't help when Jacob Eason showed up on campus, the former Georgia starter transferring to Washington last spring. Though Eason won't be eligible until next fall, he gave some fans another reason to look past Browning.
Then the regular season began with a loss to Auburn — another missed chance at a signature win — as Browning fumbled and threw an interception, and the Huskies struggled in the red zone.
Next came two interceptions against underdog North Dakota and, at Utah, one of those cringe-worthy plays as he retreated in the pocket, spun and dumped the ball into the arms of a defensive lineman.
"A bad play by me," Browning told reporters.
But if this fall has suffered a few glitches, it also has provided reminders of what makes him special.
Since the Auburn loss, he has led Washington on a five-game winning streak. Against Brigham Young he completed 23 of 25 passes, falling just short of an NCAA record, and threw for 277 yards to become his school's all-time passing leader.
"The quarterback's really accurate," BYU coach Kalani Sitake said. "When he has time, he can drop it in there."
Last Saturday at the Rose Bowl revealed another element of Browning's game as he complemented an efficient passing day with 13 rushes for 49 yards, including a keeper for a touchdown and a third-down scramble to set up the winning score in a closer-than-expected 31-24 victory.
"As long as he's moving up in the pocket and keeping his eyes downfield, we want him to run," Petersen said. "He's slippery and crafty when he runs, and we really want that to be a part of his game."
The Huskies will need everything Browning can muster for games against three tough opponents — Oregon, Colorado and Stanford — over the next four weeks.
That stretch could determine the team's chance at the playoff. As for his legacy, Browning doesn't mean to sound snippy, but says he "just can't give it an ounce of thought or an ounce of care."
Nearing the end of his college career, the greatest quarterback in Washington history is not about to start listening to all that outside noise.
Follow @LAtimesWharton on Twitter
---
Get our high school sports newsletter
Prep Rally is devoted to the SoCal high school sports experience, bringing you scores, stories and a behind-the-scenes look at what makes prep sports so popular.
You may occasionally receive promotional content from the Los Angeles Times.