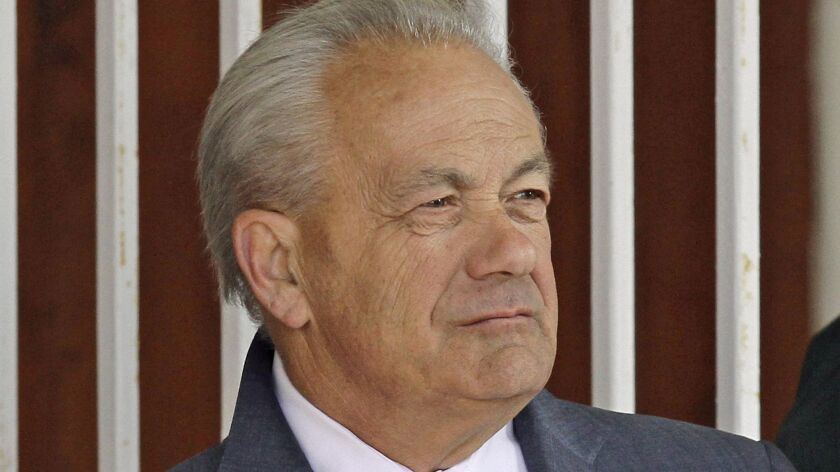 Hall of Fame trainer Jerry Hollendorfer will not be able to race horses at Del Mar this coming season ... or maybe he can.
His situation, after being banished from Santa Anita and other Stronach Group tracks, remained unresolved Tuesday although time is closing the window on his ability to race or train at the seaside track.
A meeting was held at Del Mar late Monday afternoon between representatives of Del Mar, Hollendorfer and his attorney, the Thoroughbred Owners of California and California Thoroughbred Trainers. The summer meeting starts July 17.
The meeting adjourned with no decision on Hollendorfer's future at Del Mar, although if an agreement is not reached soon he would not be issued stall space or be allowed to run.
"The parties have been engaged in good faith bargaining and hoping to find a pragmatic solution," said Drew Couto, Hollendorfer's attorney. "We're not certain how to craft something that will make everyone happy."
The CTT has been mostly quiet on this issue, abiding by an agreement with the track that such matters "should be settled by them, without undue publicity."
However, CTT issued a statement Tuesday, saying it "has been vigorously engaged in efforts to review and settle a pending dispute between management of Del Mar … and a CTT member."
Calls to Josh Rubinstein, president of Del Mar, were not returned.
The ban on Hollendorfer, 73, started at Santa Anita on June 22 when a fourth horse of his died at the track.
New York tracks also have honored the ban by the Stronach Group, while Los Alamitos and the California fair circuit have allowed him to race. He had a stable of about 120 horses equally distributed between Santa Anita and Golden Gate Fields in Northern California.
Del Mar remains the big question mark about if it would allow Hollendorfer to race. The track would welcome a suggested solution that would take the heat off any decision it might have to make, according to people familiar with thinking at Del Mar but not authorized to speak publicly.
If Hollendorfer were allowed to race, it would just move the ball down the road as the ban from Santa Anita is indefinite.
Sign up for our horse racing newsletter »
This past weekend, an unscientific poll by the Los Angeles Times horse racing newsletter showed that of more than 700 respondents, 51% thought Hollendorfer was being made a scapegoat by Santa Anita. Another 31% believed there was not enough information available, citing a lack of due process as a major factor. There was 11% that thought the penalty was appropriate and 7% thought the ban should extend to all tracks.
In addition to the four deaths at Santa Anita, Hollendorfer had two horses die at Golden Gate Fields, also owed by the Stronach Group.
Couto pointed to Hollendorfer's safety record at Santa Anita the previous two years.
"In the two years, he ran 573 horses and experienced one equine fatality," Couto said. "His [death per 1,000 starts average] was 1.74. the track average in [in 2018] was 2.20."
Couto said Hollendorfer's career has been ruined by Santa Anita's action.
"This is so fundamentally unfair," Couto said. "There is no pending or threatened action by CHRB. He has been forced out of the business. … If we can't find a solution, his business is done and his career is done in a most improper way."
Click here (or type in this url: lat.ms/2wVt90g) to sign up for our free horse racing newsletter.
---