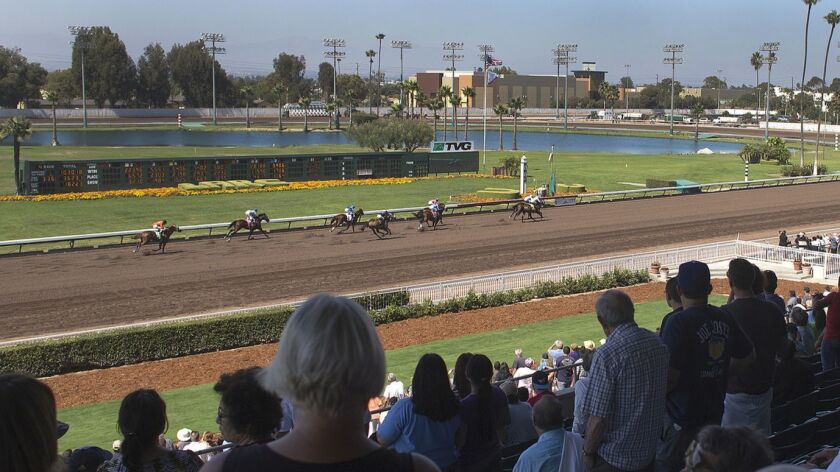 The Los Alamitos summer thoroughbred meeting is often viewed as a short bridge between Santa Anita's winter/spring meeting and the summer opening at Del Mar.
Not this year.
As thoroughbreds begin 10 days of racing on Saturday, Los Alamitos has become collateral damage in the controversy that has enveloped Santa Anita. The year-round quarter horse racetrack is caught up in the actions taken by Santa Anita in the wake of 30 equine deaths during its six-month meeting. And Ed Allred, owner and chairman of the track, isn't happy.
Of reason is that the size of the fields at Los Alamitos could be smaller because of the new "super panel" that the California Horse Racing Board has installed to evaluate the fitness of horses that are scheduled to run.
"These are five people, any one of whom can say this horse shouldn't run," Allred said. "None of them have seen the horse. On opening day, they have two on the disqualified list and 12 on the 'maybe' list.… When they put them on the 'maybe' list, the pressure is on the veterinarians if the horse breaks down. So, it makes it difficult for the attending veterinarians. No one wants to be blamed."
Last year, there was one fatality during a 12-day race meeting and accompanying training period.
"We have what a lot people say is a very safe track and the best dirt track in California," Allred said.
Among the trainers scheduled to run horses during the meet is Jerry Hollendorfer, who was recently banned from racing at Santa Anita and other tracks owned by the Stronach Group. Four of the horses that died at Santa Anita were trained by Hollendorfer. Two more horses died training at Golden Gate Fields in Northern California, another Stronach track.
Allred said it "was a given" that Hollendorfer's horses would be allowed to race at Los Alamitos. "It was not a difficult decision at all," Allred said. "To blame one person for a problem that has deep roots is wrong. If anyone is to blame, it's Santa Anita. They blamed him to get people off their own back."
Allred said Hollendorfer was bringing nearly 50 horses to Los Alamitos.
Hollendorfer also can run horses on the California Fair Circuit, currently at Pleasanton. New York's Belmont Park and Saratoga and New Jersey's Monmouth Park are allowing Hollendorfer horses to race at their tracks as well. Del Mar has not announced a decision on Hollendorfer's eligibility to run at the seaside track when it opens on July 17.
The opening-day feature at Los Alamitos on Saturday is the $100,000 Bertrando Stakes for Cal-breds going a mile on the dirt. There is no turf course at Los Alamitos. Hollendorfer has two horses in the six-horse field, Grecian Fire and He Will. However, the sentimental favorite will be Soi Phet, an 11-year-old gelding, running his last race. It's the eighth race.
In the sixth race, Muchos Besos, a 10-year-old gelding, will be running his 79th career race; Soi Phet his 64th.
Sign up for our horse racing newsletter »
There are two graded stakes on the meeting's schedule. The Grade 2 $200,000 Great Lady M Stakes for fillies and mares at 6½ furlongs on July 6, and the Grade 3 $150,000 Los Alamitos Derby, for 3-year-olds at 1⅛ miles, on July 13.
After this weekend, thoroughbred racing at Los Alamitos will be held Thursday through Sunday for two weeks. A mostly quarter-horse card is held each Friday through Sunday.
---