Santa Anita's tragic racing season ends Sunday amid an uncertain future
Ruby Bradley and jockey Aaron Gryder pull away from Tiz a Master and jockey Heriberto Figueroa to win the $200,000 Melair Stakes at Santa Anita Park in Arcadia on June 23.
(Genaro Molina / Los Angeles Times)
Acclimate, right, battles with Oscar Dominguez in the San Juan Capistrano Stakes at Santa Anita Park in Arcadia on June 23.
(Genaro Molina / Los Angeles Times)
Bugler Jay Cohen, 63, plays for the fans during the final day of the season at Santa Anita Park in Arcadia on June 23.
(Genaro Molina / Los Angeles Times)
We're Still Here, foreground, battles with Pas de Panique during the second race at Santa Anita Park in Arcadia on Sunday.
(Genaro Molina / Los Angeles Times)
Robert Penney wears a horse mask while protesting with animal rights activists outside Gate 5 at Santa Anita Park in Arcadia on June 23. Thirty horses died at Santa Anita from Dec. 26-June 23, 2019.
(Genaro Molina / Los Angeles Times)
Pony boy Manola Pacheco, framed by another horse, waits for racing horses to approach the tunnel leading to the track during the final day of the season at Santa Anita Park in Arcadia on June 23.
(Genaro Molina / Los Angeles Times)
As Pink Scatillac crossed the finish line in last place in the last race on the last day of the 2018-2019 winter-spring meeting at Santa Anita, there was a collective exhale that the most tumultuous meeting in the 85-year history of the race track had ended.
The numbers that will be associated with the last six months are not those of triumph, but tragedy.
— 30 horses lost their lives either racing or training.
— 24 days of racing were lost either in the name of safety or not having enough horses to race four days a week.
— Two major Kentucky Derby and Oaks prep races were never run.
— One Hall of Fame trainer was banished from the track after six horse deaths, four at Santa Anita and two at Golden Gate Fields, its sister track in Northern California.
"All aspects of all reforms have to be looked at and we have to do it by working with our stakeholders," Belinda Stronach, chief executive and president of The Stronach Group, said on Thursday.
Sign up four our horse racing newsletter »
"Because of the circumstances, the industry has had to take a hard look inward to see what we can be doing better. That's one of the positives that has come out of what has occurred. Santa Anita is now the safest and best track in the world."
Chuck Winner, chairman of the California Horse Racing Board, sees the byproduct of the meeting similarly.
"It created a situation where changes could be made and the industry came together," Winner said. "Both inside and outside we focused on animal welfare and what changes we needed to make. … There is nothing good about what happened but in the end it could turn out to be a blessing."
Santa Anita did not make any executives available to the media on Sunday.
The deaths at Santa Anita have been more than a local crisis. It has pushed the sport into an unwelcome national spotlight, leading to stinging pieces on HBO and CNN.
As the gates opened Sunday morning for the final day of racing this meeting, racegoers were met by about two dozen protesters waving signs about how the sport kills horses. It became a familiar scene at the track.
The firestorm started in late February after the Los Angeles Times wrote about the spike in deaths after Battle of Midway, a Breeders' Cup race winner, became the 17th fatality since the meeting opened on Dec. 26. In the coming weeks and months, as the death count rose, it ignited the actions and furor of animal rights' protesters and politicians.
The results of an investigation by the CHRB are expected in the next couple weeks. The results will be turned over to the L.A. County District Attorney's Office to merge with that agency's investigation.
On Thursday, the board of the Breeders' Cup will meet in Lexington, Ky., and likely will decide if Santa Anita should keep the Breeders' Cup races on Nov. 1-2. If the Breeders' Cup moves, it would be to Churchill Downs, which at 2.73 deaths per 1,000 starts had a higher mortality rate than Santa Anita last year (2.04).
"All the measures have to be in place to ensure the safety of the horses and riders," Stronach said. "It's an ongoing process and we are just at the beginning. I see it across the country. We need both transparency and accountability. Without transparency, you can't have accountability."
California and New York are considered two of the most transparent states in the country. Some states, such as Kentucky, redact most information about horse deaths. Some states don't report fatalities to the national database.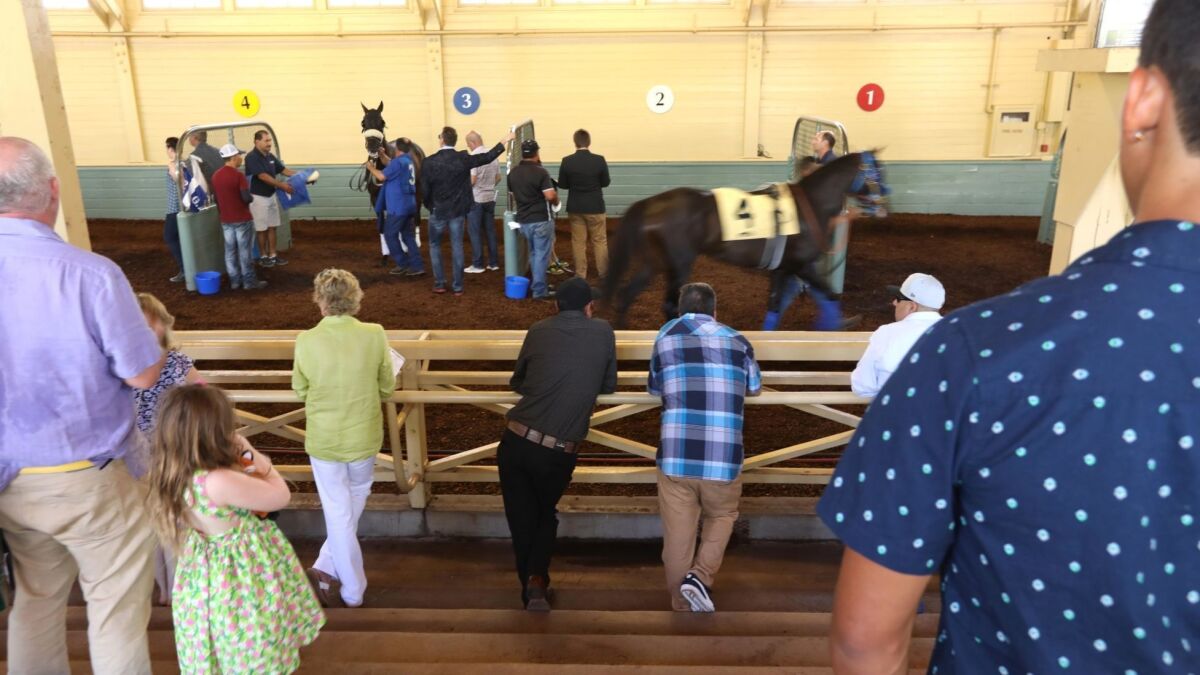 Stronach has been credited with getting this meeting to its conclusion. At a few junctures, especially in March and April, there were serious discussions about canceling the rest of the meeting. Despite the loss of 24 racing days, the meeting was allowed to stagger to its finish.
"I do believe that when Belinda got here, it made a significant difference," Winner said. "She was in charge and brought in Aidan Butler (TSG's chief strategy officer) and I believe that was positive. That definitely was in my view when things started to improve."
The closing weekend brought plenty of drama after the death of American Currency on Saturday morning, TSG banned Hall of Fame trainer Jerry Hollendorfer from all its tracks.
This could be leading to another rift in the industry as New York and Los Alamitos have said Hollendorfer can stable, train and run at their tracks. Del Mar, which hosts the next major Southern California meet July 17-Sept. 2, has not chosen a position on the trainer's ability to run.
Closing day
Acclimate won the traditional closing day feature, the Grade 3 $100,000 San Juan Capistrano Stakes, one of the few 1 3/4-mile turf races in the country. Acclimate broke on top and was never headed in a smart ride by Martin Garcia to win by half a length. Phi D'Amato was the winning trainer. Acclimate paid $21.00 to win.
In other stakes, Ruby Bradley, named for the most decorated woman soldier in World War II, won the $200,000 Melair Stakes for Cal-bred 3-year-old fillies at 1 1/16 miles. She paid $9.80 to win. Majestic Eagle won the Grade 3 $100,000 American Stakes for horses going a mile on the turf by a neck in a near blanket finish. Majestic Eagle paid $20.00. And, Eddie Haskell rallied late to win the $75,000 Siren Lure Stakes for Cal-breds going five furlongs on the turf. He paid $2.60 to win.
---
Get our high school sports newsletter
Prep Rally is devoted to the SoCal high school sports experience, bringing you scores, stories and a behind-the-scenes look at what makes prep sports so popular.
You may occasionally receive promotional content from the Los Angeles Times.